ROCK VALLEY, Iowa -- Gawin Kooima slipped into his boat at noon on Friday and headed north to check on the home of his brother and his niece, residents of Rock Valley's HJMJ complex, a mobile home park under siege from the advancing floodwaters of the Rock River.
Throughout town, dozens of volunteers put the final touches on a herculean effort to build a temporary levee, first for several blocks along 10th Avenue and down the middle of 17th Street on the western half of the Sioux County city. The effort that began 14 hours earlier featured a throng of 400 helpers.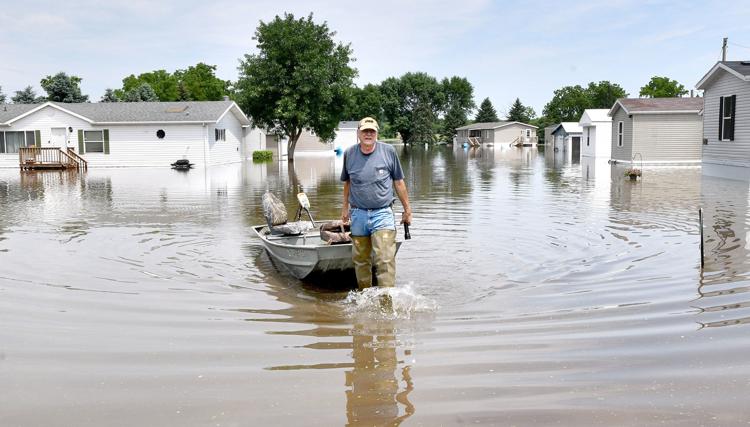 Residents in the mobile home park and throughout a roughly 12-block area were strongly encouraged by officials to evacuate on Thursday night as the river rose beyond its flood stage of 16 feet.
A crest forecast for noon Friday may have topped out a few hours earlier. It receded as Gawin Kooima of nearby Sioux Center, Iowa, backed the trailer holding his boat onto what's normally a street serving the park.
"I checked my brother's trailer earlier this morning and I'm back to check his trailer again and the one my niece lives in," said Kooima, who noticed traces of oil in the water, most likely from the derailment of 33 rail cars carrying crude oil just four miles north of here. The crude seeped into the Little Rock River, which empties into the Rock River before flowing into Rock Valley.
Kooima's niece and her parents, she said, were struggling to find an open route into town.
Across Sioux County and the northern portion of Northwest Iowa, gravel roads and county roads remained closed because of floodwaters from the Rock River, the Floyd River, the Little Sioux River and more. U.S. Highway 18 on the west edge of Rock Valley remained closed as floodwaters inundated the Bomgaars parking lot and crept north across the highway.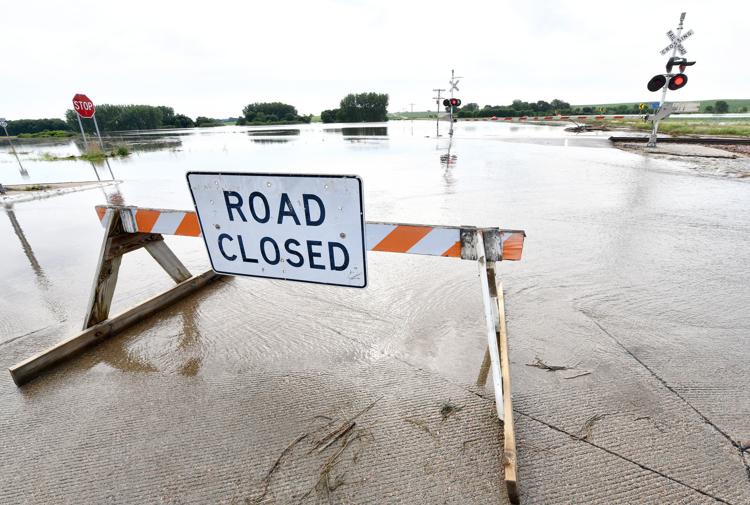 Rachel Raak Law left Correctionville, Iowa, Friday morning to pick up her son from Inspiration Hills church camp near Inwood in Lyon County. She encountered the Rock River flooding near Rock Valley with a road closure.
Raak Law took a series of gravel roads to eventually get to the camp, which she figured added 20 minutes to her trip.
"Flooding gives me anxiety, because you don't know," she said.
Rains that doused Minnesota on Wednesday and caused the closing of Interstate 90 on Thursday flowed into rivers that made their way south by Thursday night and Friday morning.
A similar occurrence socked in Rock Valley four years ago when rains upstream caused the river to crest at 22.72 feet, damaging 175 businesses and homes. This mobile home court lost seven homes in the flood four years ago.
"We bought a mobile home here in September 2016," said Jim Kooima, a Rock Valley resident who watched his younger brother operate the boat within the mobile home park. "And didn't we park that home in the most beautiful spot in the world?"
If it was a beautiful spot, it wasn't one Jim Kooima could access on Friday morning.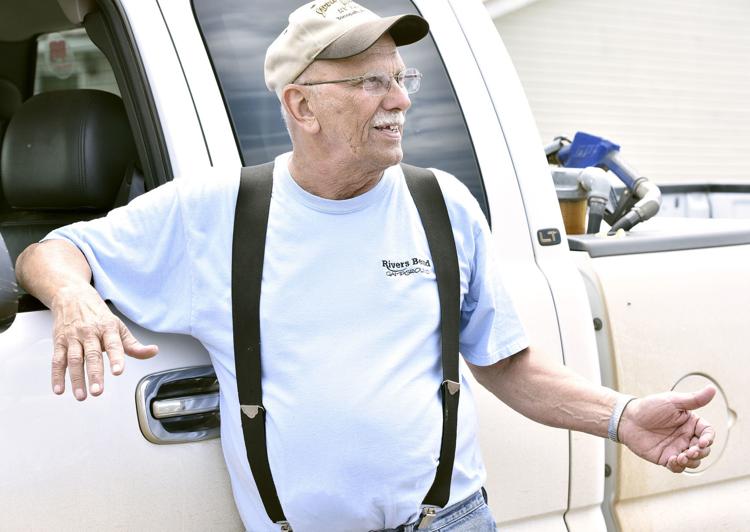 Kooima shrugged and offered gratitude no one was hurt. Nearly everyone fled to higher ground on Thursday evening. "My wife and I left last night and came back here to sit and watch the water rise," Jim Kooima said. "I parked my truck right here (at the south entrance off Highway 18) and by 12:15 a.m. I couldn't get to my house."
Kooima said he judged and heard that the water crested early Friday morning at 21.2 feet, below the record 27.2-foot level of 2014.
A few blocks east, Don Ortman worked to remove water seeping into his basement on 10th Avenue. Like Kooima, Ortman heard the Rock River reached its crest on Friday morning. And while he wanted to believe the worst was over, he hedged his bets by making sure his possessions were stacked on the second floor.
"Going through the flood four years ago taught me a few things," he said.
Among them: Don't bet the farm on what Mother Nature might do.
"We're cautiously optimistic," Ortman said. "But I've got neighbors with family members up north in Luverne, Minnesota, and they had a worse day today than yesterday."
Rock Valley officials planned to keep the protective berms in place for the next several days as a final fortress should the river rise. It could, Ortman said, if areas around Sioux County city and areas to the north receive rain. "There are chances of rain and the ground is already saturated," he said. "We'll stay in preparation mode for at least a week."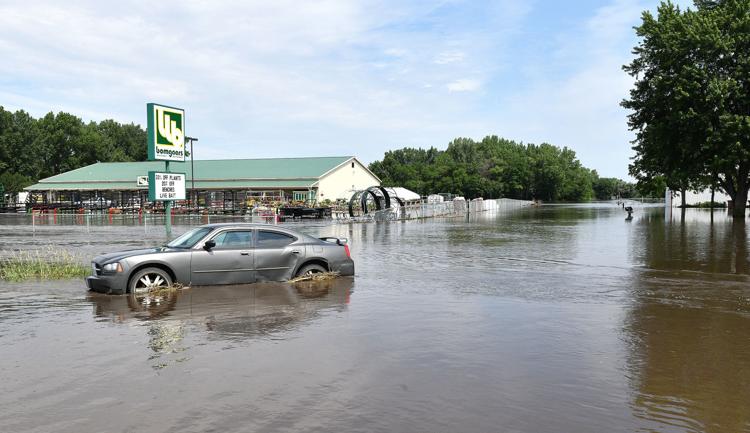 Preparation mode moved into high gear on a moment's notice Thursday night, he said. Ortman, the Rock Valley Elementary School Principal, said he was alerted to the flood potential at 9 p.m. Thursday. Officials with one of the weather bureaus, he was told, miscalculated what the Rock River might do.
Within a couple of hours, dozens of people mobilized to help evacuate and settle families temporarily, while hundreds of others converged on this city of 3,730 residents to begin building berms. Many of those people worked all night to protect as many residents as they could.
Not every parcel could be spared, unfortunately. There were some in the mobile home court who may lose their second home in a span of four years. Areas north of those mobile homes and on the north edge of Rock Valley may also sustain major damage.
But there was good news by 5 p.m. Friday -- most people in Rock Valley were allowed back into their homes.
Rock Valley public information officer Travis Olson said the waters had begun to recede, so most residents of the roughly 60 homes were allowed to return. The exception, Olson said, was one mobile home park still under water. Olson says some roads also were reopened Friday afternoon.
Also, late Friday evening, officials announced Gov. Kim Reynolds would come tour Rock Valley. Reynolds will be in the town at 1 p.m. Saturday.
Journal reporter Bret Hayworth contributed to this story.