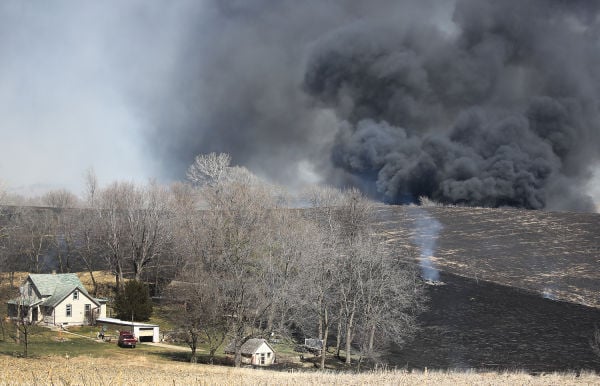 SIOUX CITY | A fire that destroyed a home in rural Sioux City on Tuesday illustrates the challenges firefighters face when fires occur on the outskirts of the city.
Fewer fire hydrants and low water pressure make it harder to get enough water to extinguish a fire, especially a fast-moving grass fire, Sioux City Fire Rescue Chief Tom Everett said.
"That's always a problem when fighting a grass fire like that," Everett said at a news conference Wednesday.
The fire destroyed the home and exotic bird business belonging to Wayland and Susan Zimmerman at 33977 Grouse Ave., north of Sioux City and just across the Plymouth County line. Their home and several outbuildings caught fire after an illegal burn nearby got out of control, causing a grass fire that consumed more than 30 acres and eventually spread to the Zimmerman property.
Fire crews remained on the scene into Wednesday, Everett said, extinguishing flames trapped beneath the tin roofs of collapsed outbuildings.
Several flareups Wednesday afternoon were contained. 
The grass fire started in the 2700 block of 52nd Street, inside Sioux City limits, where a resident was burning garden waste without a permit. The nearest hydrant was at 46th Street, about a mile to the south. As a result, tanker trucks from Hinton, the 185th Air Refueling Wing, Iowa Air National Guard, and the Sioux City Street Division were called in to haul water from the hydrant to firefighters near the flames.
"You can't get (water) there quick enough," Everett said. "Had there been a hydrant there, it wouldn't have been a problem."
You have free articles remaining.
Everett said hydrant placement in rural areas of the city is spelled out in city zoning ordinances, and the area in which Tuesday's fire occurred was in compliance with those rules.
In rural areas of the city, hydrants are farther apart or are on dead-end lines, which means there's often lower water pressure. That's no fault in the design of the water system, Everett said.
"Sioux City has among the best water systems in the area. The farther you go out, you run into that," Everett said.
Firefighters faced similar obstacles on March 5 when a fire destroyed a home at 1234 W. 41st St., a remote area within the city.
Everett said firefighters were dispatched to Tuesday's grass fire at 1:13 p.m. and arrived on the scene at 1:20, meeting the department's goal to respond to fires in rural areas within 10 minutes.
"It was a good response," Everett said.
Sioux City and Hinton fire departments worked together to fight the fire, a common occurrence when grass fires start on one side of the county line and spread to the other side.
"That's why we cooperate so well," he said.
There were no injuries in Tuesday's fire, and Everett said officials have not confirmed how many exotic birds were inside the building or how many were lost.
Everett said the resident who had been burning without a permit was cited for illegal burning.