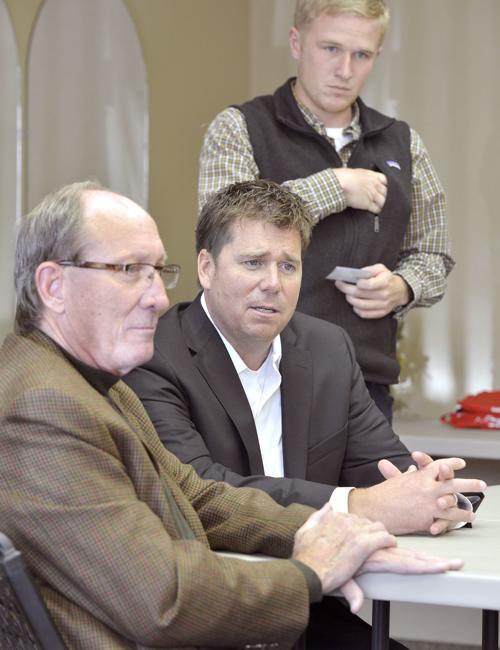 SIOUX CITY | Even as he gets back to a focus of developing commercial properties in Sioux City and his Iowa Senate duties, Rick Bertrand may try again to unseat fellow Republican U.S. Rep. Steve King.
Bertrand created political intrigue when he bucked tradition and decided to oppose 14-year Congressman King. Republican primary voters on June 7 overwhelmingly supported King, as he got 65 percent of the vote and led Bertrand in all 39 counties of the Iowa 4th congressional district. That win moves King onto the November ballot, where he will oppose Democratic candidate Kim Weaver.
In a Journal interview, Bertrand said getting 35 percent after spending less than $100,000 and being a candidate for only three months shows King is at risk in the 4th District, given what Bertrand said is ineffectiveness by the congressman.
Therefore, Bertrand said while it is unlikely that he will seek re-election to the Iowa Senate, he would not rule out seeking other elective office.
"To think I wouldn't look at other offices is probably naive," he said, chatting at The Grind coffee shop in Sioux City.
One of those could be the 4th congressional district position in 2018.
"Yes, absolutely. It will come down to where the state is at, where the district is at and where I am at," Bertrand said.
He added, "I hope this (loss) doesn't discourage others from stepping up and not being afraid to primary or run, because it is healthy for the process. If this refocuses Steve King for the next two years, hey, the process is working."
David Bierman, of Marcus, said he would like to see Bertrand run again.
"He is an excellent speaker and he has a tremendous amount of energy," Bierman said.
Bierman is a co-founder of Plymouth Energy, an ethanol plant in Merrill, and he has his hand in many other agricultural elements. He was unhappy with King for endorsing presidential candidate U.S. Sen. Ted Cruz, R-Texas, who doesn't support an extension to the federal Renewable Fuel Standard for corn-based ethanol.
Bierman said Bertrand likely learned the "eye-opener" lesson that he needed to launch his campaign for at least a year, to give time to make in-roads with rural voters.
"You've got to do it for more than a couple months," Bierman said.
Bertrand said some people predicted he would "run a scorched earth" campaign with attacks on King, but he's proud "I kept it on the issues." The two participated in one debate in Sioux City where the tone didn't turn testy, and Bertrand traveled 33,000 miles for his combined campaign stops.
Then the results rolled in June 7. Bertrand knew his loss before going to bed.
"I was at peace. I slept well that night," he said.
The next morning, just after 5 a.m., he went out and as "kind of a closure," pulled out campaign signs from properties within a 60-mile radius.
"I came home, had breakfast with my kids. Then, I switched gears, immediately. I've got plenty to do," Bertrand said.
In addition to his plentiful commercial development pieces, Bertrand said he will finish out his state senate term through 2018. He is one of the Senate assistant minority leaders and through November will help Republican candidates through the oversight of Leader Bill Dix. Republicans are aiming to move out of the minority in a chamber Democrats narrowly hold by a 26-24 margin.
Then in 2017, Bertrand said his key issues in the Legislature will be stand-your-ground gun legislation and income tax reform, which he said could have a substantial chance of enactment.
Bertrand said the fact that he took on King -- who got the endorsements of heavyweight Republicans such as U.S. Sens. Charles Grassley and Joni Ernst, plus many state legislators -- hasn't impacted his statehouse relationships or reduced his effectiveness.
"The response from my peers has been very solid, supportive. They also see the bigger picture and they also know the experience I've gained is priceless," he said. "I don't believe at this point that I've burned any bridges with any Republicans. The response that I've got on the back side is that (I) ran a classy campaign and you gave people a choice."
Also endorsing King were Republican state Sens. Dennis Guth, of Algona, Mark Segebart, of Vail, Jason Schultz, of Schleswig, and Bill Anderson, of Pierson, who is Bertrand's roommate during the legislative sessions. State Sen. David Johnson, of Ocheyedan, who this month suspended his longstanding Republican membership, contributed to Bertrand's campaign and wanted him to oust King.
Johnson said "it would be unfortunate" if Republican state senators would spurn Bertrand for his run against King.
"He's been as effective as any of the elected members of the leadership team...He has a good track record in what he's done in and for Sioux City, both in the private sector and as an elected senator," Johnson said.
Johnson said he would support Bertrand in another primary contest to defeat King.
"There is too much blind loyalty to Steve King," he said.
Bertrand lost in his first race for the Legislature in 2008, then won Senate terms in 2010 and 2014. After the King primary loss, he stands with a 2-2 elective office mark.
Bertrand noted he campaigned on the fact that he would only serve two terms in the state senate. He said the only way he would veer on that decision is if it appears his departure would cost Republicans a chance to hold the Senate majority.