SERGEANT BLUFF -- As director of process engineering for Tyson Foods Inc., Manoj Virippil has become accustomed to playing hardball with big business movers and shakers.
However, it is a tiny white table tennis ball that has become an obsession for the Sioux City man. 
"In my native India, everybody plays table tennis for fun," Virippil explained. "In this country, I play it to stay mentally active."
A twice-a-week member of the Sergeant Bluff Table Tennis Club, he'll be one of the players competing for ping pong supremacy during the regional tournament, beginning at 10 a.m. Saturday at the Sergeant Bluff Community Center, 903 Topaz Drive.
"We have players coming from as far away as Lincoln, Iowa City and Madison competing in our tournament," said club president Phil Elder.
Wait, really? You have somebody coming all the way from Madison, Wisconsin? To play table tennis? Wow, that's amazing!
"No, not Madison, Wisconsin," Elder corrected. "Madison, South Dakota." 
Nevertheless, the annual tournament attracts as many as 50 players at various skill levels.
"If you're a beginner, compete as a beginner," Elder said. "There's no shame in that."
Indeed, the Sergeant Bluff Table Tennis Club is pretty low-key. After all, the league started in Elder's garage more than a decade ago.
"I set up a table tennis and, gradually, neighborhood guys started springing out of woodwork, wanting to play," he said. "At first, there would be two or three guys. Then, there'd be nine or ten guys stopping by."
That was way too many people for Elder's garage. This is when he moved the fun to the Sergeant Bluff Community Center.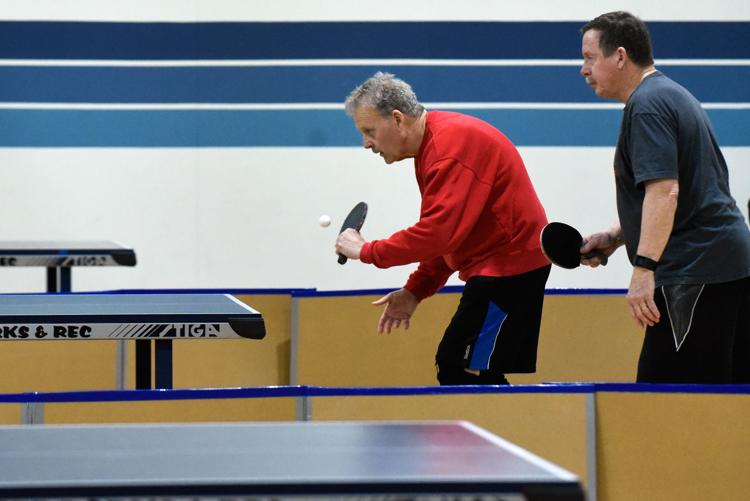 You have free articles remaining.
"We meet from 6 to 10 p.m. every Wednesday and Sunday night," he said. "People come and go as they please. Plus we get players of all ages and from all walks of life."
Alan Zhu, a cardiologist at Mercy Medical Center, has become one of the long-term regulars.
"I tell my patients to play table tennis," he explained. "It is a sport that improves balance and reflexes. It's easy on the joints and keeps you mentally alert."
"Well, if a doctor says a sport is good for you, it must be true, right?" Jerry Jorgensen said with a smile.
A retired U.S. Post Office postmaster, Jorgensen began playing table tennis as a kid.
"That's where everybody learned how to play," he said. "We learned it in our parents' basement or in our school gymnasium. Then, suddenly, we stop playing."
That is, until people remember how much fun it was to whack a little ball around with a little racket.
"You don't have to be an athlete to play table tennis," Jorgensen said. "All you need to do is be willing to have some fun."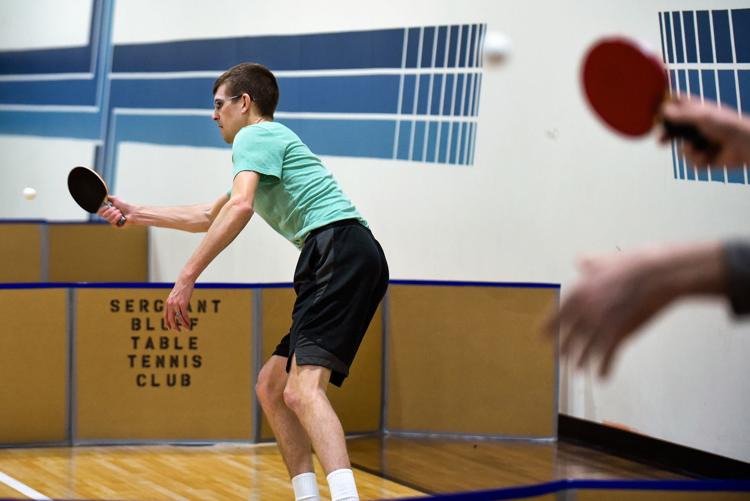 Elder nodded his head in agreement.
"Table tennis is literally a game anyone can play," he said, "It's the third fastest growing sport in the United States, ahead of both baseball and football."
"Hey, I'm not playing football any more," Elder, a financial adviser, said. "But I play table tennis all the time."
This is true. Yet he's also willing to do a bit of trash talking when the mood suits him.
"I may not be the best player around but I do enjoy the thrill of competition," Elder said, eyeballing his next opponent. "The bottom line is that there is nothing wrong with talking trash at a table tennis tournament."