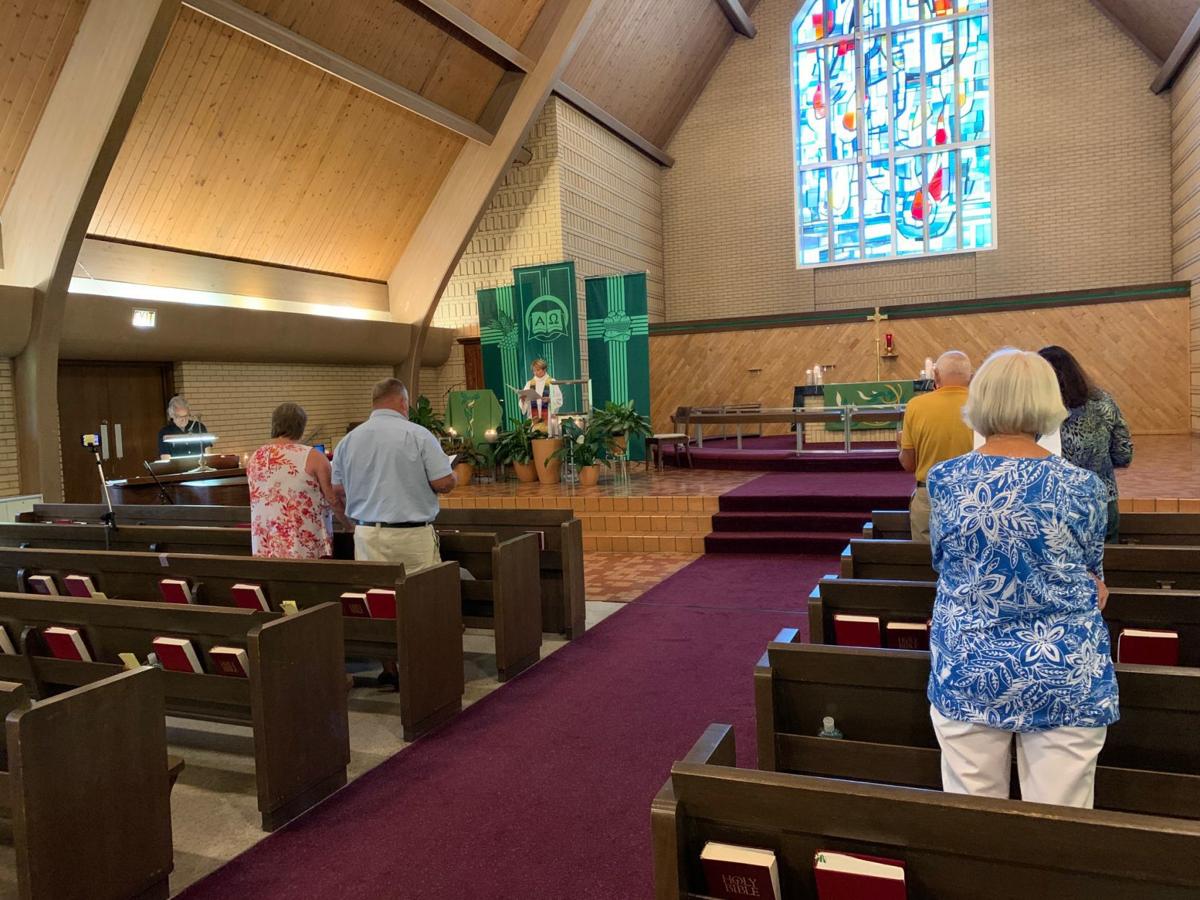 SIOUX CITY -- Some congregations in the Sioux City metro are in the process of reopening their doors to parishioners, months after the novel coronavirus first closed them down. 
The process and procedures, and the timing, of reopening has varied from church to church, with nearly every standard practice turned on its head to avoid spreading the virus. 
Some have asked parishioners to register before attending or have turned off the ventilation during services, in a bid to slow the spread of airborne microbes. Face masks are either required or strongly encouraged in most cases. 
Faith leaders still aren't sure what to do about singing -- loud vocalizations are thought to propel germs farther through the air. New protocols have been implemented for communion, offerings, and the distribution of church bulletins and programs; the traditional meet-and-greet after services is another unsettled matter. 
Two churches on the city's north side, First Lutheran, 3939 Cheyenne Blvd., and Wesley United Methodist, 3700 Indian Hills Drive, this weekend held preliminary in-person services. 
At First Lutheran, pastor Kristine Stedje said Sunday morning's services were a "trial run" -- an experiment to see how best to handle services with churchgoers in the building. 
Sunday was First Lutheran's second trial run, and also the second time in-person services had been held since March.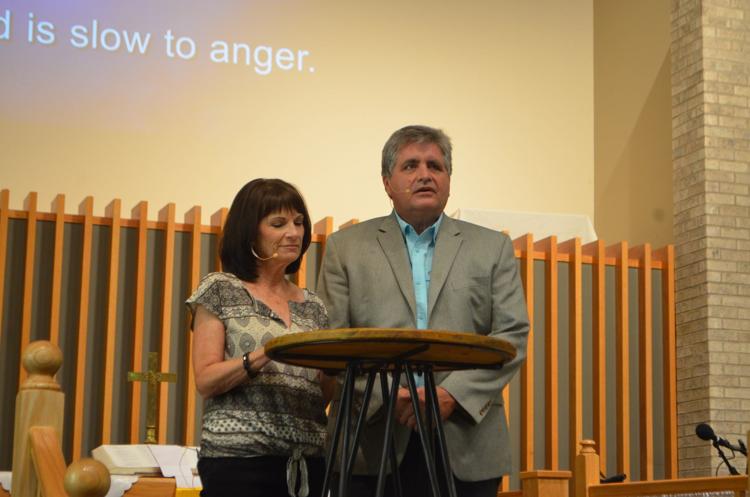 The church has established a "task force" on the virus to help decide what is the best way of handling services going forward. They've been weighing guidance and best-practices advice from public health authorities and from the Evangelical Lutheran Church in America (ELCA).
The task force will issue a report to the church council this month, which will inform the church's decisions on services going forward. Stedje said the group has not yet decided whether to host in-person services again this coming weekend. 
"We, week by week, have to make a decision what we're going to do," she said. 
Pews in the church were marked off to keep parishioners physically distant, and masks were required. Greeters took down names of those who arrived, which would make contact tracing easier should that become necessary. Roughly 25 people were in attendance Sunday, plus staff. 
In March, Iowa Gov. Kim Reynolds issued a proclamation restricting religious gatherings due to the pandemic. This prompted virtually all churches -- some of which appeared uncertain of what to do in the days prior -- to close their doors to in-person worship. The governor would later ease these restrictions in April. 
In the meantime, congregations turned to other formats for socially distanced worship -- the radio or social media in many cases, or drive-in services in some cases. 
Until this weekend, Wesley United Methodist pastor Todd Schlitter had been preaching to an empty sanctuary on Saturday afternoons, with a camera filming him and carrying the message to the homes of the faithful.
At the beginning of July, Schlitter wrote in a church newsletter that congregants would be welcome to attend the July 11 afternoon services in person, if they so wished. Others could watch the video of it. 
A small handful turned out Saturday for the services. Schlitter said it was nice to see people there listening to him, because it can be a little unsettling to film a sermon in front of rows of empty pews. 
"It's hard to pretend that people are there," he said. 
"You need warm bodies, you need people. That's the church," he added. 
Attendees were encouraged to wear face masks and sit six feet apart, and hand sanitizer was provided at the entrances. 
Schlitter said that wearing a face mask is the right thing to do inside the church to protect others, though he finds the idea of policing masks unpleasant. The overall experience of in-the-church worship is not presently what he'd like it to be -- singing aloud is not a great idea, and singing in a mask doesn't work well. And yet singing is integral to the church experience. 
"It's less than ideal. People have to sit apart, people have to wear masks," he said. 
Mary Campbell, who has gone to Wesley United Methodist for 25 years, went to Saturday's services with her friend Delores McCuddin, who has been a member for 60 years. McCuddin found drive-in church services somewhat uncomfortable, because her car's air conditioning doesn't work well when it's parked. 
Both said they will continue going to the in-person services. 
"It just feels good to be back in church. You just feel more at home, and more comfortable. It's just good to be here again," Campbell said. 
For his part, Schlitter has taken a keen interest in the church's drive-in worship services, where attendees listen in on the radio. He wants to keep those going until the leaves are falling, and to continue doing some outside worship in future summers, even if the virus is gone by then. 
"I see that that could be a potential outreach to un-churched people who might feel uncomfortable in a traditional, going-inside-for-inside-worship experience," he said. "It might open the doors. I noticed some of the younger members, especially, they were going, 'We really like this!'" 
PHOTOS: Catholic Mass streams live on Holy Thursday
COVID-19 Catholic mass is live streamed on Holy Thursday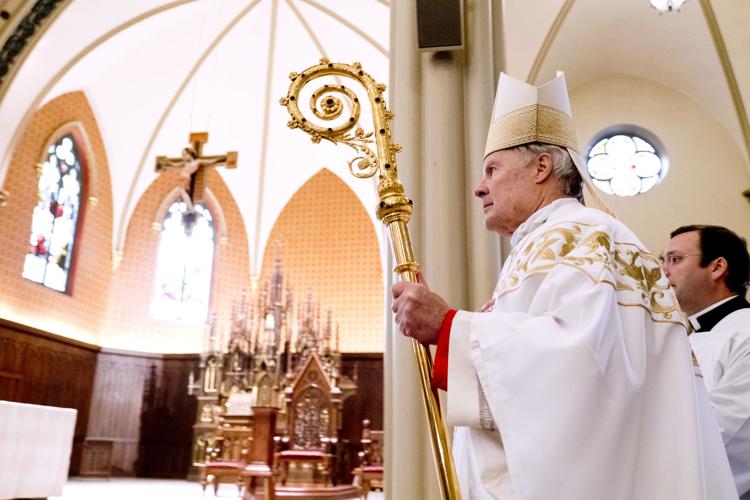 COVID-19 Catholic mass is live streamed on Holy Thursday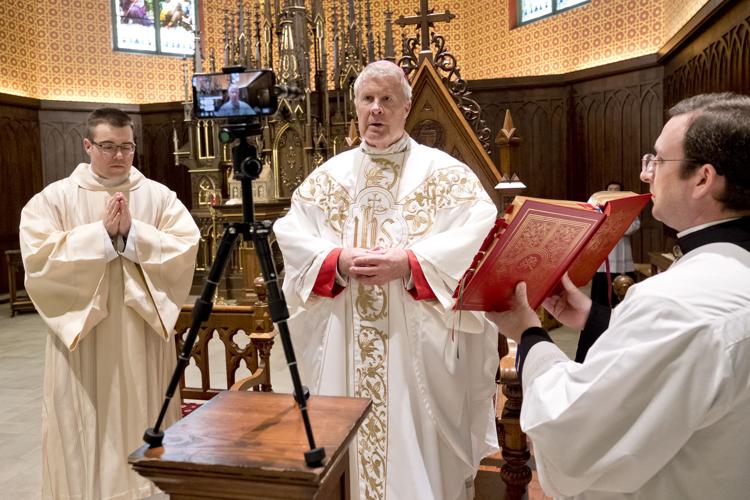 COVID-19 Catholic mass is live streamed on Holy Thursday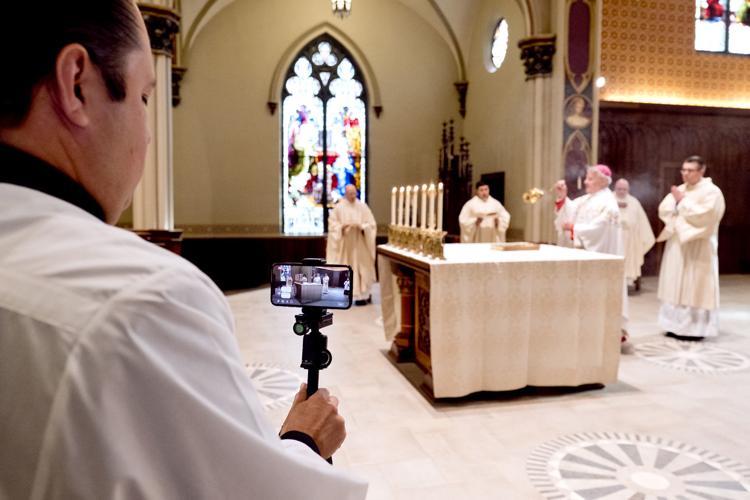 COVID-19 Catholic mass is live streamed on Holy Thursday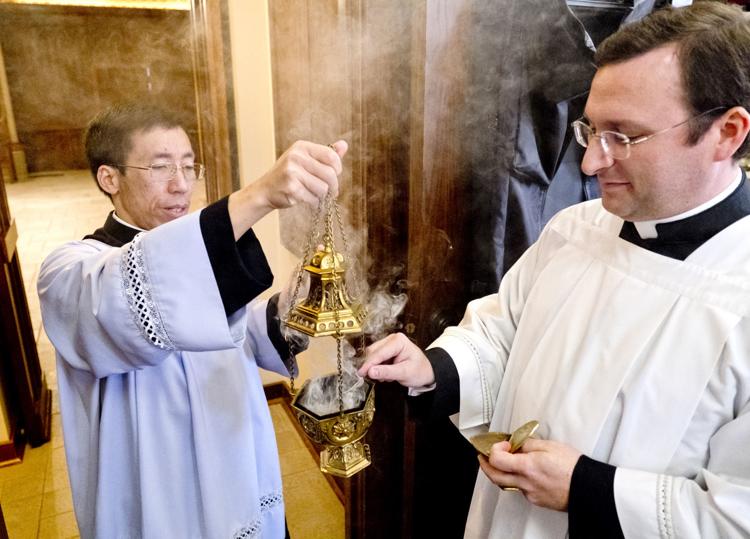 COVID-19 Catholic mass is live streamed on Holy Thursday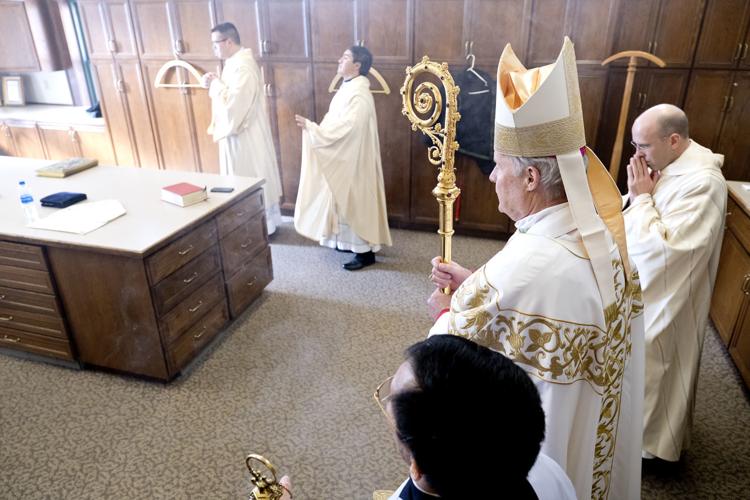 COVID-19 Catholic mass is live streamed on Holy Thursday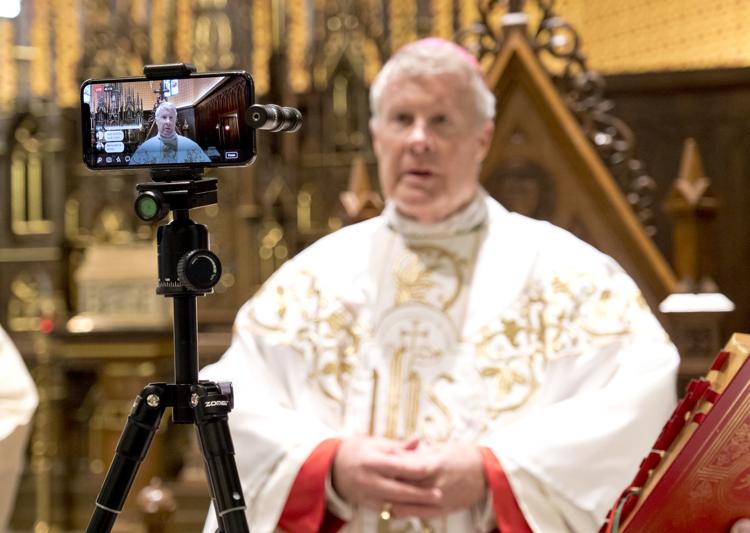 COVID-19 Catholic mass is live streamed on Holy Thursday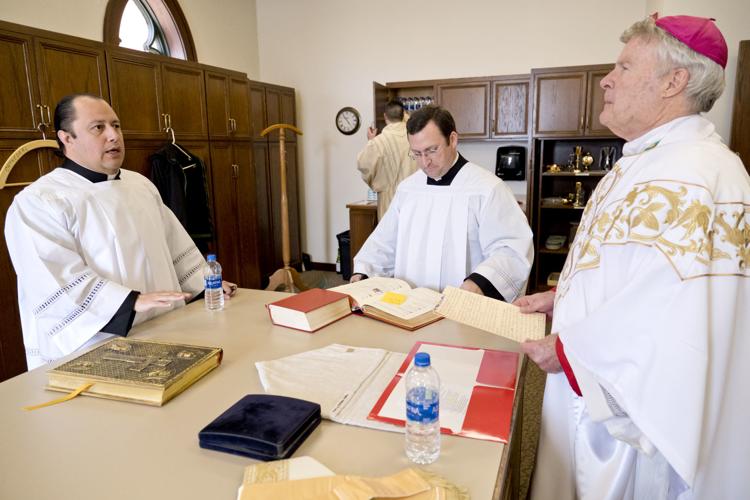 COVID-19 Catholic mass is live streamed on Holy Thursday