SIOUX CITY -- Joel Magee slowly removed two sheets of bubble wrap from a metal lunchbox that he kept in his suitcase.
The lunchbox, featuring the likeness of the Hasbro toy G.I. Joe, probably sold for under $5 when it was first introduced more than 50 years ago.
However, a mint-condition version of the kid lunchbox could easily yield as much as $1,500 to $2,000 in today's market.
In case you were wondering, Magee, 58, isn't selling his.
In fact, he had already purchased a slightly banged-up version at a flea market held at the former Sioux City Auditorium in 1982.
"When I was a little kid, I brought a G.I. Joe lunchbox to Crescent Park Elementary," he said. "As an adult, I can still picture my mom packing a ham, cheese and mayo sandwich in it, every day, for years."
Magee figured if he formed such deep attachment to his childhood mementos, others would as well.
He has been scouring the nation for much more than just lunchboxes. He collects everything from Barbie dolls to Hot Wheels cars to "Star Wars" action figures, earning him the title "America's Toy Scout."
Traveling across the country for more than 20 years as the manager of the Antique Toy Roadshow, he has been featured in national publications and will appear, at 9 p.m. July 1, on the History Channel's "Pawn Stars" as the program's recurring vintage toy appraiser. He was in Siouxland over the weekend to hold toy buying events Saturday in Sioux City and Sunday in Yankton, South Dakota.
"Many people develop a deep, emotional attachment to their toys," Magee said. "Toys represent happiness, comfort and nostalgia."
Plus vintage toys can pull in a pretty penny if they were kept sealed in their original boxes. But is it likely that a kid would leave a toy untouched?
That wasn't the case for Magee, who said he blew up many of his toy solders with firecrackers.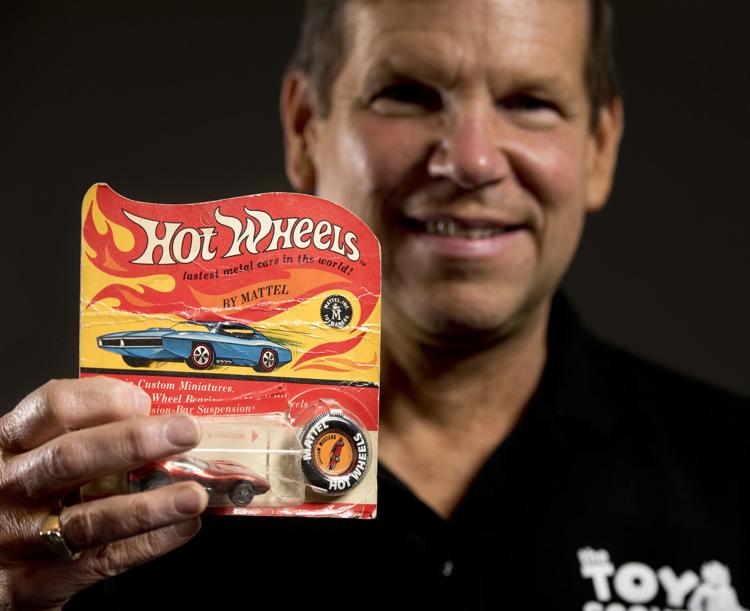 "I just wanted to play with my toys."
Still, some canny parents actually bought duplicates of the same toy for their children, with one for collecting and the other one suitable for play.
While Magee is a vintage toy appraiser, he is, now, also an avid collector. He is thought to have the largest private collection of Disney props and collectibles in the world.
This includes a series of attraction posters that date back to the 1955 opening of the Disneyland amusement park in Anaheim, California. 
Even more fun are movable versions of the three hitchhiking ghosts from Disneyland's "Haunted Mansion" ride.
"I keep the ghosts at my home," said Magee, who now lives in West Palm Beach, Florida. "They're just so interesting to look at."
While it's hard to predict the value of future nostalgia, he thinks it will be the toys that today's 40-year-olds played with back in the day.
"40 tends to be the start of when a person looks back to his childhood," Magee said. "Plus he probably has a bit of disposable income to purchase the collectibles that he wants."
Which means the inhabitants of Hogwarts School of Witchcraft and Wizardry might be the next big thing.
"The kids who grew up with 'Harry Potter' are now becoming adults," Magee said. "It won't be long before they start feeling nostalgic about their childhood collectibles."