SIOUX CITY -- For more than 80 years, the Gordon Drive viaduct has enabled motorists driving into and out of downtown Sioux City to safely cross over waterways and railroad tracks.
The structure, carrying traffic on one of the city's major east-west routes, likely won't make it to 90.
With the 11-year Interstate 29 expansion project through Sioux City entering its final year, the Iowa Department of Transportation is pondering its next major project in the city: the replacement of the Gordon Drive viaduct. Preliminary studies are just beginning, IDOT District 3 transportation planner Dakin Schultz said, and all options for a new viaduct are on the table.
"That current structure needs to be replaced. What that looks like and how that functions is all up for discussion," Schultz said.
The IDOT has tentatively scheduled a public meeting for 5 p.m.-7 p.m. May 21 at the Sioux City Convention Center to gather public input and share ideas.
Schultz said no construction alternatives have been developed, though IDOT planners have a few thoughts. For one, a new viaduct could be shorter than the current 3,970 feet.
"We would like to see something shorter," Schultz said. "It's just a matter of how do we get there."
Regardless of what plan the IDOT ultimately decides upon, construction on a major transportation artery will have an impact on Sioux City.
The IDOT's 2013 Annual Average Daily Traffic count, the last year a count was completed before the west end of Gordon Drive was rebuilt as part of the I-29 project, showed 20,642 vehicles crossed over Bacon Creek, the Floyd River and several sets of railroad tracks on the viaduct each day. Those motorists will need to find an alternate route during construction.
"Of course it will have an impact, and there will have to be careful planning," said Marty Dougherty, Sioux City Economic and Community Development director. "I think if all the different partners can work together, we can have a good end result."
Any construction in the downtown area disrupts business, said Ragen Cote, executive director of Downtown Partners, an organization that promotes business interests in the historic core of the city.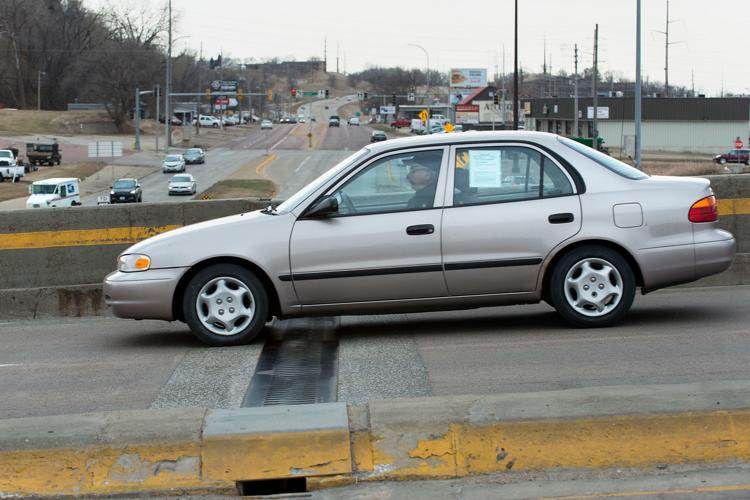 The key, she said, is that convenient entrances to businesses are maintained during construction so customers can still access them, even if they have to take an alternate route to get there.
You have free articles remaining.
"People will still get down here. Everybody always finds a way," Cote said.
Without knowing what the IDOT's construction plans will be, it's hard to say how any closure of Gordon Drive could affect businesses near and along the street.
"How it affects people, you just don't know what's going to happen," she said.
Dougherty said a rebuilt viaduct likely will solve some of the current automobile and rail traffic conflicts in the area beneath and around the viaduct, making it easier to get around downtown and into the former stockyards area, two areas the city has spent considerable resources redeveloping.
"I see this as an opportunity to continue the revitalization of that area," he said.
When completed in 1937 with funding from President Franklin Roosevelt's New Deal work-relief programs, the viaduct overlooked the sprawling stockyards and gave Sioux City residents and the growing number of auto owners a better way to navigate past them.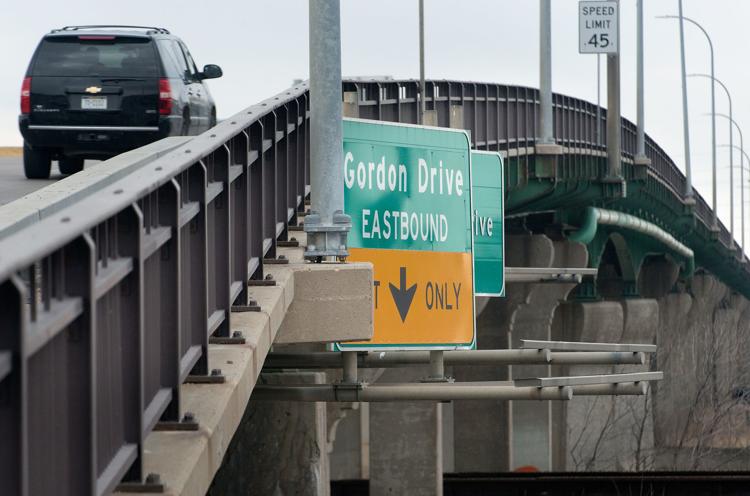 The viaduct was lengthened in 1963, when it was closed for seven months to accommodate the Floyd River rechanneling. Two lanes were added to the south side of the viaduct in 1966.
The stockyards are no longer here, but much of the viaduct's original structure remains in place. It's inspected annually and remains safe, though a 40-ton load limit is in place. The IDOT spent $5 million in the mid 2000s to repave the driving surface and address some structural issues, Schultz said.
Now it's time to move forward with a rebuild.
Schultz said it will take two years for the IDOT to settle on a final alternative. Between now and then, there will be numerous studies and a series of meetings in which the public will be able to review and comment on proposed alternatives.
Perhaps the viaduct could be replaced in stages, Schultz said, but that won't be determined until further study of the area from Virginia Street on the west end to Fairmount Street on the east. The Gordon Drive-Lewis Boulevard intersection also will be analyzed for possible improvements and upgrades.
No money is allocated for construction under the IDOT's current five-year program, and Schultz said the very earliest any construction could begin is 2024. There's no certainty that it would begin that soon.
The next two years of study and public input will help the project come into focus.
Until more is known, Cote said, she'll wait to stress out about the inconveniences construction will cause.
"In the end, it's going to be safer and better," she said. "The quicker and easier they make it, the better. We'll work through it, and we'll get there."
Copyright 2019 The Sioux City Journal. All rights reserved. This material may not be published, broadcast, rewritten or redistributed.