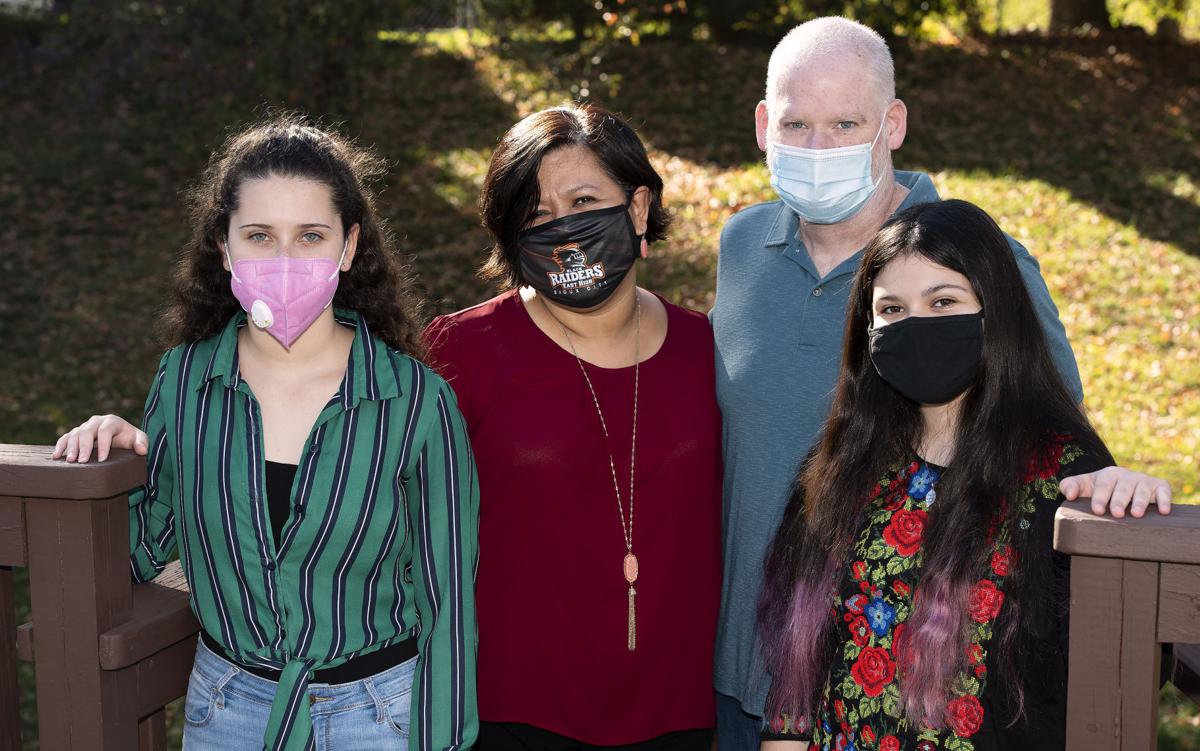 SIOUX CITY -- Nathan Flory lost 21 pounds over two weeks, the equivalent of 1.5 pounds per day, and slept up to 20 hours per day over the worst period after being struck ill by novel coronavirus spread.
The virus spread through the four family members living in Sioux City -- eldest son Andrew Flory is attending Iowa State University -- beginning Sept. 20. Nizsha, an East High School sophomore, was first to experience a headache, and sister Shaiel followed with symptoms the next day, so mother Perla Alarcon-Flory figured she and Nathan would be next.
Perla was right. The family had a very trying two weeks, with severe symptoms, missed school, an inability to work jobs and a three-day hospital stint for Nathan that left Perla at an extreme low point, trying not to just care for the other three, but her own worsening symptoms.
"COVID-19 exists, and it is not like the flu," Perla said.
Perla -- a member of the Sioux City Community School Board -- was with Nathan in the Omaha hospital and her throat began closing up, and someone advised she call 911. She ultimately didn't, knowing if she was hospitalized, there would be no one at home to care for Nizsha or Shaiel. Perla self-medicated with over-the-counter Benadryl, then a week later made a clinic stop to be put on a prescription medicine.
"I didn't have the energy to plan a meal, let alone fix a meal," she said, so Perla was thankful for friends and relatives who brought meals over.
It was all very concerning.
"We have lost family members. We have lost friends to COVID," said Perla, who lives in Woodbury County, where more than 6,700 residents have tested positive for coronavirus and 89 people have died as of Sunday.
The World Health Organization says recovery typically takes two to six weeks. According to the Associated Press, one U.S. study found that around 20 percent of non-hospitalized individuals ages 18 to 34 still had symptoms at least two weeks after becoming ill. The same was true for nearly half of people age 50 and older.
Perla said she never gets fevers, but that was a coronavirus symptom. Others that showed up in spades for the four family members included sore throats, coughing, intense body aches, particularly in the legs and back, plus shaking, splitting headaches and chills.
The family went for coronavirus testing at the Siouxland Community Health Center drive-through site, which confirmed by Sept. 28 that they had the virus, so they knew that reality a week after first feeling ill. Shaiel and Nizsha tested positive for both coronavirus and strep throat, and the girls believe they were the first in their group of friends to get the virus.
"It made me cry. I was nervous about it, when you hear the bad cases about it," Shaiel said.
Sioux City School District officials performed contact tracing on fellow students who had been in proximity to the Flory sisters, and the family doesn't have knowledge on whether some East High or East Middle pupils entered quarantine. The girls did schooling from home for many days, and Shaiel said it was hard to concentrate while being weak.
By Oct. 2 they felt good enough to return to school, then as a precaution waited four more days to do that.
"I think I had it the easiest. My symptoms were not as bad as the others," Nizsha said.
All four members of the Flory family were finally considered not contagious a week ago, which was just in time for the 15th birthday of Nizsha on Oct. 12. Some grandparents brought dozens of blue balloons to the house, and a reporter in their home was present when a specialty birthday cake was delivered.
"Wish I could have more than two bites," said Nathan, who still is wrestling with reduced appetite.
They had planned two quinceañera celebrations, for the rite of passage from girlhood to womanhood, for the 15th birthday of Nizsha. One was to be in Mexico with some family members over the summer, then another this week. Both of those were nixed, so Nizsha will wait until her 16th birthday for those.
Nathan, who works in the corporate office for Tyson Foods, said he has no idea why he was hardest hit in the family. He has a long habit of taking daily vitamins and eating well, but the virus ravaged him, to the point that he lost 10 percent of body weight.
Eventually, Nathan went to the emergency room of a Sioux City hospital at 3 a.m., and by noon the decision had been made to take him by ambulance to a hospital in Omaha. Perla then witnessed a visual that showed pockets of fluid outside his chest cavity, which made her extremely worried.
"I had days of coughing so hard that I would vomit," Nathan said.
He ultimately didn't need surgery, but was put on an anti-nasusea medication, which helped over his three days in the hospital. Through it all, Perla gave the full truth to the girls on what was happening with their father.
"I am thankful for them. They go with the flow," she said, adding that her daughters have thankfully bought into the necessity of wearing face masks to protect themselves and others.
Perla has lost business due to being down for the count. She operates a business as a certified Spanish court interpreter, providing language services for courts, in jails and medical clinics. Perla could not do that in much volume, which cost the family some income.
With medical appointments over the past week, she didn't book any work, and hopes to resume that in the new week starting Monday. Also, she planned to take part in the Oct. 12 Sioux City School Board meeting, then backed out as it neared that evening.
"I don't know if I reached my limit -- if because of the secondary effects of medicine or what happened -- the intense pain, shakiness, splitting headache came back ... I had to excuse myself. I am always on the go and need to learn to take time to recover," Perla said.
She reflected on how the virus has impacted Siouxland broadly, and also the pupils and employees of the Sioux City School District. Since the third week of schools, coronavirus spread has meant more than a dozen entire class sections needed to move to online instruction, and dozens of employees have tested positive.
That reality, plus her own personal experience with the virus, has made Perla even more vigilant that school board members and district administrators deal appropriately with the impact on pupils and families.
Perla said people can assert that pupils have a youthful vitality to bounce back from the virus, "But you never know."
Concerned about COVID-19?
Sign up now to get the most recent coronavirus headlines and other important local and national news sent to your email inbox daily.