SIOUX CITY -- Even yoga gets disrupted when there's a pandemic. 
Erin Kuehl, who runs Evolve Yoga & Wellness on Pearl Street, held her last in-person yoga class in the middle of March, just when the COVID-19 pandemic was beginning to turn everyday life upside-down. 
The following week, she began teaching yoga from home on Zoom, the videoconferencing app that became a communications bulwark as people self-isolate. The students, watching Kuehl on screens, practiced yoga in their own homes. 
It was a first for Kuehl, who in nearly nine years of teaching yoga had never taught online -- she had been aware that online yoga classes were "on the horizon," but COVID-19 forced her to pivot to video instruction quite rapidly.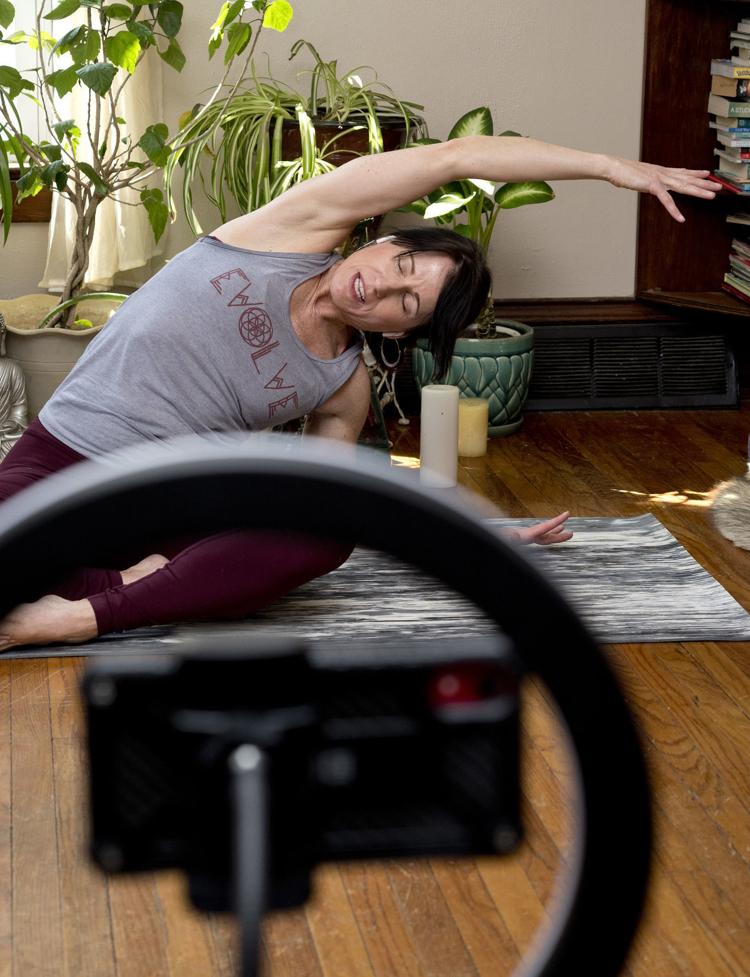 "They've been very well-received. We offered a discounted pricing option for those that have been financially affected by the situation that we're in," Kuehl said of the online classes.
Still, for some students, it seems that online yoga isn't quite what they were looking for -- class attendance has been cut by about three quarters. "So we're still really, pretty drastically feeling the effects of the situation," Kuehl said.  
But sadly, the alternatives are nonexistent -- physical yoga gatherings are somewhat anathema to social distancing guidelines. 
"We are in close proximity to each other, people are sharing space, people are sweating, it's like a gym in that aspect," Kuehl said of in-person yoga. 
The class schedule had to be changed around -- where Evolve once offered four to five classes a day, now only two are offered. Some of the studio's instructors opted not to teach web yoga classes. 
A selection of Evolve's yoga classes are also offered free on Facebook live.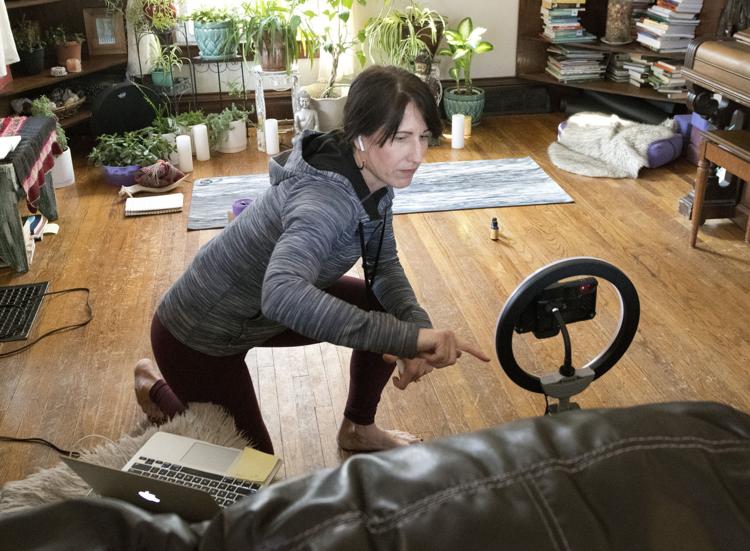 It might not appear that there's much overlap between yoga, a popular discipline of breath control, special postures and meditation that originated in Hinduism, and the COVID-19 pandemic, but Kuehl said the soothing practice has value during this chaotic and frequently unpleasant time. 
"We are offering a more mindful class, a more gentle class, and there's a lot of people that come to that," she said. "That seems to really help with their stress levels." 
Moreover, yoga can be done at home with minimal equipment and space. Kuehl said all that's really needed is a yoga mat and some sort of sturdy object to use for balance. And of course a phone, tablet or computer to connect with the class. Besides that, no fancy equipment is needed. 
Kuehl offered no predictions for when yoga classes will move out of her house and back into the downtown studio. It depends largely on when officials begin to warm to the idea of opening things back up: "Right now, we're just following the guidelines that are set forth by the experts." 
Zoom is still an imperfect medium for yoga classes. The videos work fine live, but Kuehl has run into problems recording lengthy sessions for students to use on their own time. And web-yoga isn't completely analogous to the in-person kind.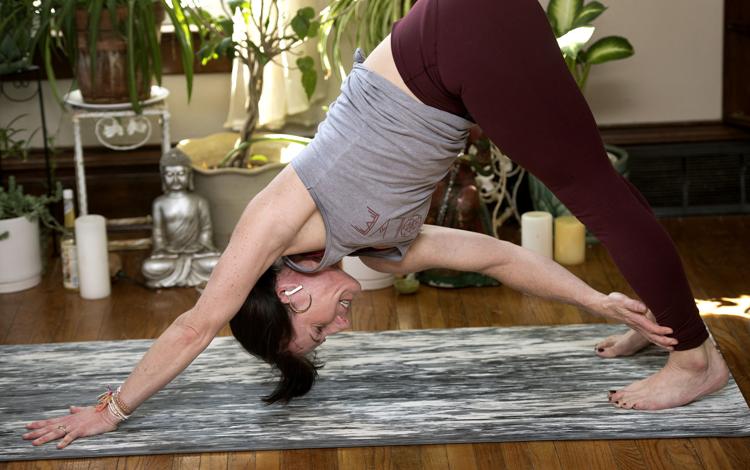 "As an instructor, I am able to look out at my students and offer more effective cue-ing about their practice, how to get into certain positions or go deeper into certain positions, when I can physically see them," she said. "I can see areas where they might need assistance. If something might look like it might be creating a little bit of (discomfort), I might be able to offer some guidance to help them ease into the pose a little bit more. 
"So, that aspect is removed. There is definitely an energy that is held in the room, in the space of the room, in a yoga class, and that is obviously not available anymore," she added. "But, you know, when we are able to connect virtually, it was such an amazing thing to see all these people's faces, virtually, and to connect that way. It was completely different, and the class was different, but there was still something about that connection." 
Get local news delivered to your inbox!
Subscribe to our Daily Headlines newsletter.