SIOUX CITY -- After several attempts at sinking a marshmallow in a glass of water, Sofia Sedano said she is officially stumped.
"Nope, I try to hold it down," the 7-year-old Sioux City girl said. "Then, it just bobs back up."
That is, until the now-waterlogged snack food turns into stringy piece of goo.
"Yuck," Sofia said, inside a Boys & Girls Clubs of Siouxland classroom where she and nearly 20 other kids were learning a lesson in density from Morningside College chemistry professor Brian McFarland. 
McFarland and a handful of his science students conduct a weekly Mentors in Science class as part of the 823 Pearl St. organization's after-school program.
"Marshmallows may be light, fluffy and delicious, but they're also made up mainly of air," McFarland explained. "Since air is less dense than water, a marshmallow will usually float to the top."
Well, that seems to be the correct hypothesis, according to 9-year-old scientist-in-the-making Austin Leander.
"I thought if you tore the marshmallow into teeny pieces, it would sink to the bottom," Austin said, attempting his theory before calling it quits. "Still didn't work."  
However, Cassy Huiras, a Morningside biology junior, has hit upon a way to sink a marshmallow. Simply put, you gotta squish it into the shape of a pancake.
"By squishing a marshmallow, you're also squeezing out all of the air," she said. "That allows it to become denser than water."
"The flatter a marshmallow is, the lower it will go," Huiras said, showing off a glass of water with a coin-shaped marshmallow, circling the bottom. "That's how you sink a marshmallow."  
The Hopkins, Minnesota, native said introducing children to the world of science is one of her favorite things to do.
"Kids are naturally curious and they love to do hands-on activities," Huiras said before popping a fresh marshmallow into her mouth. "Plus kids love snacks."
Perhaps not too surprisingly, Huiras' second experiment also involves food. Specifically, it tests a property called ascorbic acid, and oranges play an important role.
"Experiments are more fun when snacks are involved," she said, carefully separating fruit meant for snacking from the ones designated strictly for testing purposes. 
Elvis Castro provided assistance for Huiras during the class. 
A Morningside biology and chemistry senior who will be going to medical school next fall, Castro created the Mentors in Science class more than a year ago.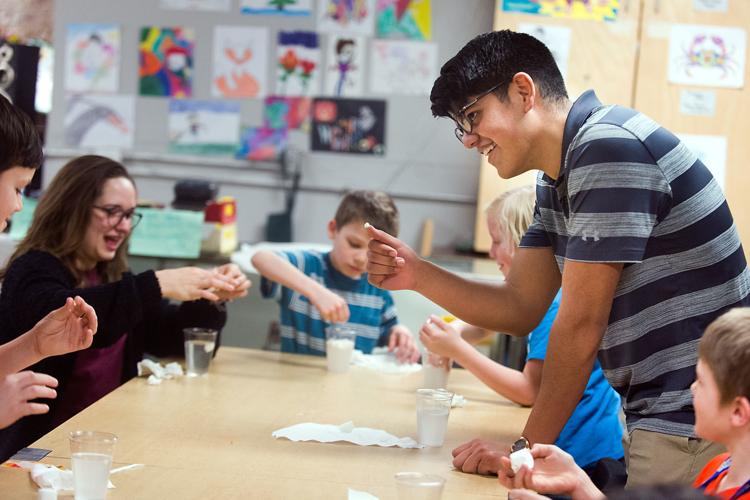 "I began working at the Boys and Girls Club, loved it and wanted to give something back to the organization," he explained. "That's when we started to do weekly experiments as a way to introduce kids to science."
Which is something Castro said he would've enjoyed as a child growing up in Storm Lake, Iowa.
"You have to spark imaginations," he said. "Kids want to learn."
Kids also want to be messy.
This was the lesson learned when McFarland added iodine to spray starch.
"When iodine and starch come together, it becomes a bluish-black tint," he said, while encouraging student scientists to turn their hands into the color of a ripe blueberry.
Amylose in the starch is responsible for the blueish color. It happens when potassium iodine reacts to the starch.
"It's basic chemistry," Hurias said.
OK, so how do you get rid of that nasty blue dye? She said by introducing vitamin C in the form of an orange, rubbing it onto the stain.
"The vitamin C in the orange reacts quickly, consuming the iodine," Hurias said. "That takes away the blue."
It is clear that Hurias and Castro get as much of a kick out of these experiments as the children do.
"Science isn't boring or scary," Castro said. "It's fun and that's what want the kids to take away from this class."