SIOUX CITY -- George H.W. Bush, the late former U.S. president, is fondly remembered by some local Republican politicos. 
Georjean Bailey, a Sioux Cityan who worked with Bush's campaigns in a PR and advertising capacity, said she hitched her wagon to George H.W. Bush early on. 
"I was in the Bush campaigns from the start, all Bushes," Bailey said. "I think I've met every child of his, except Marvin." 
She can remember a long-ago time when Bush, who served as president between 1989 and 1993 and vice-president from 1981 to 1989, was a little-known politician visiting the home of Republican congressman Wiley Mayne. 
"After he was finished, several reporters from the media asked me what (Bush) had done previously," Bailey said. 
"I saw in President Bush the ability to change things, to work across the aisle, that was one of his greatest things," she said. "He captivated people. He knew so much from his previous skills -- Ambassador to China, the C.I.A." 
Bush's family skills translated well to the Oval Office, Bailey said. 
"I think he has also a great love of his family, and that I know has been talked about a lot," she said. "People that are into their family seem to be able to handle just about any situation that comes along. It was just kind of a natural vibe, and I think the Republicans around here saw that in him." 
Bailey said that she was on a first-name basis with both George and Barbara Bush, who preceded her husband in death in April. Though she did not spend time with them socially, she has no shortage of humorous Bush anecdotes. 
In one Barbara Bush visit to Sioux City, Bailey recalls that Bush was asked by a reporter whether she would dye her white hair or update her wardrobe with her increasing prominence. 
"She was purely a grandma-type person," Bailey said of Barbara Bush. "And she says, 'They either take me like I am, or they don't take me at all." 
Ray Hoffman, a former chairman and treasurer of the Iowa GOP, has warm memories of Bush 41. 
"Nice man, nice family," Hoffman said.
An immigrant from Germany, Hoffman said he's proud of the 10 or 12 times he got to meet Bush. As a delegate to the Republican National Conventions between 1992 and 2004, he cast votes for both Bushes. 
"It's America, there's no place else in the world you can do this kind of stuff," he said. 
At a campaign stop in downtown Sioux City Sunday, Democratic Congressman and presidential hopeful John Delaney had nothing but nice things to say about the former Republican president. 
"The things (Bush) is going to be celebrated for, is this notion of civility and decency," Delaney said. 
Bush made several visits to the Sioux City area in 1987 and 1990. He stopped in Canton, South Dakota and Sheldon, Iowa in July 1987 for campaign events he dubbed "town meetings," which he said were about "listening and not lecturing." 
The big topic in those days was the Iran-Contra Affair, in which the Reagan White House found itself embroiled in the late 1980s. Bush maintained his support of the Nicaraguan Contras, even when one audience member said his brother had been killed by a Contra partisan.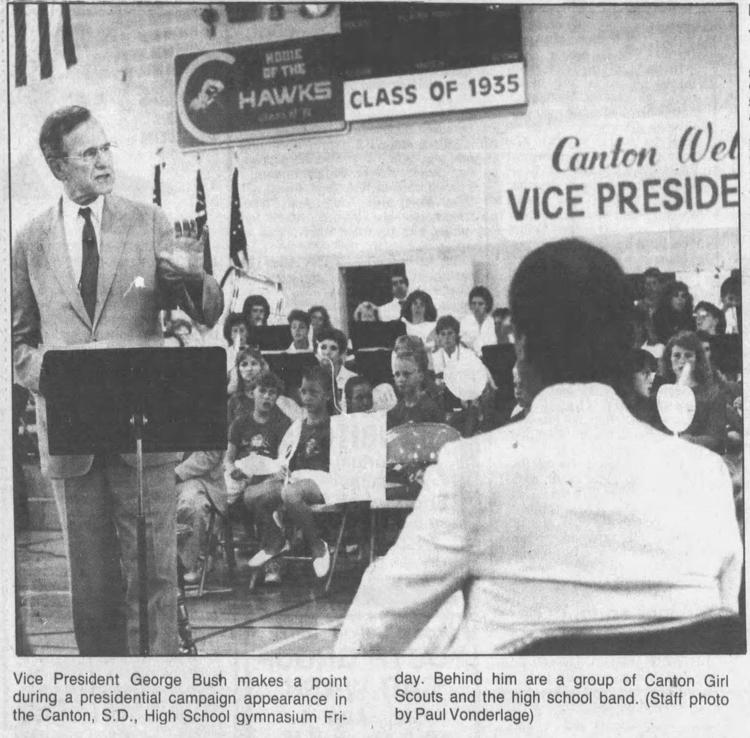 "Ortega is a Marxist Communist," Bush said of Daniel Ortega, Nicaragua's then, and current, president during the campaign stop. "He wants a revolution without borders." 
Despite the weight of these topics, Bush was apparently quite comfortable in the Canton High School gymnasium, removing his suit coat in the muggy July weather and drinking a lot of ice water. 
At a "town meeting" at Morningside College in March of that year, Bush said he would need Iowa's support to win the White House in 1988 -- he credited his vice presidency with the support he got from Iowa GOP voters in 1980. 
"In the last one and a half days, I've learned a great deal about the problems in your communities and possible ways to solve those problems," Bush said during the Morningside visit. 
In November of 1987, Bush was once again in Sioux City, giving the Journal an interview at the Hilton Inn. Bush at the time said he was taken aback by how plugged-in Iowans were to affairs far outside the state -- he'd been asked questions about Nicaragua, the Persian Gulf and arms control.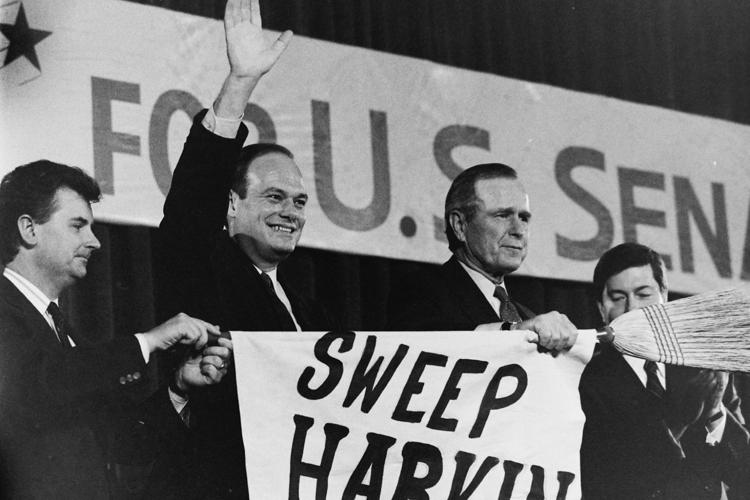 "It's surprising, but maybe it's not so surprising if you know the state of Iowa, which I consider to be kind of an international state in a way because of your exports and the interest Iowans have in world affairs," he said. 
As president, Bush stopped in Sioux City in November 1990 to congratulate the city on its handling of the United Airlines 232 crash, and to stump for Republican Senate candidate Tom Tauke. A crowd of 800 people reportedly greeted Bush at the airport.