SIOUX CITY -- The demand for Siouxland Community Health Center's mobile shower unit is so great this summer that the health center has already eclipsed last year's total number of showers by 61 percent. 
As of last Friday, the health center had provided 477 total showers in the unit, which is painted shades of blue and emblazoned with the health center's logo. In 2019, the health center provided 296 total showers and averaged 9 1/2 showers per session. The unit primarily serves individuals living in substandard housing and those who are homeless.
"We're averaging 18 per shower session this year," said Brendyn Richards, director of development and advocacy for the health center. "I've had different physicians tell me being clean is your first step to getting healthy."
Richards said the increase in demand is tied to The Warming Shelter's closure amid the COVID-19 pandemic. Before the spread of the novel coronavirus, the emergency shelter at 916 Nebraska St. opened its doors on Sundays during the summer so that residents could shower and do their laundry. Richards said two people who used the mobile shower unit told him they recently became homeless as a result of the pandemic.
"I've heard of a couple people that had jobs before COVID happened and lost their jobs and had some medical issues. They lost their place to live and they're now on the streets," he said. "They're so thankful that we do this for them. I hear that out of their mouths almost every time."
The unit, which was unveiled to the community in September 2018, features three full bathrooms, one of which is handicap accessible. Showers are offered Tuesdays and Fridays from 1 to 4:30 p.m. on the health center's property, 1021 Nebraska St. Richards said the unit is cleaned between showers.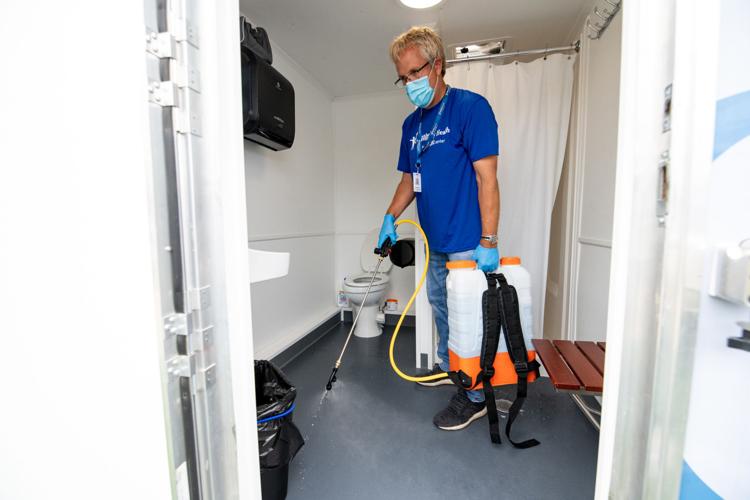 "We have an electrostatic sprayer that sprays the cleaning solution everywhere. We wipe everything down," he said. "If they have any worries about COVID, they only have to sign in that one time with the waiver form. After that, they don't have to touch anything. We put everything in the room for them, so we're not handing anything directly to them." 
Health center and Warming Shelter staff supply shower kits containing shampoo, conditioner, razors, deodorant, hand soap, shaving gel and combs. They also loan out bath towels and washcloths and provide feminine hygiene packs. 
"They supply some clothes and we supply clothes as well. We've had a couple drives through our employees for used clothing -- T-shirts, shorts, jeans," said Richards, who said the health center has also received donations of new socks and underwear.
Before showering, individuals sign a waiver form. After showering, they leave comments such as, "It makes me feel like a person" or "I feel so much better about myself." 
"We actually helped people get jobs last year," Richards said. "I've actually talked to them since and they still have their job. This kind of stuff has led them to get back on their feet."
Get local news delivered to your inbox!
Subscribe to our Daily Headlines newsletter.