SALIX, Iowa -- By this time in a normal year, Greg Jochum would already be well into spreading fertilizer on his farmland near Salix in preparation for planting corn.
The late spring and damp soil conditions left him about a week to 10 days behind. He began applying fertilizer late last week. 
The widespread flooding in mid-March left large swaths of Iowa and Nebraska farm ground damper than usual at the beginning of the typical spring planting season.
To be fully covered by federal crop insurance, Iowa farmers cannot plant corn earlier than April 11 or any later than May 30. In Nebraska and South Dakota, the earliest planting date is April 10, and the last is May 25 and May 31, respectively.
Insurance helps ensure a minimum price farmers will receive when they contract sales of their crops.
Economists estimate this spring's flooding dealt a $2 billion blow to Iowa's economy, which includes damage to farmsteads, equipment, and stored grain and hay. As much as 145,000 acres along the Missouri River flooded, largely in southwest Iowa and southeast Nebraska.
While the floods have receded, some farmers in Northwest Iowa and Northeast Nebraska also report planting struggles along rivers that include the Missouri, Big Sioux and Little Sioux rivers.
In a crop report issued Monday, the U.S. Department of Agriculture found fields across Iowa remained wet. None of the state's corn crop had been planted by April 14. In an average year, 2 percent would have been in the ground by that time. 
Iowa Ag Secretary Mike Naig said it is doubtful crops will be planted on time in many places due to the flooding.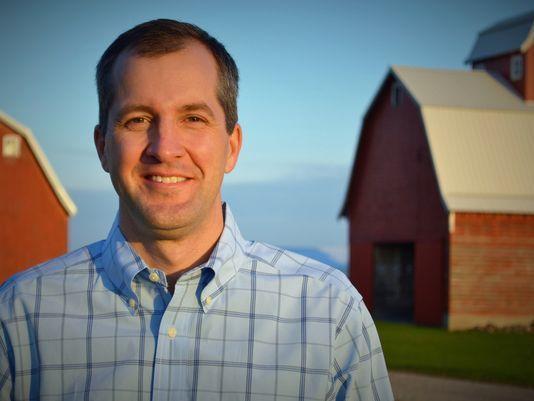 "Our farmers manage through weather variability every year," Naig said during a visit to Sioux City on April 10.
Joel DeJong, an Iowa State University field agronomist, said some farmers in the southern part of his Northwest district -- southern Plymouth County, Woodbury and Ida counties -- have started some field work. Usually by now, some of those producers would be planting. 
"Might have been a bit wet yet, but there was, at least on the well-drained soils, a little bit more activity," DeJong said. "Getting some nitrogen applied, getting some manure hauled." 
Soil in the northern tier of his district -- O'Brien, Lyon and Osceola counties -- is even wetter. Some farmers in those areas may have to wait even longer to get their crop in. DeJong said he's not sure how long that will take. 
"The next three weeks are going to tell a lot," he said. "They had more rain this past week, and snow, so all those things slow down the process," he said. "We don't have much place to store rainfall, so a three-week drought right now might be a good thing. But I don't think we're going to get that." 
For the week ended April 14, 45 percent of Iowa farmland had what the USDA describes as surplus topsoil moisture. 55 percent had adequate topsoil moisture, and no land was short of moisture. 
You have free articles remaining.
In Nebraska, 33 percent of the topsoil had surplus moisture, 66 percent had adequate moisture, and just 1 percent was short of moisture, according to the crop report.
Forty-seven percent of the topsoil in South Dakota had surplus moisture, while 52 percent of the state's land had adequate moisture. Just 1 percent was short of moisture.
Developing root systems in corn, soybeans and other crops do not thrive in excessive moisture conditions, so some farmers will have to wait to plant until moisture levels are more suitable. 
Even though his ground is a bit wetter than ideal, Jochum said his planting plans for this year haven't been seriously impacted. 
"I haven't really been affected by the flooding from the Missouri or from anything," he said. "What I planned on doing at the beginning of the year hasn't changed." 
He also farms land near Hornick, Iowa, where residents were forced to evacuate last month due to flooding. A breach in the levee on the West Fork of the Little Sioux River contributed to floodwaters entering the Woodbury County town of about 200.
Jochum said some of his Hornick area farmland is still muddy, but he said it should dry out by May.  
"It just hasn't dried like it has in the past. It isn't warm enough," he said. 
Most years, Jochum said he normally starts planting by the time the soil temperature is above 50 degrees, which is typically between April 20 and April 25.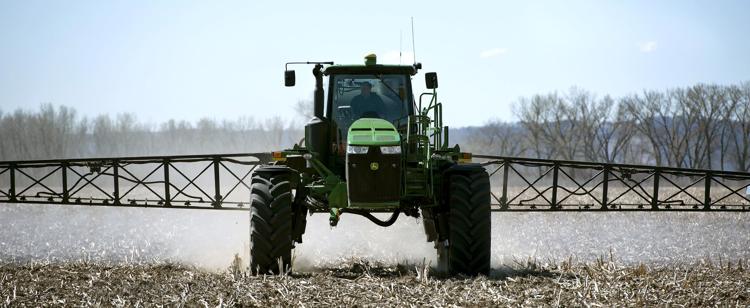 The risk of freezing temperatures that could damage emerging plants decreases as time goes on. 
In the Sioux City area, there is about a 50 percent chance of temperatures 32 degrees and below by April 26, decreasing to about a 10 percent chance by May 10, according to the National Weather Service in Sioux Falls. The risk of temperatures 28 degrees or lower falls to about 10 percent by April 30. 
Ben Van Beek, an agronomist with Farmers Cooperative Society in Sanborn, Iowa, said he's optimistic dry, warm weather that moved into the region last week will continue. Van Beek said some of the O'Brien County farmers he works with could begin field work soon. 
"Forecast looks good, it's sunshine right now, it's a little cool -- I'm having hopes that we're going to spread some fertilizer next week, and maybe see some planters rolling next week, but it's going to be here and there," Van Beek said. "Every field's not going to be ready yet." 
But temperature and moisture aren't the only considerations. Some of Jochum's neighboring farmers are faced with built-up debris in their fields from the floodwaters. Debris can trap moisture in the ground, further delaying the drying process. 
Jochum said he has a "manageable" level of debris on his land, which can be removed with a skid loader and burned or otherwise disposed of, or can be spread around with a field cultivator. 
"There's some farmers that have a lot of trash in their fields from where water was sitting," he said. "There's a lot of buildup of cornstalks on field edges."