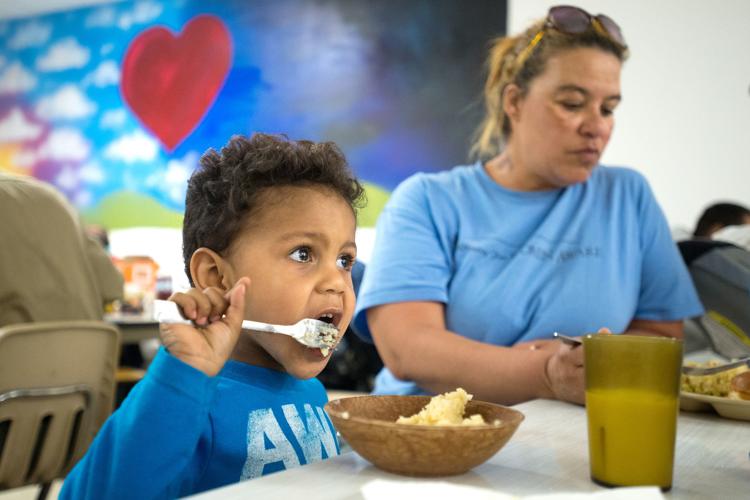 SIOUX CITY -- Eric Pryor Jr., 2, picked and poked at a bowl of mashed potatoes with his fork.
"My grandson gets pretty choosy about what he eats," grandma Dawn Ellington explained, inside the dining room of the Siouxland Soup Kitchen, on a warm Wednesday night in April. "Eric has a sweet tooth and loves his desserts.
The Sioux City Journal examines homelessness in Siouxland in this five-day series.
"Just like his mama," Ellington said, teasing her daughter Jazman, who happened to be sitting across the table.
Located at 717 W. Seventh St., the Siouxland Soup Kitchen serves a free dinner to around 65 to 70 people, between 5:15 and 6:30 on an average night.
"That number could go higher later in the month," Danielle Tott, the soup kitchen's manager and head cook, explained. "As the month goes on and people start running out of money, we can easily see as many as 100 people on a given night."
While some of the people waiting in line, this night, for a hot, cooked dinner of ham, potatoes, stuffing, green peas and a dinner roll are homeless, many are not. 
Indeed, the Ellingtons aren't homeless, though Dawn Ellington admitted her family struggles to stay afloat.
"We may only come to the soup kitchen a few times a month but it helps," the stay-at-home mother of five and grandmother of eight said. "Definitely helps."
Echoing a sentiment once shared by the late Gordon Lebowich, the soup kitchen's longtime board president, Tott said, "It is not against the law to be hungry."
On the job since August 2017, Tott replaced Evelyn Marsh, who was the soup kitchen's manager for more than 25 years.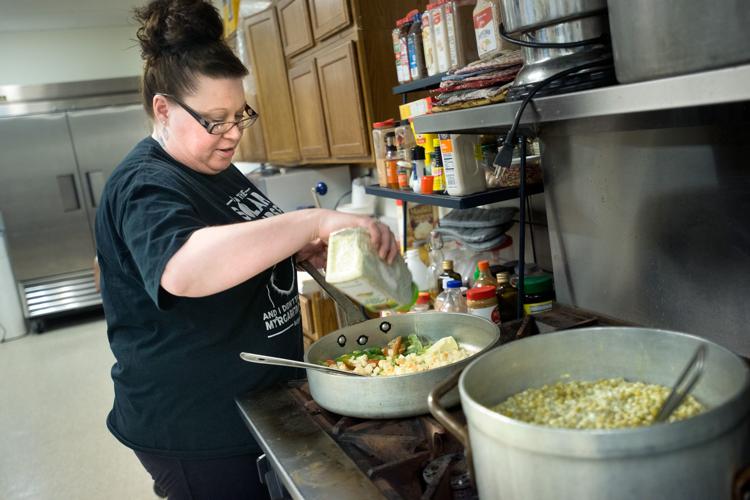 "When I heard Evelyn was retiring, I campaigned for the chance to replace her," said Tott, who had previously worked in food service jobs for state universities and retirement communities. "I consider this to be my dream job."
Part of the reason is that she identifies with many of the people breaking bread at the soup kitchen.
"I've never been homeless," Tott said, "but I know what it's like to be hungry."
A Somerset, Pennsylvania, native, she had a troubled background and battled a heroin habit for many years.
"I came to the Midwest in order to make a new start for myself," Tott, a recovering addict for more than a decade, said. "It isn't in my heart to judge anyone."
This is one of the reasons she refuses to sequester herself inside a kitchen.
Instead, Tott loves to interact with people as they eat food prepared by herself and served by a revolving group of volunteers.
That's how she discovers what meals people like best (comfort foods like spaghetti and taverns do especially well), and that's how she learns everybody's back story.
"If I don't see somebody for a while, it can either be good news since someone has landed on his feet," Tott said. "Or it could be bad news and someone is in the hospital or jail or worse."
Marty Chavez is one of Tott's favorites.
Formerly homeless, Chavez is now employed and helping out at the Soup Kitchen whenever possible.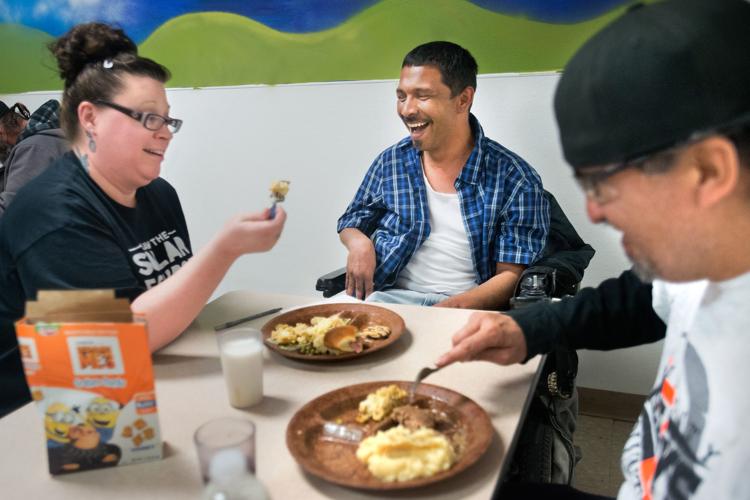 "I've never been one of those people who wanted a handout," the California native explained. "If you ask somebody for help, they'll immediately want money. In my mind, a good, home-cooked meal is payment enough."
Which makes Tott happy, since she relies on others for food and kitchen staff.
"People can be extremely generous," she said. "If they're able to, our board members can supply us with 100 pounds of ground beef or 40 pounds of chicken. On occasion, we'll even get prime rib."
Tonight, the menu is much more conventional but, still, very homey.
Tott instructed volunteers Vicki Warner and Dorothy Myers on the proper way to plate the food.
"We have plenty of ham and plenty of potatoes, so don't be skimpy," she said. "Shoot, I should've made gravy, but I lost track of time."
A former restaurant server and school "lunch lady," Warner is gratified by everything the soup kitchen does.
"Nobody needs judgment," she said. "Everybody needs food."
Tott looked at a clock that reads 6:15 p.m. She and her crew had been dishing out dinner for about an hour. No new diners were waiting.
This gave Tott time to spend with J.J. Frazier, a wheelchair-bound soup kitchen regular, who has difficulties feeding himself.
"You've been coming here for a quite some time," she said while helping Frazier. "You're my special friend, aren't you?"
Chances are, Frazier's not alone in that respect.
At 37, Tott isn't called "mom" or "grandma," like her predecessor Marsh was sometimes known.
Tott is more like a sister or a buddy to the men, women and families who may be getting their sole meal of the day at the Siouxland Soup Kitchen.
"This is the job I always wanted to do," she said with conviction. "This is the job I was meant to do."