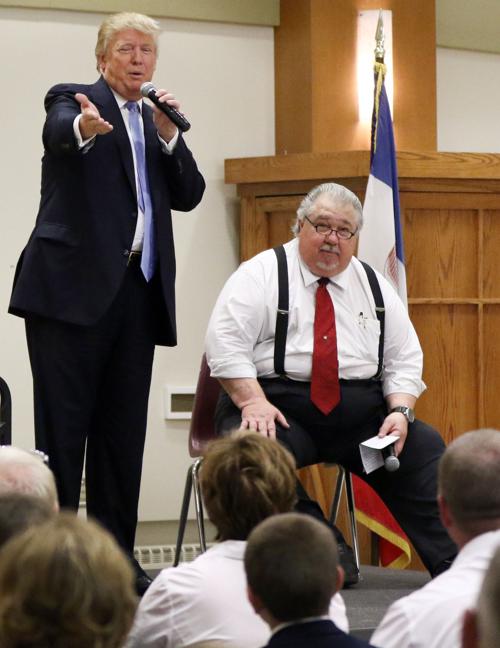 SIOUX CITY | As a top adviser to Republican presidential candidate Donald Trump, Siouxlander Sam Clovis emerged this week as a staunch defender of Trump's controversial proposal to block all Muslims from entering the United States.
Clovis' views are coming under fire from Morningside College, where he is currently on leave as a tenured professor at the Sioux City school. 
"We find his recent position to be outrageous and disappointing," Morningside spokesman Rick Wollman said in a statement Thursday. "When he was on campus, Dr. Clovis was a staunch defender of the Constitution and a strong advocate for religious freedom. His recent comments appear to be at odds with his earlier views."
Trump's call Monday for a "total and complete shutdown" of Muslims entering the U.S. has been met with a chorus of condemnation from across the nation and globe.
Critics, including most of his Republican presidential rivals, have denounced the ban, which would include American citizens, as unconstitutional, racist, an affront to religious liberties and possibly dangerous to U.S. interests overseas. Some polls, however, show substantial public support for Trump's proposal in the wake of recent attacks by Islamic extremists in Paris and San Bernardino, California.
Trump, a billionaire businessman and reality TV star, has since doubled down on his proposal, insisting a temporary ban on Muslims is warranted until "our country's representatives can figure out what the hell is going on." 
Clovis, a national co-chair and senior policy adviser for the Trump campaign, defended the proposal in interviews with national news outlets this week. (The Trump campaign did not respond to the Journal's requests to make Clovis available for an interview.)
In a live interview with CNN on Tuesday, Clovis, who is also a former radio talk-show host, said strong action is needed in a time after "we have 525 people killed in five separate incidents" by the Islamic State terrorist group.
"What we are really looking for here is to have some confidence given to the American people that the United States government has a good idea of who is coming into this country, and why they're coming into this country, and how long they're going to stay in this country, and for what purpose are they coming into this country," Clovis said, according to a transcript of the CNN interview.
You have free articles remaining.
While Morningside prizes academic freedom, the college also supports religious diversity, Wollman said.
"Sam Clovis is entitled to whatever personal opinions he would like to hold as long as he does nothing to suggest or imply that he speaks as a representative of Morningside College," Wollman said in the statement. "Having said that, we find the view that a particular religion should be discriminated against to be repugnant to the values held at Morningside College."
The college has one full-time student who has self-identified as Islamic, Wollman reported. There currently are no international students from Middle Eastern countries.
In August, Clovis took an unpaid leave of absence as a faculty member in Morningside's Department of Economics, Political Science and Sociology, and as director of the college's Col. Bud Day Center for Civic Engagement.
Wollman said Clovis has not indicated whether he intends to return in the next academic year.
Clovis, a prominent conservative Republican activist, was a GOP candidate for the U.S. Senate in Iowa in 2014, and later was the Republican nominee for state treasurer, losing that fall to incumbent Michael Fitzgerald. Clovis also formerly hosted a popular radio talk show on Sioux City station KSCJ.
Powell Broadcasting, which owns KSCJ, is neutral on what former employee Clovis says in his role as a Trump campaign adviser, Powell spokesman Craig Deitloff said Thursday.
"He no longer works for us. His opinions are his own. They don't reflect the opinions of this station or broadcast facility," Deitloff said.
Trump's first 2015 visit to Sioux City was at Morningside in May, when the brash businessman was still deciding whether to become a Republican presidential candidate. Trump was introduced that day by Clovis, who called Trump "one of the greatest men I've ever met."
A month later, Trump launched as a candidate and rushed through a summer of full-court media coverage as the GOP polling leader, where he's remained for months.
In August, Clovis joined the Trump campaign as national co-chair, defecting from Texas Gov. Rick Perry's presidential team, on which he had served as a top adviser in Iowa.