SIOUX CENTER, Iowa – Carlee Pieper held on tight to the zip line just before she crashed into the water, emerging all smiles and laughing. Carlee was just the first person in line out of many kids to ride the zip line and other new attractions at the Sioux Center All Seasons Center's Siouxnami Waterpark Wednesday as city officials came out for the ribbon-cutting ceremony.
The Siouxnami Waterpark marked its ceremonial opening Wednesday to a crowd of community members and children in swimsuits, ready to take on the park's new rock wall, basketball hoop, lazy river and the highly anticipated zip line. For families like Ellie Pieper's, the water park in Sioux Center is a great attraction for everyone around, in the city and beyond.
"A place to come and hand out and have a lot of fun locally, not have to travel anywhere to do that kind of stuff," Ellie Pieper said, recalling how her family would travel to Sioux Falls – more than an hour's drive away – a few times during the summer to swim. "We're pretty excited to stay locally and be a mile away, ride our bikes here and come to the pool."
According to Dave Ruter, director of the All Seasons Center, it took $6.5 million to complete the renovations and additions to the Siouxnami Waterpark, which is attached to the existing indoor All Seasons facilities. Ruter said the 12,000-square-foot water park includes a 400-foot lazy river, three water slides ranging from 64 to 253 feet at a height of 30 feet, and a pool that holds more than 400,000 gallons.
The water park officially opened Saturday, and has seen more than 2,000 swimmers in its waters so far, Ruter said.
"Here in Sioux Center, we can and should do something like this for our citizens," Sioux Center Mayor David Krahling said. "It makes this an attractive place to live and locate a business. It's (an) attraction for people to come and visit us."
You have free articles remaining.
Krahling and Sioux Center City Manager Scott Wynja expressed how the new water park can help propel the city to more growth and expansion. They thanked the workers and officials who helped build the water park over the past year. 
"Our council and former mayor Dennis Walstra had outstanding vision and leadership to take this initiative and move it forward," Wynja said. "Providing quality of life amenities and services is one of the ways the city can help facilitate growth as our community continues to thrive."
To Ruter, the Siouxnami Waterpark is becoming a place "where friends and family gather."
"And that's really what I see out here," Ruter said. "So many families come together, so many friends get together, and we're just happy that it turned out so well because of the great labor force that we had out here."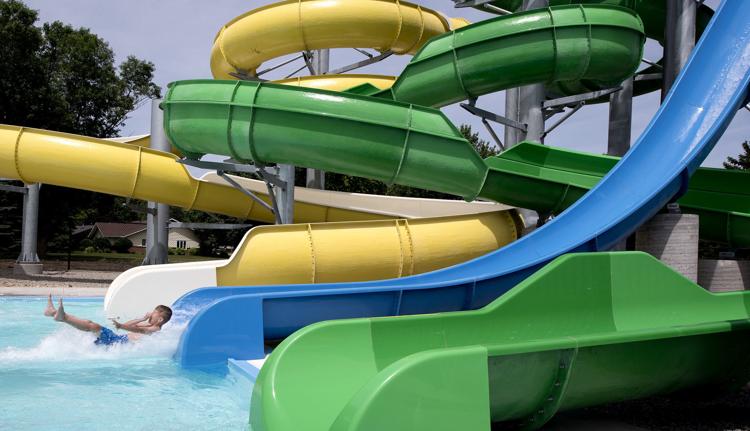 To kids like Carlee Pieper, the Siouxnami Waterpark in Sioux Center is the definition of summer. Bike rides, no school, swimming and fun, Pieper knows that's what her summer means.
"I feel like it's a really good place to hang out with friends and make good memories," Pieper said.