SIOUX CITY -- Put any sports team from Siouxland Christian School or Woodbury Central High School on the field or court against a school from West Des Moines, Dubuque or Cedar Rapids, and the result isn't going to be pretty.
Doesn't matter how athletic the kids from the small schools are or how brilliant their coaches' game plan is, it would likely be a blowout every time.
But put those small-school students on the stage or in an auditorium against the big-school kids, and it's a different story. The ability to speak, to act, to create at a championship level doesn't have anything to do with the size of school one attends.
Need proof? Look at what happened Saturday at the Iowa High School Speech Association's large-group All-State Festival on the Iowa State University campus in Ames.
Siouxland Christian, with a high school enrollment of 68 students, walked away with two Critic's Choice banners, one for its one-act play, the other for short film. Woodbury Central, with 198 students in grades 9-12, saw the group improv team win the first banner in any event in school history.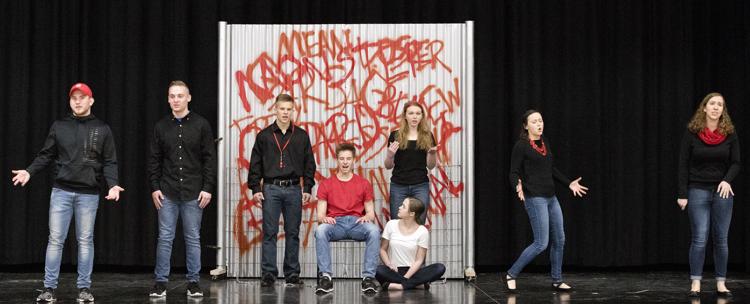 The Critic's Choice awards technically aren't state championships, but don't try to convince the winning speech students otherwise. The celebrations are just as joyful as any you may have witnessed at this past weekend's state wrestling tournament.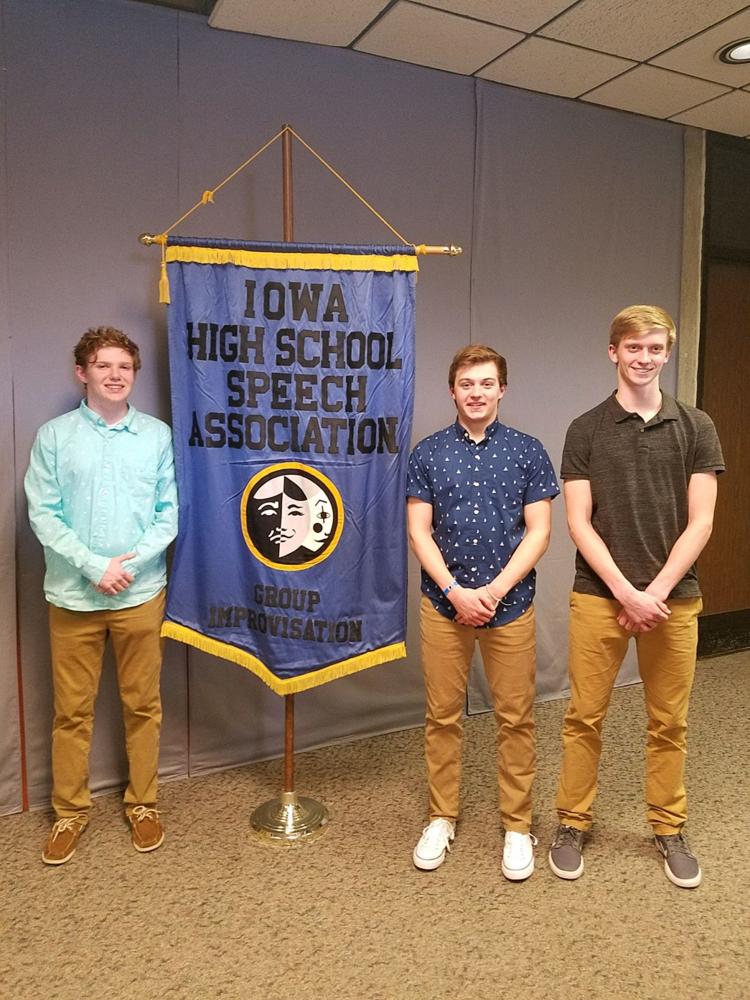 One big difference though: the All-State Festival is a single-class competition. There's no division of schools into classes from 1A to 4A, so Siouxland Christian and Woodbury Central competed against schools of all sizes, including powerful speech programs from much bigger schools such as West Des Moines Valley and Dubuque Senior.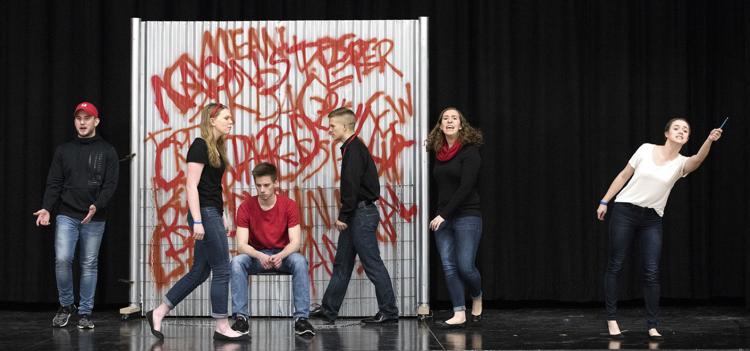 Out of 11 events, two Woodbury County schools with enrollments of less than 200 won the critics choice banners in three of them. Add in Postville's critic's choice award in TV newscasting, and three schools that compete in 1A athletics brought home banners.
"To me, this was not just a big deal for us, but also a big deal for small schools across the state," said Denise Heiman, who has coached Woodbury Central's speech teams for 23 years in addition to teaching special education and communications.
Heiman, who has taken students in 22 events to All-State Festivals the past eight years, said her competitors often feel they have little chance to beat the big schools. But now that the Moville school's improv team of Mitchell Countryman, Logan Hammond and Derek Hytrek (full disclosure, he's my son) have shown it's possible to win against the big schools, Heiman said she hopes that future students will believe they, too, have a chance.
"I have a freshman with me right now," Heiman said during practice for the upcoming individual district speech contest. "I hope it gives her some incentive knowing that little schools can get a banner."
And for Heiman, when she heard that Woodbury Central had taken top honors over 23 other entries, it was a highlight after a trying week in which her father died.
"(Winning) was great. It was probably more profound because of the week I had," Heiman said.
Next year will be Heiman's last, she said, so Saturday was a great way to cap her career.
Meanwhile, Siouxland Christian speech coach Emily Hageman is just getting started.
Hageman, who teaches music and theater, started the Sioux City school's speech program three years ago.
Last year, in the program's second year, the one-act play earned the school's first All-State Critic's Choice award, an unexpected achievement.
This year, Hageman kept reminding her students that winning a banner last year didn't guarantee another one this year.
"It's really hard when you're such a young program, when you have something so big happen so early," Hageman said, admitting that going into Saturday's performance, she wasn't expecting to win.
Even after they performed their play, "The Cages We Build," Hageman wasn't sure cast members Trenton Armstrong, Sarah Goetsch, Mikellie Grant, Isaac Henn, Allison Kroger, Dylan Kvols, Rachel Pirrie, Erin Spake and Austin Yanney had done enough to be favored over the other seven schools that performed.
"I felt like it was an incredible performance. I did not know if it had connected with the critic," Hageman said.
When Siouxland Christian was announced as the winner, "it was just such a sense of disbelief, but also joy," she said.
Hageman was still enjoying the win and mentally planning the trip home when she got a sense that their winning may not be done.
Just before the critic's choice winner for short film was announced, Hageman said, she suddenly felt that she would hear the school's name called again. That sense was spot-on, because the school's film "Fold," which student Daniel Ketchelos wrote, produced, directed and edited and included Armstrong, Goetsch, Kvols, Kiersten Lund, Elijah Stocking, Megan Yanney, Austin Yanney, received the banner over 15 other films.
Like Heiman, Hageman said winning the critics choice awards is a great recognition for the efforts of students statewide, no matter the size of school they attend.
"To get these banners is confirmation that what we are saying is deemed worthwhile," Hageman said.
And if you've ever attended a speech competition, you'd know that these students -- from schools large or small -- have a lot to say.