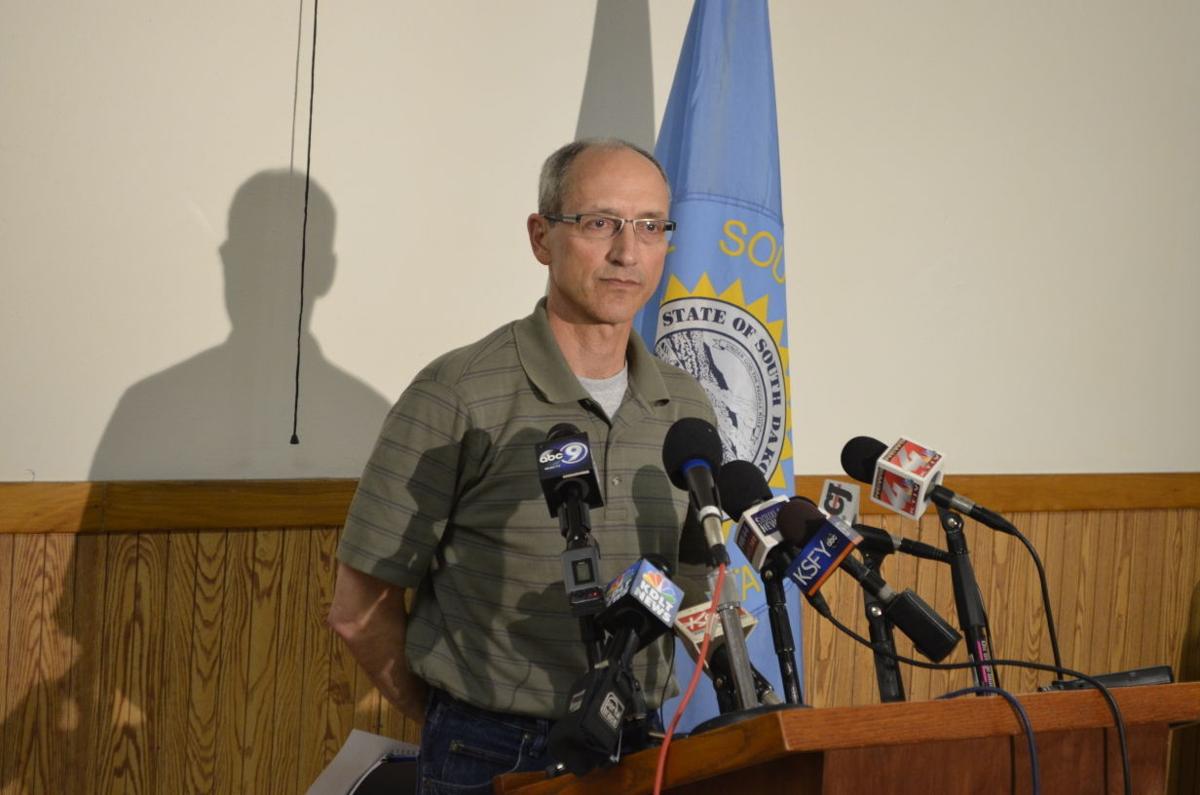 VERMILLION, S.D. | Early Tuesday morning, Amanda Abraham's cellphone sent her a calendar reminder.
Alicia Hummel's 30th birthday party was coming up on June 13.
It was a chilling reminder, Abraham said, that she wouldn't see her friend alive again.
"I saw that reminder and ..." Abraham said, her voice trailing off.
Not long before receiving the reminder, Abraham had heard that Hummel's body was found Monday afternoon at a boat dock at Myron Grove, also known as the Highline Area of Clay County. It's a remote area along the Missouri River about seven miles west of Vermillion.
Authorities are investigating the death of Hummel, 29, of Sioux City, as a homicide.
"At this time, we are following up on a lot of leads," Clay County Sheriff Andy Howe said at a news conference late Tuesday afternoon. "I think it would be premature to say we have a suspect at this time."
An autopsy was performed Tuesday, but results were not immediately available, Howe said.
Hummel's husband, Tony, is not a suspect at this time, Howe said.
Tony Hummel did not wish to comment when reached by phone Tuesday afternoon.
Friends of Alicia Hummel who attended Howe's news conference also declined to comment.
South Dakota authorities continued to search for a dark-colored sedan with tinted windows and a loud exhaust system that might be connected to the death. Howe said witnesses reported the vehicle was in the area at the time Hummel's death reportedly occurred.
Abraham said she and Hummel became close friends in the past year and a half when they helped each other through some tough times. Abraham said she had been friends for a long time with Tony Hummel and became friends with Alicia through him and their involvement in the Sioux City Roller Dames roller derby team.
Abraham said Alicia Hummel went fishing in South Dakota on Monday, the first day of a vacation from her job at Siouxland Family Center in Dakota City, where she had taught Early Head Start classes for infants and toddlers since 2013.
"As far as I knew, she was going by herself," Abraham, of Elk Point, S.D., said.
Investigators have not determined whether Hummel had company on her fishing trip, Howe said. Hummel was found in the water near the shore about 2 p.m. by a state boat ramp attendant.
"State parks have an employee that tends to those ramps, and that was the employee who found her," Howe said.
Early Monday afternoon, Abraham said, Hummel sent a photo of herself with fishing rod in hand through Snapchat, a social media platform.
Later in the evening, Abraham heard from friends who said no one had heard from Hummel lately. It was a sign something was wrong.
"She was one of those people who was attached to her phone," Abraham said.
Abraham tried to remain positive. She hoped Alicia had just dropped her phone in the river.
"That would be like her. She could be kind of clumsy," Abraham said, laughing. "I figured I'd get a picture of her with all the fish she caught later."
But there would be no photo. Investigators were not able to locate the phone at the crime scene, Howe said, and they were continuing to search for it.
There will now be no birthday party, no night out on the town in Sioux City with Hummel and her friends, Abraham said. It was a celebration everyone in their circle of friends was looking forward to.
She said Hummel's smiling face and infectious laugh surely would have been the life of the party.
"She was happy, a very bubbly personality. Her laugh was hysterical. She had that cute, girly giggle."
Most of all, Abraham said, she'll miss her friend's ability to remain happy, to keep smiling no matter what personal challenges she faced.
"Her smile is one of those things that is going to be with you forever," Abraham said.
Staff writer Kirby Kaufman contributed to this story.
Get local news delivered to your inbox!
Subscribe to our Daily Headlines newsletter.