SOUTH SIOUX CITY -- Frank LaMere, who spent decades of his life fighting for various causes to help his fellow Native Americans, lost his own battle with cancer Sunday night.
LaMere, who died at age 69, was remembered Monday as a passionate activist who became the voice for the voiceless.
Winnebago Tribal Chairman Frank White called LaMere's death a "great loss" for the northeast Nebraska tribe in which he was a member.
"Frank was instrumental in bringing to light a lot of issues concerning Native Americans," White said.
LaMere was one of 13 children born to combat veteran John LaMere and Matilda LaMere. While living in Montana in the 1970s, he emerged as a leader of the American Indian Movement, or AIM. In November 1972, at age 22, he served as the spokesman for a group of AIM members who presented the Bureau of Indian Affairs with a list of demands to reform the federal agency. Armed guards were dispatched after the AIM members assembled outside the federal building in Billings, Montana. 
In the late 1990s, LaMere began his long crusade to ban beer sales in Whiteclay, a small Nebraska city just across the border from the Pine Ridge Indian Reservation in western South Dakota.
Riding through on a hot day 22 years ago, seeing 50 people drunk beneath the sun — some passed out, some fighting, some peeing in the street — LaMere formed his first definitive conclusions about Whiteclay. He turned to his driver that day, an elder and fellow visitor from Winnebago.
"I said, 'Fred, someone needs to do something about this sxxx,'" LaMere once recalled for a reporter.
The reply: If LaMere wanted something done, he'd need to do it himself.
Two years later, when protesters marched in response to the deaths of Wilson Black Elk Jr. and Ronald Hard Heart just outside Whiteclay, and state and federal lawmen blocked the highway in their path, LaMere and a friend were the first to cross the barricade.
Nine people were arrested that day, including LaMere: "That's the beginning of it."
In the decades following, LaMere became the most outspoken, persistent opponent of the Whiteclay convenience stores, which sold the equivalent of 3.5 million cans of beer per year, despite having only a dozen full-time residents. The sales were blamed for fueling alcoholism on the officially dry Pine Ridge reservation. 
In September 2017, LaMere finally claimed victory after the Nebraska Supreme Court rejected an appeal by the owners of the four stores that had been shut down in April by the state Liquor Control Committee. 
LaMere also fought to curb high rates of alcoholism among Native Americans back home. At the time of his death, he was a leader in a community effort to secure funding for a detoxification center where Native Americans addicted to drugs or alcohol could stay until they were sober enough to enter a treatment facility. Native Americans make up a disproportional percentage of Sioux City's arrests for public intoxication, and a number of those people are also are homeless.
Sioux City Mayor Bob Scott on Monday reflected on LaMere's legacy as a "passionate activist for the Native American community."
"Frank was instrumental in working with elected leaders, law enforcement, the public health sector and nonprofits to find solutions (Sioux City and beyond)," Scott said in a statement. "Frank was an advocate for people who needed help but don't know where to turn. Frank was their voice."
LaMere also was passionate about keeping Native American families together. That's why he was instrumental in developing the Memorial March to Honor Lost Children 16 years ago. As a way to remember Native children who has been taken from their families and communities while being placed in non-Native child welfare system, LaMere and other supporters marched across the Siouxland Veterans Memorial Bridge from South Sioux City to Sioux City.
Elizabeth Rembold, an assistant social work professor and director of Briar Cliff University's social work program, worked closely with LaMere on the annual November event.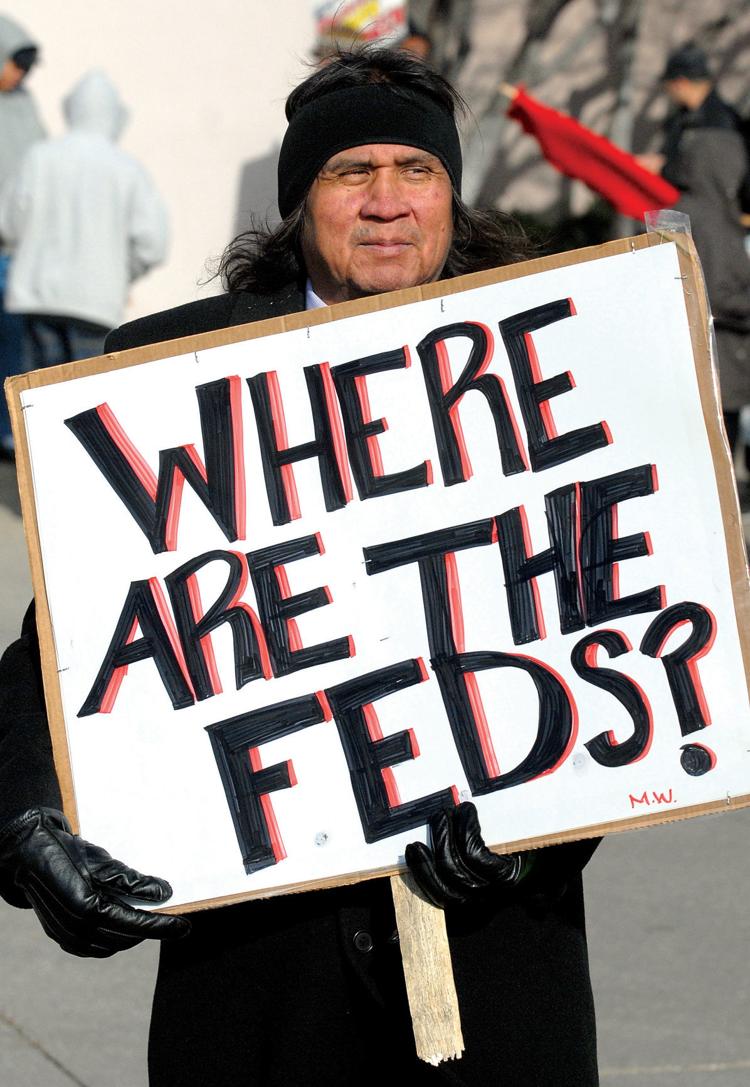 "Frank was anything you wanted him to be," Rembold said. "He could be a mentor if you wanted him to be or an advocate if that was preferable."
Most recently, LaMere brought attention to the grand jury of Zachary Bear Heels, an Oklahoma man who had schizophrenia and was bipolar and who died within minutes of a confrontation with Omaha police in 2017. 
Bear Heels, 29, died after police punched and repeatedly shocked him with a Taser. A coroner determined that Bear Heels died of "sudden death associated with excited delirium, physical struggle, physical restraint and use of a (Taser)."
After one Omaha police officer was found not guilty of assault by a jury and the Douglas County Attorney's Office dropped charges against another, LaMere called on the U.S. Justice Department to investigate Bear Heel's death.
"People should ask. 'Good God, what are they doing in Omaha, Nebraska,'" he said at the time.
LaMere repeatedly dealt with tragedy in his own life. His brother, Anthony, was killed in Vietnam in 1971. Frank's daughter, Lexie Waken LaMere, died of leukemia in 2014 at age 21.
"Lexie was often on Frank's mind," said filmmaker John Maisch, whose 2013 documentary, "Sober Indian Dangerous Indian," featured LaMere. "At the end, he was at peace because he knew he'd soon be reunited with Lexie."
While making and promoting the film, Maisch said he spent thousands of hours with LaMere.
"I think Frank became the voice of the voiceless because he had been grieving his entire life," he said. "Whether it was losing his brother during the Vietnam War or losing his parents, Frank made it a point to turn grief into something positive." 
LaMere passed his love of politics onto his daughter. In 2012, they both represented Nebraska as delegates to the Democrat National Convention. Frank LaMere was selected as a delegate multiple times, and served on the Democratic National Committee from 1996 through 2009.
LaMere recently undergone surgery for bile duct cancer. His son, Manape LaMere, announced his death in a Facebook post Monday.
"Our father Frank LaMere crossed over to the other side of this river of life," Manape LaMere wrote.
LaMere's four children also includes Jennifer and Hazen.
South Sioux City Mayor Rod Koch, who described LaMere as "an advocate for the Siouxland community," said he just learned of his family's connection to the LaMeres.
"When my son Chris was going to summer camp as a kid, he'd mentioned becoming friends with a Native child named Manape," Koch said Monday. "It wasn't until Manape LaMere broke the news of Frank's death that I realized my son and Frank's son were friends."
A traditional wake for LaMere will continue until dawn Wednesday morning at St. Augustine Indian Mission's school gym at 1 Mission Road South in Winnebago. A funeral mass will be held at 10 a.m. Wednesday at the adjacent St. Augustine Church.
Koch said LaMere always had a never give in attitude.
"When it came to being the voice for the voiceless, Frank was always calm but he was always heard," the South Sioux City mayor said.
Scott shared that sentiment.
"Frank was an advocate for people who needed help but don't know where to turn. Frank was their voice. He will be greatly missed."
The Journal's Dave Dreeszen, the Lincoln Journal Star's Don Walton and the Associated Press contributed to this story. 
Get local news delivered to your inbox!
Subscribe to our Daily Headlines newsletter.