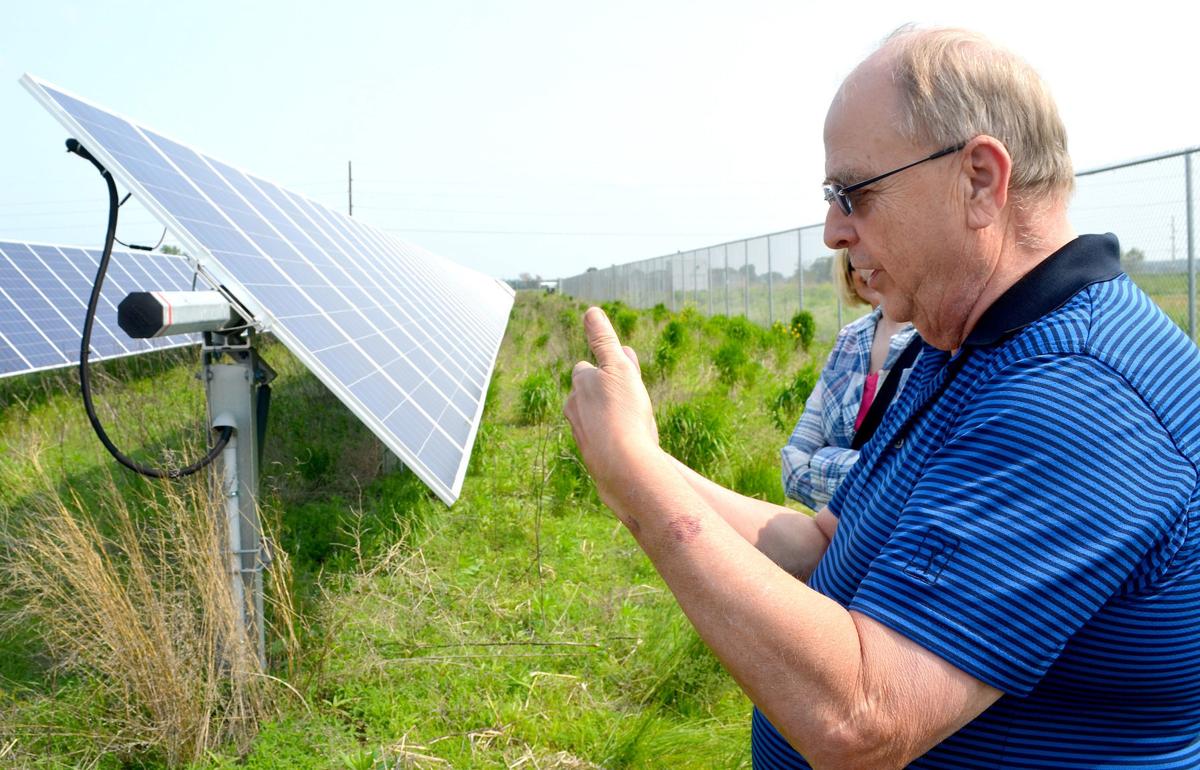 SOUTH SIOUX CITY -- The city of South Sioux City will become a "demonstration site" for the storage of electric power generated by the city's 1,200-panel solar installation. 
A large-scale battery with the capacity to store 1.5 megawatts of power will be installed by Florida-based NextEra Energy Inc. this winter, City Administrator Lance Hedquist said.
The unit carries a price tag of about $1.8 million, but Hedquist said the cost will be whittled down by state funds and tax credits. He said the battery will probably have the appearance "of a semi trailer without wheels," and will be located by the city's 21-acre, 2.3 megawatt solar panel site.
"As you know, wind doesn't always blow and the sun doesn't always shine, and the big thing that will transform renewable energy is going to be battery storage," Hedquist told The Journal during a weekend tour of the solar park, located south of the northeast Nebraska city. 
The city owns the land while the panels are owned by Tesla, a California-based electric auto maker.
Large batteries are considered a major hurdle for renewable energy -- if a practical system could be developed, solar and wind power from sunny and windy days could be stored and used during darker, less-windy times. 
The city's two-year-old solar park provides roughly 5 percent of the city's 45 megawatt electricity usage. That electricity costs roughly two-thirds the cost of electricity purchased from elsewhere, Hedquist said.
In recent years, South Sioux City's municipal electric utility has taken several steps to diversify its portfolio, adopt more renewable forms of energy and lessen its dependence on the Nebraska Public Power District, or NPPD, the state's largest electrical utility.
The city now gets around half its electricity from renewable sources, including solar, wind and hydroelectric.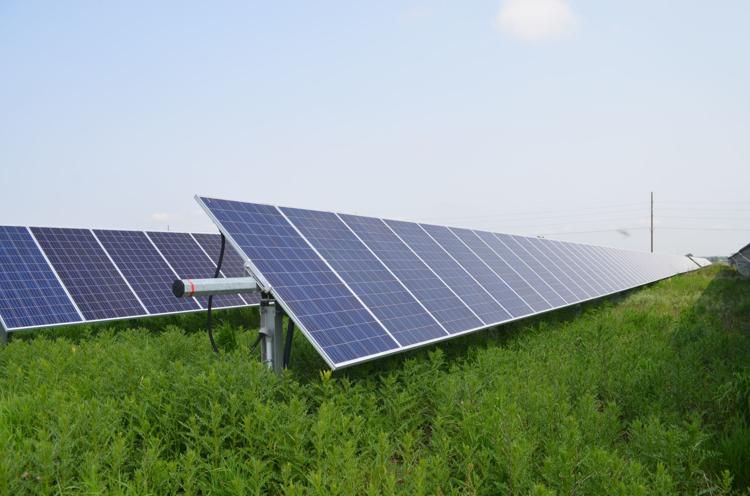 Add to that mix an anticipated gasifier plant, which can turn wood waste into methane, which in turn is used to generate electricity. Hedquist said the gasifier is expected to be installed "probably about two years from now, from what they're telling us." 
The project is being spearheaded by Tony Demir, CEO of Green Star Gasifiers LLC. 
A proposed five-megawatt natural gas generation plant would further diversify the city's electric mix. A single-story, 50-by-80-foot structure, under construction in the Roth Industrial Park, would use natural gas purchased from other utilities to generate electricity.
A year ago, the city also approved an agreement with NextEra Energy that could bring 15 megawatts -- the equivalent of 33 percent of the city's power needs -- via the Cottonwood Wind Energy farm in south-central Nebraska's Webster County.
"One of our goals has been to be the greenest city in the state of Nebraska," South Sioux City Mayor Rod Koch told the Journal last year. "We take that seriously."
Hedquist has said the city plans to fully phase out of its wholesale power contract with NPPD by 2020.
Get local news delivered to your inbox!
Subscribe to our Daily Headlines newsletter.