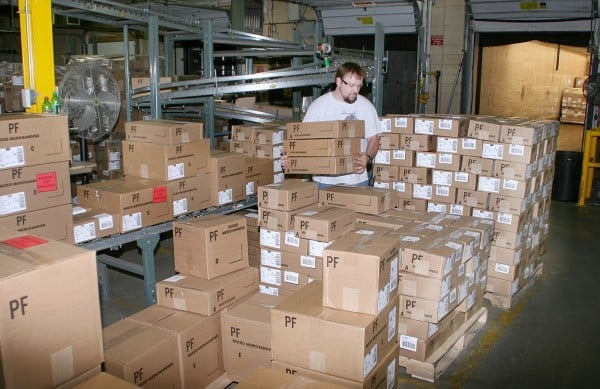 SPIRIT LAKE, Iowa | Nearly six years after Jarden Corp.'s Coleman Co. subsidiary acquired Pure Fishing for $400 million, the company is moving Pure Fishing's distribution facility.
Products previously made in Spirit Lake, Iowa, will move to Kansas City, Kan., where Jarden already has another distribution center. The move is planned for the second half of 2013, according to company spokesperson Alecia Pulman.
Approximately 36 employees, or about 10 percent of Pure Fishing's local workforce, will be impacted by the move, Pulman said, as production of fishing line and soft plastic bait is expected to continue here.
Pure Fishing is a leading global provider of fishing tackle, lures, rods and reels with a portfolio of brands that includes Abu Garcia, Berkley, Fenwick, Gulp!, Mitchell, Penn, Pflueger, SevenStrand and Shakespeare. The company reported doing business in 19 countries at the time of the Coleman acquisition.
You have free articles remaining.
Pure Fishing's distribution center for imported goods moved from Spirit Lake to Kansas City shortly after Jarden acquired the company. Located in a free-trade zone, the Kansas City distribution point allows Pure Fishing to serve any of the lower 48 states in three days -- and better serve Canada, a company spokesperson said at the time.
"Our manufacturing operation in Spirit Lake has been growing. We are confident that the majority of coworkers in the distribution center should have the opportunity to continue their careers with the company in a different capacity," Pulman said.
Jarden moved Pure Fishing's headquarters staff to Columbia, S.C., in June 2008, including senior leadership, sales management, sourcing and supply chain management, and specific category marketing and product development teams.
Former Northwest Iowa congressman, Berkley Bedell, then a high school student, founded Pure Fishing in a bedroom of his parents' home, 1937. Originally named Berkley and Company, the company made handcrafted fishing flies.
Bedell, 92, now lives in Florida. He said Friday that when he was elected to Congress in 1974 he recalls close to 1,000 coworkers in its Spirit Lake and Emmetsburg plants.
The founder said he was "heartsick over what happened after the company was sold. I thought it was a terrible thing to move the management to South Carolina. I guess I've just had my fingers crossed as to what else was going to happen with the company."