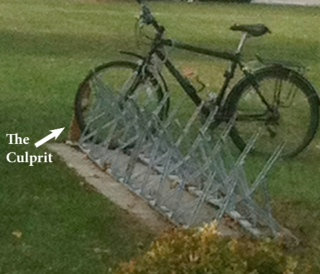 ESTHERVILLE, Iowa | A strange case of vandalism was solved Thursday, when a squirrel was caught vandalizing a math professor's bicycle at Iowa Lakes Community College.
The ravenous rodent chewed through two tires, a bicycle seat, a headlight and a taillight in incidents Wednesday and Thursday.
Assuming the crime had been perpetrated by a person, bike owner Matt Strom reported the peculiar damage to Estherville police on Thursday.
"There was no damage done to any metal," said Strom, an associate professor of mathematics. "It was all soft materials like plastic and rubber."
Shortly after the police left, aviation instructor Ron Duer spied a squirrel chewing on the seat of Strom's bike. He took a photo of the animal chewing on a tire.
Upon learning the news, Strom described the culprit in an email to colleagues as "the meanest squirrel you have ever seen."
The photo solved a mystery of how anyone could repeatedly vandalize Strom's bicycle in front of a busy building entrance without getting caught, said Iowa Lakes spokeswoman Tricia Morfitt.
"If somebody is walking by doing this, how is nobody seeing them doing it?" she said.
Sioux City Animal Control owner Cindy Rarrat said she's had reports of squirrels eating shingles, wood and wiring in local residents' homes. She said she'd never heard of a squirrel eating a mountain bike.
"I have never seen anything like that before, but I have seen where squirrels have done a tremendous amount of damage to houses," she said.
She said Iowa Lakes officials could try trapping the squirrel. The challenge would be finding the right one.
"I don't know what you'd bait that trap with ... a rubber ball?" Rarrat said.
Strom and a college biology professor have already pondered that problem.
"We talked about using the rest of the bicycle seat as bait, because that's what the squirrel seems to like," Strom said.