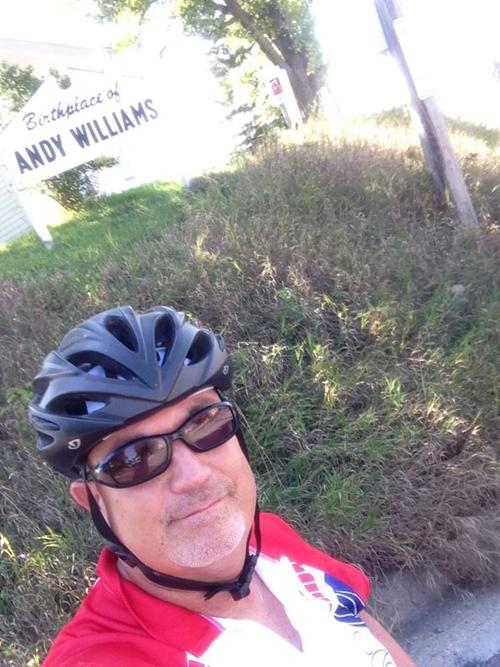 SIOUX CITY | Three hundred thirty-five miles to traverse Iowa.
That's nothing in a vehicle, but try it on a bicycle. And churn through all those miles in 24 hours.
That's the quest about 30 people will embrace beginning at 4 a.m. Saturday in Sioux City. They have then 24 hours by early Sunday morning to reach Dubuque, to officially complete RAID, or the Ride Across Iowa in a Day event.
Riding more than 400 miles over seven days on the Register's Annual Great Bike Ride across Iowa, or RAGBRAI, is comparably a cakewalk.
This year is seventh time avid cyclists will attempt the trans-Iowa trek. The routes cover a north section from Sioux City to Dubuque some years, and Council Bluffs to Muscatine for a southerly option in other years.
Darren Johnson, of Ames, is organizing RAID 2017, and will ride himself for the sixth time. Johnson has made the full distance once, last year, so he's learned participants can readily tell if the completion can be achieved as the day unfolds, based on what time checkpoints are reached.
Eighteen bicyclists finished the ride in 2016. The fastest can reach the Mississippi River in 15 hours, with a 22 mph average across the state.
"That is really cooking, for 335 miles," Johnson said.
Factoring in stops, a rider will have to average 14 mph for all 24 hours to reach Dubuque in time. But Johnson really doesn't recommend stopping. Some RAID participants will ingest foods and gels while riding.
"You just have to keep going...You have to have your nutrition dialed in. It is basically an eating contest," Johnson said.
The conditions will also determine how riders fare over the day, and for now the forecast has a 40 percent chance of rain in the morning and 12 mph buffeting winds to push riders east, with temps into the mid-70s by afternoon.
"A tailwind will make or break a lot of guys," Johnson said.
There are RAID volunteers who traffic control in limited places, so participants have to arrange their own support with a following vehicle.
Riders leave Sioux City at 4 a.m. Sioux City will be dozens of miles behind by the time the sun rises Saturday.
The participants also have the choice of riding a half-RAID of 167 miles to Webster City, or the last half, from Webster City to Dubuque, leaving on that piece at 11 a.m.
Kent Harfst will leave Sioux City on Saturday morning, then end the half-state ride at his home in Webster City. It is his first time on Ride Across Iowa in a Day.
"Since RAID is scheduled to stop in Webster City I thought it would be a good time to try...Regardless of the length of time, I am hoping to finish some time Saturday afternoon," Harfst said.
Harfst has about 3,000 miles on a bike this year.
"For me and many of the other riders, it is not a competition. It is a long ride with a bunch of persons who love to ride and challenge themselves," Harfst said.
Johnson has relatives in Plymouth County, just north of the Sioux City beginning.
"I am really looking forward to this northern route, because I've ridden many of those roads," he said.
Be the first to know
Get local news delivered to your inbox!