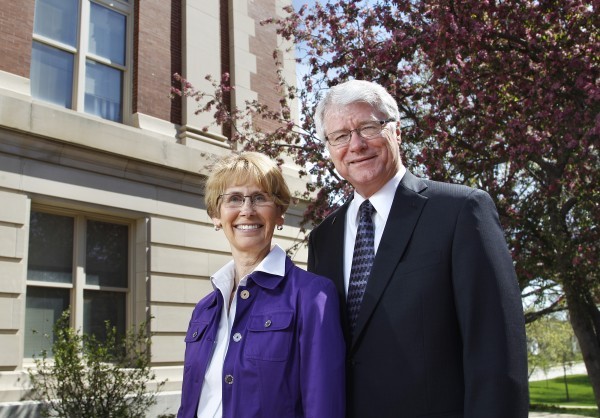 CEDAR FALLS | Ben and Pat Allen were between meetings about a week ago when they stopped at Carlos O'Kelly's for a quick dinner. Suddenly, they were surrounded by about 20 University of Northern Iowa students celebrating the end of the school year.
The moment was special. The students bantered and took pictures with the Allens.
It is moments like that, the Allens said in separate interviews, they will remember most as they leave Friday after seven years as president and first lady of UNI.
It is also how friends will remember the Allens.
The couple frequently entertained students in their home. They attended student events, walked the campus and chatted with everyone they met. During events in their home they introduced students and had them say a few words.
On Friday, Ben Allen loaded his car and headed south, stopping for a final business meeting in Muscatine, Iowa. He and Pat are retiring to a St. Louis suburb near their daughter, Jessica, and her family.
They are leaving quietly. There was no large public goodbye. The Allens attended a few private gatherings with special groups, staff and friends. They did not want to draw attention to their departure. They want incoming President William Ruud to start with a "clean slate" when he arrives next week.
"I don't think it will actually hit me until I get down to St. Louis on Sunday afternoon and when I start to think that I don't have to get prepared for Monday. It seems like every day of my life for the last 20 years I was always doing something the day before to prepare for the next day," Allen said.
Ben Allen, 66, a native of Indiana who came to UNI after being provost at Iowa State, announced his retirement in August after months of tumult. Faculty and community members were upset by program cuts and the closing of Malcolm Price Laboratory School, moves Allen said he had to make for the future of the university.
But the retirement option first took shape when Allen was diagnosed with prostate cancer in 2010.
"The cancer got me to thinking before the decisions (about cuts) were made," he said.
Now cancer-free and healthy, Allen said seven years was long enough at the helm of UNI.
"Historically, if you look at my record, I never stay at a job over seven years. My view is, if you can't get it done in seven years, you are not going to get it done. And you start repeating yourself," he said.
"The institution needs a fresh set of ideas."
Allen's tenure will be remembered for several highs and some lows. Three events will never be forgotten — the visit from the Dalai Lama in 2010, the commencement address by first lady Michelle Obama in 2012 and the Panther men's basketball team's win over No. 1 Kansas in the NCAA tournament in 2010.
The Dalai Lama's visit is Allen's most-cherished memory. He fondly recalls how the Dalai Lama shared tea and cookies with Allens' granddaughter, Avery, in his home.
But he concedes the win over Kansas brought the most national exposure to the university. The media were calling from all over the country after the win, not just to talk basketball but to ask questions about UNI.
Allen is most proud of two accomplishments. First, making the university a leader in the Science, Technology, Engineering and Math program, which weds business and education interests to prepare students for the careers of the future. Second, getting $4 million more routed to UNI by the Iowa Legislature this year, with hopes for more money in the future after years of receiving considerably less than Iowa and Iowa State.
"Getting people to understand that historically we have been treated differently — and I would argue unfairly — by the state, that made me feel good," he said. "We finally got that allocation on the table for discussions."
A task force has since been set up by the Board of Regents to look at the funding model. Currently, Iowa and Iowa State receive 40 percent of state higher education funding each, and UNI gets 20 percent. That model was established in 1946 and never changed.
Allen feels he met most of his goals: making the university more financially sound; increasing fundraising; bringing more visibility to the university in the state and increasing the diversity of the student body. He was at the helm when two significant gifts came to the university: $9 million for a literacy center and $15 million for an education endowment gift, both coming from philanthropist and businessman Richard Jacobson, who had no prior connection to the university.
But a couple of goals went unmet, including growing the university and improving its national profile. UNI now has its most diverse student body ever, but enrollment has dropped to 12,272 from a peak of about 14,000 in 2001. Allen said Ruud will need to address the enrollment issue early on.
The lows hit in the last year as Allen announced cost-saving moves that cut programs and closed Price Lab, a teacher-training school for UNI's education program, both which were met with some intense pushback by faculty and those connected to the lab school.
Pat Geadelmann, special assistant to the UNI president for government relations, has worked with three UNI presidents, including Allen.
"One of the things Ben had to work on more than the others was the budget situation. There were those four years of cuts that added up to $24 million. ... Obviously there were some hard decisions that had to be made," she said.
Allen looked at the situation from his background as an economist, Geadelmann said. He conveyed to the regents that the university was not being treated fairly, and that UNI was being put in an insustainable position.
She concedes those hurt by the cuts will take a long time to heal.
"But in the larger population, he had a very good relationship with the community, the business community, the students, the alums — and for the most part with the faculty. He was at every event they sponsored — the music, the athletics. He supported everything, he and Pat. They were a fixture at events," she said.
Allen and others said he was affected by attacks that "got pretty personal and pretty intense." He also received a no-confidence vote from the faculty.
"No one likes a vote of no confidence. It works on you a little bit. And then what really got me was when people were kind of attacking my integrity. They disagreed with decisions. That's every one's right to do so. But that wore on me more than anything," Allen said.
Dan Power, professor of information systems and management at UNI, was on the search committee that selected Allen. Power said he respects Allen for the good things he accomplished, including securing some large fundraising gifts. But there is a lot of pain on campus among faculty and staff about recent decisions. Power is former president of United Faculty, the union that represents UNI professors, but stressed his comments were his own.
"I don't think he ever demonstrated to the university community and larger community that the decisions (on cuts) were based on facts and there weren't alternatives," Power said. "The reality is that many people in the community felt there were other alternatives," adding that there should have been better communication and collaborative decision making coming from Allen.
But Power said he and others are "cautiously optimistic" the new president will open a dialog with everyone concerned about the university.
Friends of the Allens say the couple made an impact on the Cedar Valley as a whole, and they will be missed.
Pat Allen was on several community boards — including the Cedar Valley Hospice and United Way. She developed close friendships with a group of women in Waterloo and opened the UNI president's home to countless functions, many not campus-related. She estimates nearly 2,000 people came to their home each year for meetings and events.
"We brainstormed hour after hour" on how to bring the Waterloo and Cedar Falls communities closer together, said friend Kathy McCoy of Waterloo. "Pat followed through on it. She had coffees and breakfasts and brought lots and lots of Waterloo people to her home."
"When Ben was named president, we got a double deal," McCoy said. "She has worked equally as hard to make UNI a presence in Waterloo."
Ben Allen said Pat did a better job than he did of bringing in the entire Cedar Valley to UNI.
McCoy recently held a small dinner party for the Allens to have a quiet goodbye.
"They know they are loved, believe me, and they will be missed by many, many, many people. The support is there. They have had lots and lots and lots of small gatherings for goodbyes," she said.
But it's not a final goodbye, McCoy said. The relationships between the Allens and their friends in the Cedar Valley will remain for life, she said.