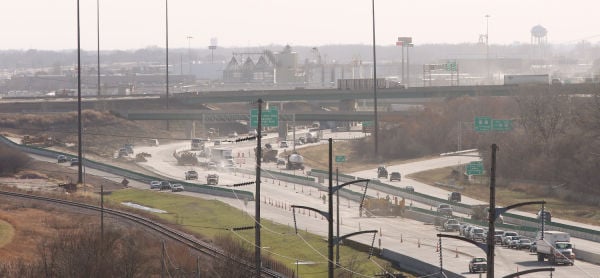 DES MOINES | Gov. Terry Branstad said Monday that he's open to the idea of using state sales tax money to pay for road repairs.
But, he quickly added, the idea could be a hard sell because it is not constitutionally protected to go specifically to the road fund, as proceeds from the state's fuel tax do.
Specifically, the governor mentioned taking 10 percent of the first 2 cents from the state's 6-cent sales tax and applying that to roads. The state split the sales tax this way until 1975.
"We, basically, are looking at all kinds of different options," Branstad said during a news conference Monday at the State Historical Building in Des Moines. "One of the concerns that many people who support the road fund have is this would not be protected … and so you might be able to do that for a year or two, and then it could get taken away again."
According to the nonpartisan Legislative Services Agency, sales tax is estimated to bring in $2.6 billion to state coffers for the 2014 fiscal year.
Using that figure, a 10 percent take of the first 2 cents would generate $86.7 million a year.
That's still $128 million short of the $215 million annual shortfall in critical road repairs identified by the Iowa Department of Transportation.
"Most people want to see us do something significant with the roads and bridges of our state, cities, and counties," Branstad said.
In other remarks, the governor reiterated his opposition to any cuts in the federal Renewable Fuel Standard, also known as the RFS.
The standard is a federally mandated amount of biofuels that must be used in the national transportation fuel supply. Proposed rules issued by the Environmental Protection Agency two weeks ago, cut the amount of biofuels required in future years, essentially holding the mandate to current levels.
Branstad joined other Iowa politicians last week at an ethanol plant in Nevada to rally opposition to the new rules. There, the governor said candidates who want to get support of Iowans in during the Iowa caucuses should "embrace" a higher Renewable Fuel Standard.
On Monday, Branstad took an additional shot at President Barack Obama.
"President Obama campaigned here as someone who supported the RFS and supported renewable fuels; he benefited from the support he received in the Iowa caucuses against John McCain who was not a supporter of ethanol," he said. "I think this administration has an obligation to this country and to the people up here in the agricultural heartland of America not to reverse his position and not to give in to big oil and permit this to happen."