SIOUX CITY -- The chanted cheers have the same wording, but at times may be muffled by masks, and there is less linking of arms or bumping hips when cheerleaders exhort players and fans during high school football games.
On the sidelines between players and fans, cheerleaders are still dong their thing in most games, although with some elements taken out of the repertoire. However, at South Sioux City High School, the 10 varsity and nine junior varsity cheerleaders haven't participated in games so far, due to coronavirus precautions, although that could change in a few weeks, district spokesman Lance Swanson said Tuesday.
"We have not allowed any cheerleading at games yet this year. We are hoping we can have cheerleading and a limited number of student fans at our homecoming game on October 2nd," Swanson said.
In the second game of the season on Sept. 4 at Spirit Lake (Iowa) High School, the seven Indian cheerleaders without masks, but with white bows in their hair and shaking black-and-red poms, stood on 2-foot-high boxes spaced at least 10 feet apart, usually facing the field to watch action.
During the periodic coronavirus cleaning two-minute timeouts on the field they would turn around and face the home crowd, cheering to fans in the stands, where less than 25 percent of people wore masks. The Spirit Lake cheerleaders did not do chants that involved stunts or touching each other in any way, and that's also how things are at Sioux City East High School.
"It is less fun, it is less entertaining, because the girls aren't doing cheers to their full extent," East cheer coach Makayla Burns said Wednesday.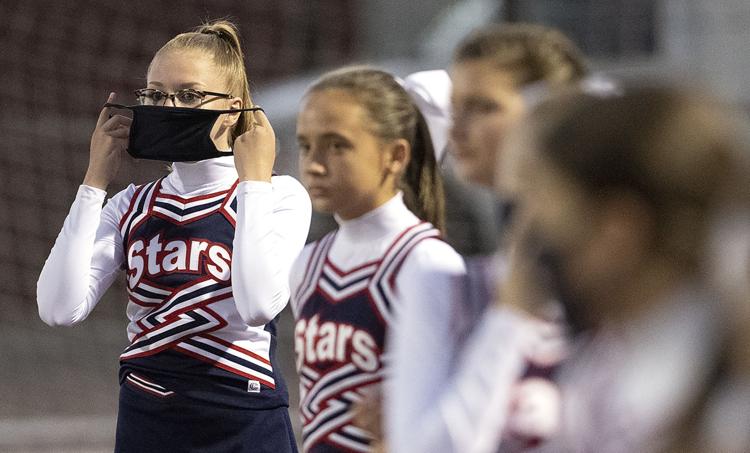 The pandemic not only impacts how classes are delivered this fall, but also sports, homecoming activities -- football games and royalty courts are still on tap in Sioux City and other districts, but pieces such as dances won't play out in some districts -- and cheerleading. There is much variance among schools for how cheering plays out.
Hannah Crichton, a sophomore at Sergeant Bluff-Luton High School, said the virus didn't cause her to consider not being a cheerleader. Crichton said her freshman year of cheerleading was much preferable, as this year, SB-L practices didn't begin until mid-August, which pushed readiness back.
"We were very prepared for the first game last year ... (Now) we are still learning cheers," Crichton said.
She said masks are worn by the seven cheerleaders when they walk into a stadium, then they can be taken off for the rest of the game. The SB-L girls stand in staggered fashion in two rows, about four feet apart, Crichton estimated, and they can physically interact with each other, such as doing the "bumpsy bump" cheer with hips.
Burns is overseeing East participants for a second year, which is much different than the first. There are 28 varsity and 18 junior varsity cheerleaders, who started practice in mid-July rather than the usual June, due to the virus presence.
Burns said none of the East cheerleaders have expressed any reluctance to cheer during the pandemic, even though how that plays out in games has been altered in a few key ways.
First, when doing chants, masks are not worn, although the girls must stay at least six feet apart from each other. When converting to cheers that are motion-based, the cheerleaders put masks on. Additionally, there is no physical contact by any of the East cheerleaders to each other, such as linking arms, Burns said.
"My girls know -- stay in your spot. They are pretty well adjusted to it," Burns said.
She said in spite of the cheerleading adaptations, the crowd still gets a good performance from a repertoire of 100 cheers, and the East student section in the stands still gets into the game. Burns said there is a downside for the girls, however, because they'd like to be more social and interactive with each other.
"I'm hoping next year is back to normal," Burns said.
Concerned about COVID-19?
Sign up now to get the most recent coronavirus headlines and other important local and national news sent to your email inbox daily.