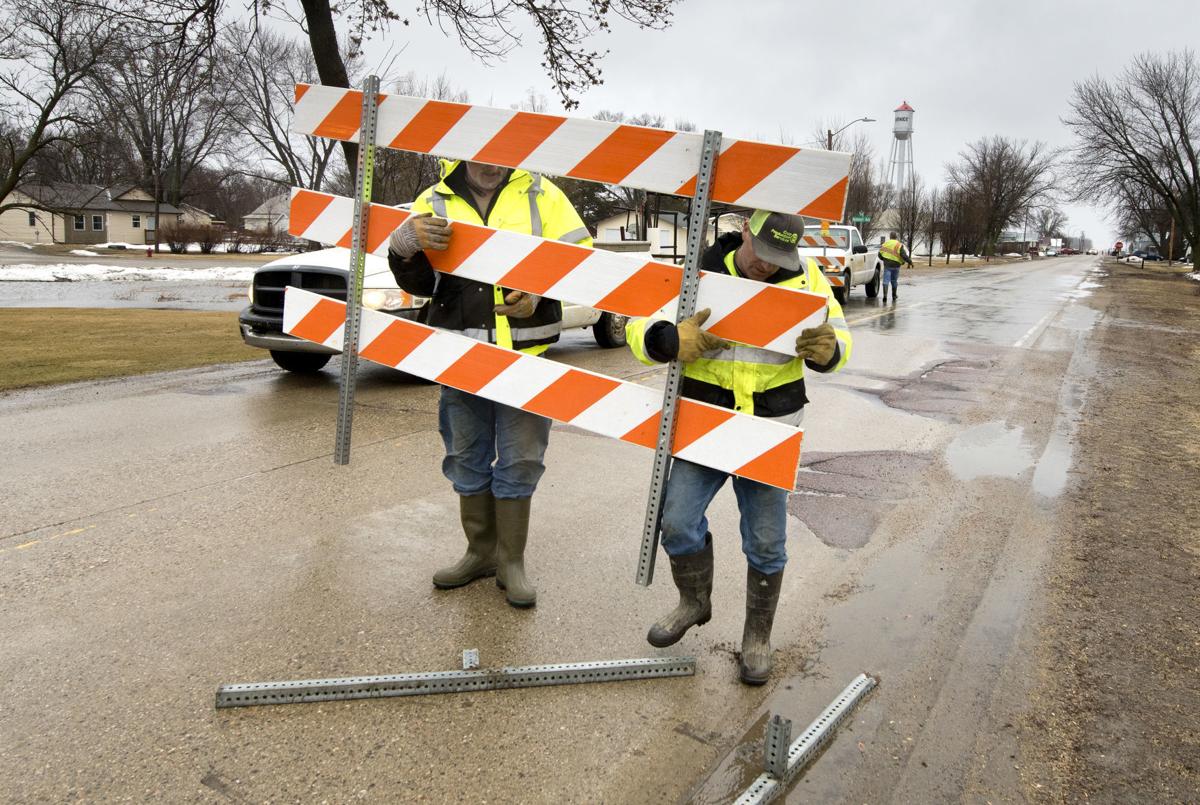 SLOAN, Iowa -- It seemed like all of Hornick's 225 residents were packed into a room to hear details Friday about the flooding in their tight-knit community and how soon they could return home.
After several people asked a similar question on when the West Fork of the Little Sioux River would recede, allowing them to go back to clean up their damaged homes, Hornick Mayor Scott Mitchell, near the end of the meeting replied to one man, "Bill, as soon as it is safe to let you back in, we'll let you know."
A few minutes before that, Mitchell had said to the crowd, "I can't put your life in jeopardy because you want to get back in there...I don't know when we are getting back in. I hope it is sooner rather than later."
Mitchell said displaced residents staying in hotels or with relatives or friends in nearby towns may believe their homes only have flooded basements. But Mitchell said there are unseen dangers in the low-lying town, because floodwaters, in covering streets that can't readily seen, also blew out manhole covers, so people wouldn't know what they are driving or walking into.
A Hornick man in the back of the room aired his frustration, saying he may seek to move and sell his flooded home, then added, "But no one is going to buy it."
Mayor Mitchell responded, "I'm gonna stay...it is your choice."
The river began rising Wednesday, as rain fell and snow melt flooded nearby waterways. At 6 a.m. Thursday, Theresa Myres left her Hornick home for her job at a Sioux City metro hotel. Myres said her apprehension grew as the day went on, and in a phone conversation with her husband, found out the evacuation had been ordered.
"It is heartbreaking. A lot of people don't have a lot of places to go. Thank god we got our dog (Kora) out," Myres said.
She said the family has lived in Hornick since 2004, and believes water was contained to her basement. Myres was resigned to the power of nature, saying, "There is one thing about water: you can't stop it. It has a mind of its own."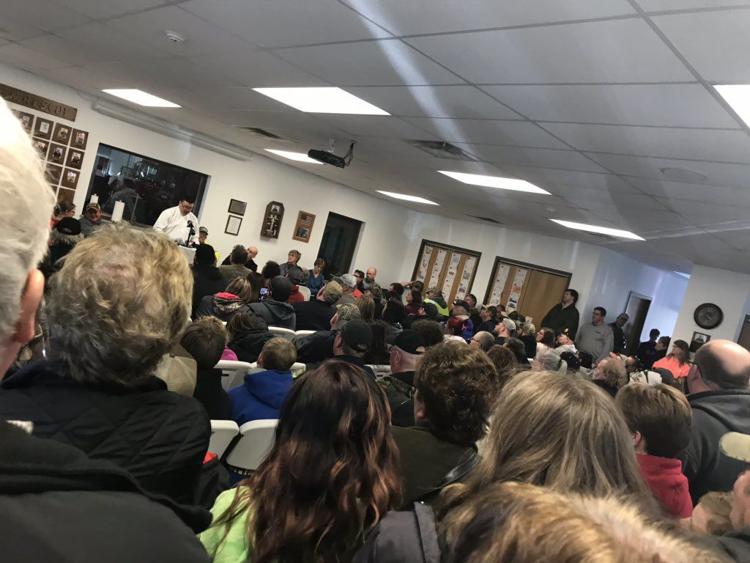 Still, Myres was frustrated about not getting a solid timeline for getting back into her home, in a 75-minute meeting that was held in the fire department hall of Sloan.
You have free articles remaining.
"Nobody got really any questions answered," Myres said.
An mandatory evacuation was ordered following the breach of a levee on the West Fork of the Little Sioux River.
The National Weather Service on Friday announced record river heights of the West Fork at 26.6 feet near Hornick. Minor flood stage for the West Fork starts at 20 feet.
Rebecca Socknat, Woodbury County Emergency Coordinator, said only one road in town remained open. It was used exclusively by emergency responders and personnel.
Meanwhile, the American Red Cross continues to operate an emergency shelter at Westwood School District building in Sloan. One person stayed at the emergency shelter Thursday night, Socknat said.
Hornick is about 25 miles southeast of Sioux City. Socknat was among a large panel of county and other emergency officials who gave information to the residents.
"We understand there are some emotions running high now," Socknat said.
Woodbury County Sheriff Dave Drew added, "Your community is an outstanding community that is hopefully long on patience."
Rick Moore, the electrical operations manager for MidAmerican Energy, said workers will have to inspect each home to make sure they are safe in terms of power and water utilities. Only then can people return.
"It's going to be a slow process. We'll go as fast as we can," Moore said.
Some of the officials said that with an emergency declaration ordered by Gov. Kim Reynolds, Hornick residents can get financial assistance for losses. They said it is important to take pictures and catalog the items damaged, in order to be reimbursed later.
Julie Sievers, a senior environmental specialist for the Iowa Department of Natural Resources, said people should be methodical and sanitary in cleanup activities once allowed back in homes.
"Use bleach, use gloves, be safe...Consider the bacteria that is in the water," Sievers said.
Copyright 2019 The Sioux City Journal. All rights reserved. This material may not be published, broadcast, rewritten or redistributed.