HINTON, Iowa -- School let out for the summer on May 29 at the Hinton school district. The very next day a host of eighth- and ninth-graders were learning key details about driving safely on area roads.
In the fourth of the 10 days of classes, driver's education instructor Craig Hoffman ended a video about the unlawful dangers of driving after drinking alcohol, which he admitted was dated in terms of visuals for teens today.
"But the message in that still rings true. A zillion times in here, and at home, you guys are going to hear, 'Don't drink and drive, don't drive distracted,' " Hoffman said.
Hoffman had a supply of jokes, using one old standard, that Iowa has two seasons, winter and construction season. He threw out pieces of candy to the students who answered questions correctly.
Additionally, hammering on such concepts as driving being primarily a thinking and not just physical task, Hoffman prepped the Hinton kids on final details they needed to know about chapter five of the book, to be demonstrated by completing a take-home test.
"Should be an easy 'A' people, if we do what? Read the book," said Hoffman, who serves as an industrial arts teacher during the year.
The 46 students in the Hinton class are completing an early summer staple, as they work by the end of June -- over 30 classroom hours and 12 driving hours -- to prove they understand rules of the road and can ably navigate vehicles on roads. That task often comes with initial trepidation for some neophyte drivers.
Isabella Kimbell prepped for getting into the school-owned car, the kind with the affixed yellow Student Driver banner, by driving with her parents for about an hour daily during the last few weeks in May.
"This is the biggest thing of my summer," said Kimbell, who will be a Hinton freshman in August.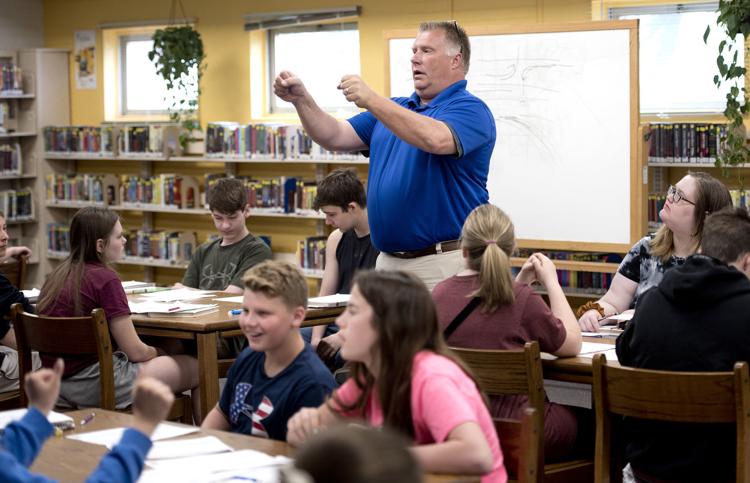 Several thousand students will go through driver's education in Iowa this year, in order to be line for licenses at age 16 from the Iowa Department of Transportation. Kim Mendenhall is teaching the course for the second year at Woodbury Central in Moville, with 29 students taking part. During the instructional year, she is a North Middle School counselor, and W-C is the fourth system in which she's taught driver education over a decade.
Mendenhall said 20 to 30 students are an ideal class size. Students are able to participate in hands-on activities and work in small groups. She said students are understandably nervous when driving with an instructor who will assess their driving skills and point out errors.
"Many times to ease a nervous driver, I will have them do an activity called Parking Lot Play, where you go to a big empty parking lot and have the student get to know the vehicle, by getting a feel of starting, stopping, turning left, right, keeping the vehicle in between the lines and backing maneuvers," she said.
One thing students routinely talk about is the extra brake instructors have in cars set up for driver's education.
"Fortunately, I haven't been involved in any wrecks with a student behind the wheel, but I have experienced several near misses, where another vehicle has pulled out in front of us and I had to use the brake on my side of the vehicle to stop the car," Mendenhall said.
"After an incident like this takes place, I talk with the student about what happened, were they ready for the other driver to make an error, and remind them that they have to be a defensive driver with no distractions while driving."
Hoffman has taught driver education since 2001, and he doesn't get in the cars with students these days, as at Hinton those tasks are handled by Ryan Gillespie and Diane Fay, who is a secretary at the school.
"When you drive with me, we talk about what you did well, what you can improve on and what to work on next time," Fay told the students.
"Some of you who have driven with me have done well, and others have not."
A collection of three dozen silenced mobile phones lay on top of a side bookcase in the school's media center as Hoffman's lesson continued. Kimbell pleased him by knowing astute drivers scan the area ahead in which they'll travel over the next 12 to 15 seconds.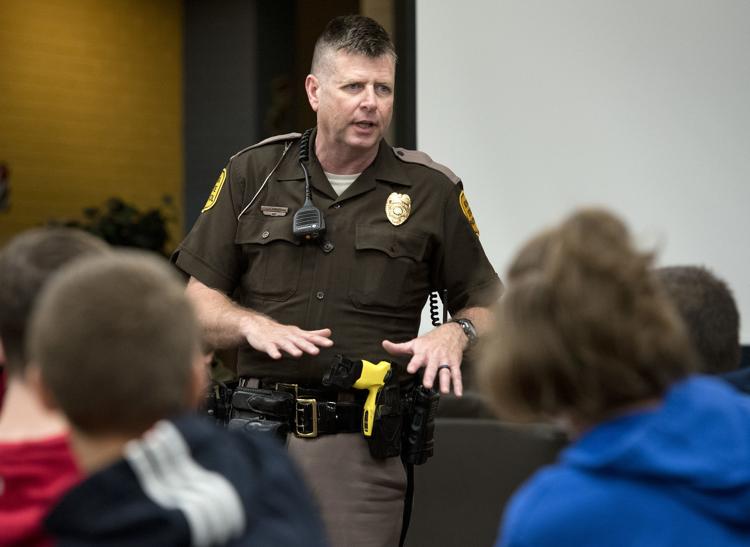 "You are looking farther ahead, seeing what's what," Hoffman said.
He also tossed a candy to Beck Holtzen, a ninth-grader, who knew "defensive driving" is a key concept. Another went to Ian Grover, a classmate of Holtzen and Kimbell, who detailed the six zones around a car that drivers should scan in various directions.
Hoffman added the students should always be on watch, and not just for basic complicating factors, such as cars on the side of highways or bicycles in a neighborhood.
"Whoa, there's a Doberman dragging the owner, wasn't expecting that. Every driving situation is going to be different," he said, in narrating a drive.
Hoffman delivered a key message near the end of the session, that "we don't teach you how to drive," but rather to instill the basic mechanics to be used on roads.
"I can't lecture you and make you a good driver. Our job is to teach you to be the best driver you can be. The rest is up to you, to practice...There is no substitute to experience. All that experience adds up," he said.
Copyright 2019 The Sioux City Journal. All rights reserved. This material may not be published, broadcast, rewritten or redistributed.
Be the first to know
Get local news delivered to your inbox!