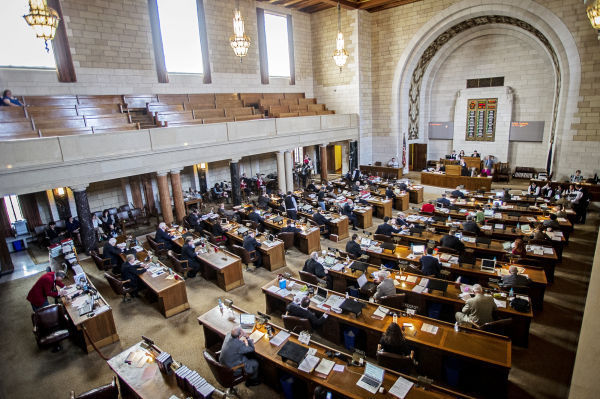 LINCOLN | The state's next attorney general says Nebraska can successfully defend its voter-approved ban on same-sex marriage.
"I think there's plenty of precedent out there to defend the case," said Doug Peterson, who was elected earlier this month to succeed outgoing Attorney General Jon Bruning. "I believe Nebraskans did the right thing in declaring the law."
The ACLU of Nebraska has indicated it will challenge the ban — which is written into the state's constitution — on behalf of a group of same-sex couples. Details of the case expected to be filed next week in federal court haven't been released.
The ban has been in place since 2000, when Nebraska voters overwhelmingly decided that marriage is between a man and a woman, Gov. Dave Heineman said Wednesday.
"That's what Nebraskans believe and I know the current attorney general, and I'm confident the attorney general-elect, are going to fight very vigorously that we, the people of Nebraska, decided what we wanted to do," Heineman said.
While Peterson won't be sworn in until January, he'll likely be at the helm of the attorney general's office before the issue is resolved.
"I'm pretty confident that it will go to the U.S. Supreme Court," Peterson said later Wednesday.
Courts across the country have overturned other states' bans on gay marriage since last year, when the nation's high court declared part of the federal Defense of Marriage Act unconstitutional and ordered the federal government to recognize same-sex marriages conducted legally in states.
Last week, however, the 6th U.S. Circuit Court of Appeals became the first in recent years to uphold state bans on gay marriage. Those bans — in Michigan, Ohio, Tennessee and Kentucky — were also written into their states' constitutions.
Nebraska belongs to the 8th Circuit appellate court, which upheld the state's ban in 2006.
In the U.S. Supreme Court's ruling on the Defense of Marriage act, Peterson said, "I think they do recognize in that case that laws related to marriage licenses are a state interest matter as opposed to a federal matter."
Nebraska voters felt banning same-sex marriage was important enough to add it to the state constitution, Peterson said.
"That's a significant legal step that needs to be defended."
And he will soon swear an oath to do just that.
"I intend to defend the constitutional amendment," Peterson said.