SIOUX CITY -- With a new piece on the north side of Sioux City, and more coming on the south edge of the city, the local recreational trail system is growing in mileage and becoming more balanced.
Additionally, city officials are looking into adding the first biking lanes onto city streets, something most medium- or large-sized cities already have.
Rec trails were first built in Sioux City in the early 1990s, with the Floyd River Trail being added about the same time as the Missouri riverfront trail.  The most recent development in the system came in July 2019, with the opening of a new railroad bridge that connects two recreation trails in Sioux City's Leeds neighborhood.
Built at a cost of $1.2 million, the nearly half-mile connection provided a direct link between the Floyd River and Outer Drive trails.
Bill DuBois lives closest to the new railroad bridge, which sits about 40 yards southeast of his home in the 3800 block of Jefferson Street, and he said he likes the trail extension.
"It is safer, obviously. Ease of access -- you don't have to drag your bike over these tracks," he said.
The Floyd River Trail was touted as a way for residents of Leeds and the north side to take a southbound route. The trail was built on top of a Floyd River control dike built by the U.S. Army Corps of Engineers, and it runs along the west side of the Floyd River.
The northern trailhead, a poorly marked dirt area to begin with, was all but obliterated when Union Pacific Railroad tracks were moved 100 yards east in 2009 as part of the Outer Drive extension project.
After that, the three-mile Floyd River Trail could be reached on the north end only by those determined enough to navigate an often-muddy area east of Jefferson Street -- walking up a slope to a railway bed, across the tracks and down an embankment to reach the paved trail.
At one point in 2014, a tunnel under the railway was discussed. Eventually, city officials came up with a way to finance a bridge. A railing and safety fence are also part of the bridge. A new curving trail section was added to the west side, eventually connecting to the intersection of Floyd Boulevard and Outer Drive, where an existing trail runs west up a hill to North High School and beyond.
You have free articles remaining.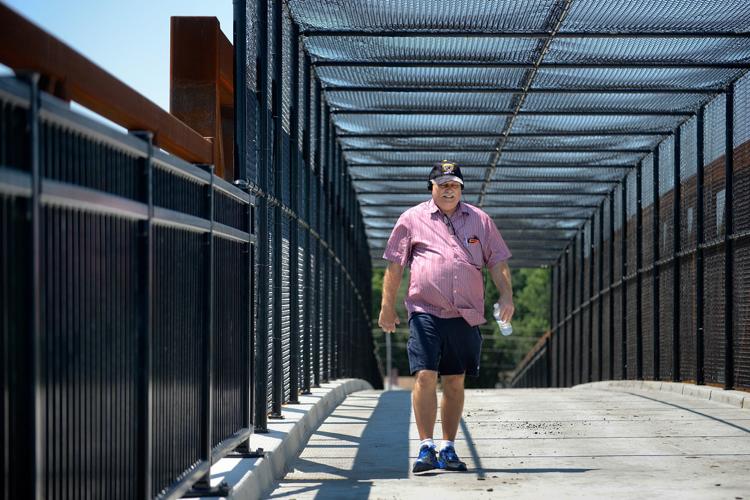 Another major project set to begin this year will connect segments of the Missouri riverfront trail, from the city's most-southern trail, in Chautauqua Park, to Chris Larsen Park.
That piece, which involves two bridges over the Floyd Channel and Floyd River, will close the 1.5-mile gap between the Chautauqua Park and Chris Larsen Park trails. Both are adjacent to Interstate 29 and construction timing was linked to the 10-year project by the Iowa Department of Transportation to expand I-29 in Sioux City to six lanes.
In early March, City Parks and Recreation Department Director Matt Salvatore said the city has received a needed permit from the  U.S. Army Corps of Engineers.
"We are still waiting on some agreements with two railroads to get executed. I anticipate that the project would still start in 2019 if there are no further delays with the railroad agreements," Salvatore said.
He added, "The riverfront trail is the most crucial connection to not only Sioux City's trail system but all of Siouxland's. When this trail is completed, bikers, runners and walkers will be able to enjoy over 12 miles of continuous trail along the Missouri and Big Sioux Rivers."
Additionally, city officials are forming a committee to investigate transportation improvements that could include the city's first bicycle lanes.
The research into adding bike lanes is being done because Sioux City ranks low on various metrics that judge cities' bicycle-friendliness, and leaders say lack of infrastructure has contributed to a low number of people commuting to work by bicycle.
Sioux City has zero bicycle lanes and is believed by some, though unconfirmed, to be among the largest cities in the country without them. Local advocates for bike lanes say the number of commuters will increase once that infrastructure is in place, not before.
Siouxland District Health Department health planner Angela Drent frames it by using a modified line from "Field of Dreams": If you build more trails and bicycle lanes, the users will come.