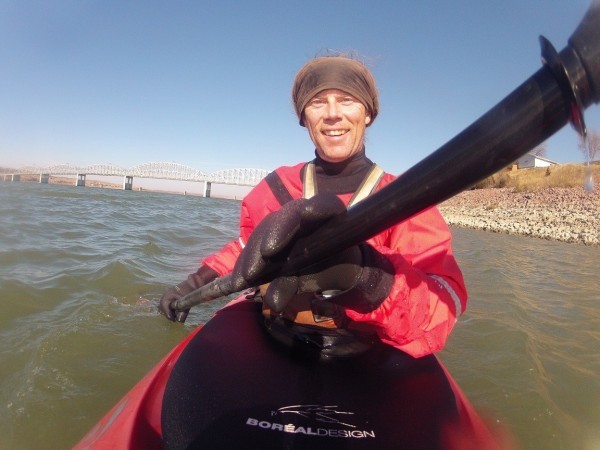 SIOUX CITY | With temperatures dipping into the low 20s, one Canadian kayaker is braving the elements and continuing his trek to travel the length of the Missouri and Mississippi Rivers.
Rod Wellington, 46, an Ontario, Canada native, paddled into Sioux City Monday afternoon, reaching the halfway point in his 3,800 mile trek down the Big Muddy.
The adventurer started his journey June 17 at Bower's Spring in the Centennial Mountains of Montana, the source of the waters that eventually become the Missouri River.
Wellington said he hadn't planned on still being in the north when winter struck, but has been working his way south at a leisurely pace, meeting people along the way.
"I've meet amazing people along the way and enjoyed spending time with them. That has greatly enhanced the trip. It does set back the time on the trip, but for me it's all part of the journey," he said.
You have free articles remaining.
He said he hoped to reach New Orleans in time for February's Mardi Gras celebrations to "end everything with a party."
On Sunday night, Wellington stopped 11 miles north of town, setting up camp on a sand bar and curling up in his sleeping bag to ward off the 23 degree temperatures.
"It was quite a cold night, but I was nice and comfy in my big sleeping bag. It's the mornings, when you put on the frozen life jacket and neoprene gloves, that are a challenge," he said.
The Missouri-Mississippi River adventure is the first in a series of voyages dubbed the Magnificent Seven Expedition. Over the next few years, Wellington hopes to paddle the longest river system on each continent from the source to the sea.
He said he plans to write a series of seven books to document his travels.
"I will have lots to write about. There's definitely lots of material and characters. There always are along the rivers," he said.