SIOUX CITY -- The season appears to be headed towards a playoff berth, and some of the most avid Sioux City Musketeers fans dressed in green, gold and black enjoyed watching an early lead in Sunday's game.
The crowd breathed a sigh of relief with four minutes left in the final period, as the Muskies didn't allow Fargo to score for two minutes while having a one-player advantage on a power play due to a Sioux City player sitting in the penalty box.
Then, for good measure, the 1,905 fans spread throughout the Tyson Events Center saw the Musketeers fend off another Fargo power play over another two minutes, which took the game down to 25 seconds left. The final horn blared, loud music came on and fans cheered and clapped for the 5-2 victory over Fargo.
Kristie Foreman, of Merrill, Iowa, has had season tickets for 15 years and sits in the fourth row, not far beyond one of the two goals.
Hockey is her favorite sport, for "the fights" and the fast pace, and Foreman enjoys the opportunity to see so many games in a city near where she lives. She misses perhaps one or two per year, generally only due to poor weather conditions.
"I am behind the team no matter what," Foreman said.
She knows several other fans who routinely travel from well outside the area, including an hour from Cherokee County, to come to Muskies games. As Foreman spoke, up on the nearby concourse, Sioux City fan Bob Gifford started a "Let's Go Muskies" cheer, aiming for it to be picked up by the crowd.
Right after that, a game promotion took place, as a few workers threw out tops as part of the Summit Dental T-Shirt Toss.
"Who wants a T-shirt? Make some noise!," came the cry over the Tyson sound system.
A big cheer went up at the 11:31 mark of the first period, as a goal opened a 1-0 lead for the Musketeers, as Martin Popisil placed the puck in the net.
A native of the Czech Republic, Popisil was a fourth-round pick of the Calgary Flames in last summer's National Hockey League draft. A train whistle scorched eardrums and Kool and The Gang's "Celebration" helped elongate the cheers.
Heather Campbell is the Musketeers' office manager, who for the last several years has been in charge of ordering clothing and other merchandise that's in a kiosk for sale. Campbell changes up the options every year to ensure there are new colors and designs to draw purchases.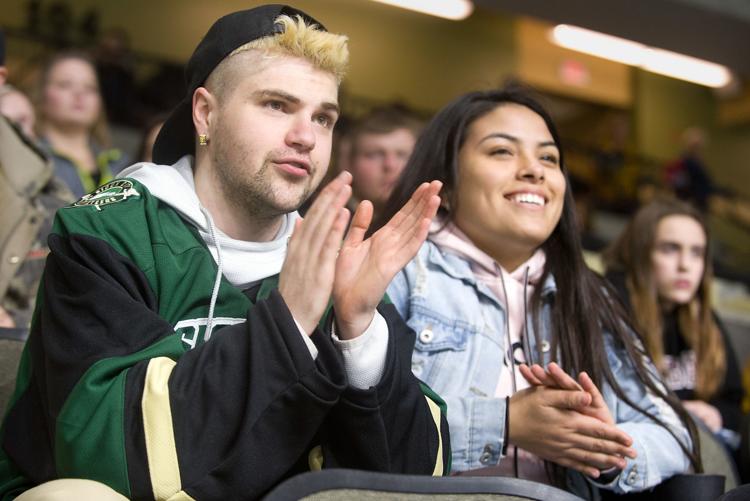 The two biggest sellers are hockey jerseys, with about 200 sold per year, followed by pucks and buttons with the names of players on them, Campbell said. The pucks are often used to get autographs of players.
Campbell said getting high attendance is always a challenge, knowing that a core group will buy season tickets, while others will come by buying periodic game tickets. Beyond that, a third group of people need enticements to come watch at the rink.
"We definitely have our core group, and then we have a base who come for our promotions," she said.
You have free articles remaining.
Most games are on Friday or Saturday nights, although the periodic Sunday afternoon contests have the extra feature of being days when fans can skate on the ice after the game. Home attendance this season has averaged 2,300, and the range is usually near that in recent years, although it bumps towards 2,800 fans in a good year, Campbell said.
An annual notable game is the scheduled New Year's Eve evening contest, almost always with hosting rival Omaha.
"It is one of our best-selling games, if not our best selling," Campbell said.
The largest single game attendance was 6,010 on Dec. 31, 2003.
Not everyone knows the Muskies players are teenagers. The focus of Tier 1 junior hockey is to help players who have already nabbed college scholarships to get better in the year or two before they go to college, while others are aiming for a scholarship of their own. Many Musketeers have gone onto careers in the NHL, with banners in the Tyson showing some.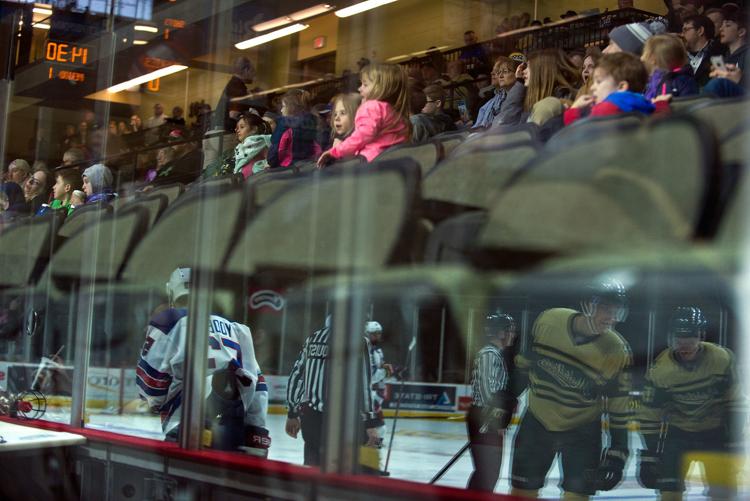 Heading into the Friday home game against Tri City, the Musketeers had a 26-22-7 record on the season, which wraps up after seven more games through April 13. If the Musketeers can hold off Omaha for a few more weeks in the standings, a berth in the playoffs follows later in April, when six teams will battle for the 2018-19 USHL title.
Paul Jones, of Sioux City, enjoyed the Fargo game, while sitting with some family members who have season tickets. Snippets of longtime staple songs, including "Mony Mony" by Billy Idol, entertained fans.
"I come to almost every game," Jones said, going back for five years.
"Hockey is the funnest sport to watch. The pace of it, the speed of it, they amount of technique they have."
Shortly after Jones spoke, Sioux City, increased its lead to 4-0 with two quick red-lighters, 31 seconds apart to start the second period. Pospisil scored again, just 48 seconds into the period, and Parker Ford added the next goal at the 1:20 mark.
Foreman plans to attend any playoff games, and like Jones agreed the team is rounding into a higher gear under the tutelage of Coach Luke Strand as the regular season winds down.
"They have had their struggles this year. They have been fighting with a lot of injuries, suspensions," Foreman said.
"Having their best line back in rotation will push them forward," Jones said.
He added, "If they could win it all, that would be great. They most definitely can do it."