MASON CITY, Iowa |  It's been about a year since the developers of the Rock Island Clean Line project withdrew an application to build the controversial overhead transmission line in Iowa.
Since then, other developers have publicly revealed their plans to transport the abundance of wind-generated electricity from Iowa and other upper Midwest states to larger markets, including Trey Ward.
Ward is the CEO of Direct Connect Development Co. and lead on the SOO Green Renewable Rail project, a proposed 349-mile underground transmission line that would be built alongside Canadian Pacific Railway routes.
"Some of the best wind resources in the world are obviously found in Northwest Iowa and SOO Green brings that cheap renewable energy to eastern markets like Chicago," Ward said.
While the proposed route starts outside Mason City, Iowa, and ends in Plano, Illinois, SOO Green's project map also shows that Sheldon and Algona are "available."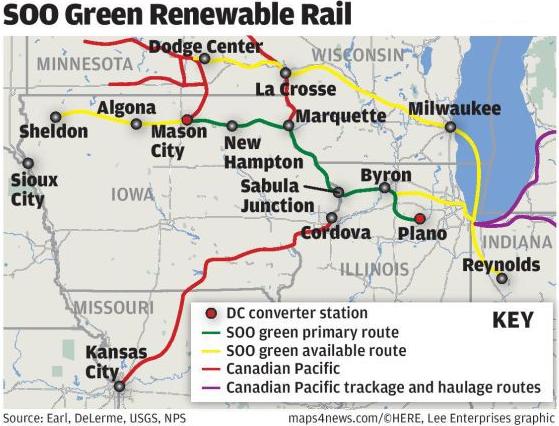 "Our converter station to be located outside Mason City will withdraw power directly from the multi-state high voltage transmission grid, enabling us to draw power from wind farms located in Iowa, southern Minnesota and the eastern Dakotas," Ward said. "Northwest Iowa, with its great wind resources, will very much be a part of our project."
The more than $2.5 billion SOO Green project would create 600 construction jobs and 200 in-direct jobs.
"These numbers do not include the jobs created to construct the winds farms enabled by the (high voltage, direct current) line, nor do they reflect the broader economic development opportunities for the region," Ward said.
Construction is projected to start in 2020 and SOO Green would be in service by 2024, based on Ward's current trajectory.
Meanwhile, Houston-based Clean Line Energy Partners insist the Rock Island Clean is still alive. The purpose of this project was to erect a 500-mile overhead line starting in Northwest Iowa's O'Brien County over private land and deliver wind-generated electricity to Illinois and states in the eastern part of the U.S.
"Our goal is to build the transmission line in a socially and environmentally responsible manner respecting landowners' rights," he said
Having an underground transmission line is one of the advantages Ward thinks SOO Green has over other projects including Rock Island, which faced a lot of backlash from landowners.
"The fact that SOO Green has the majority of its land already under control is a huge competitive advantage," he said. "One of the largest single impediments for competing transmission projects is that they need to secure land rights. Landowners in several states, including Iowa, have pushed back against private corporations taking their land for the developer's benefit.
"They are additionally agitated with the viewshed and other impacts of large, overhead transmission lines near the family farm. SOO Green does not have these issues."