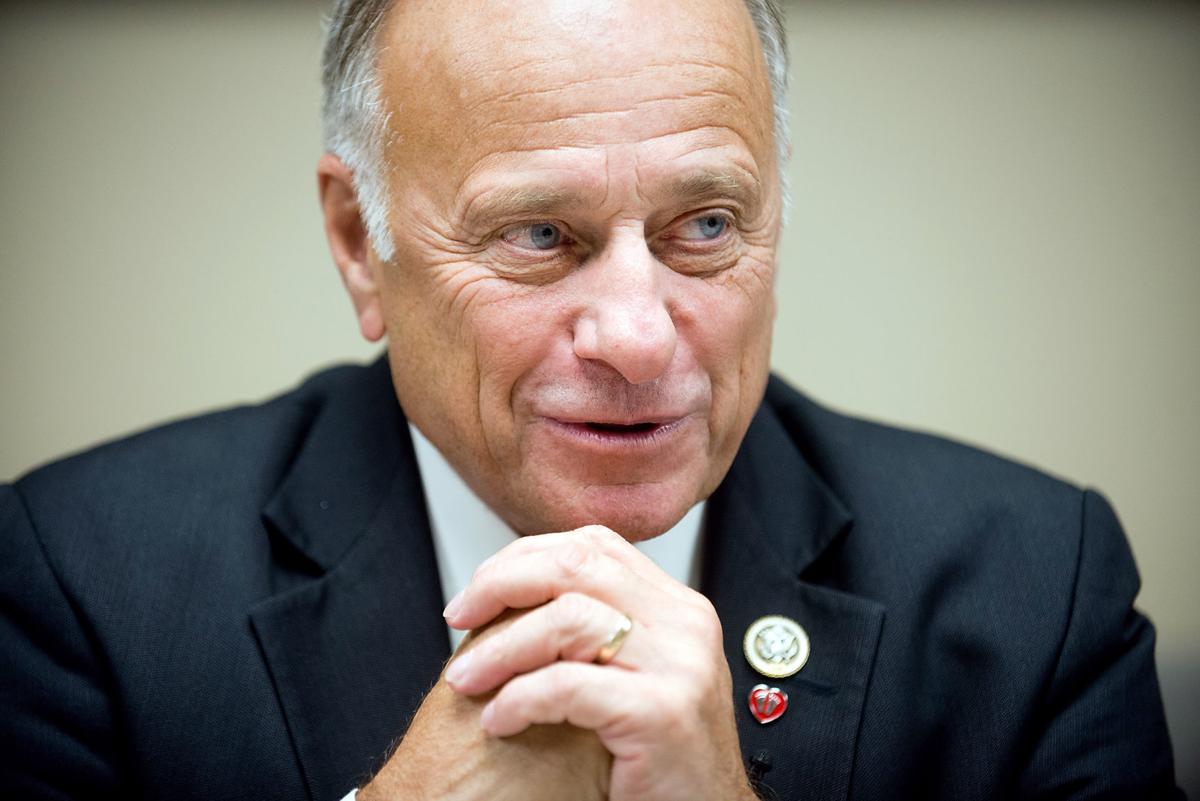 SIOUX CITY -- U.S. Rep. Steve King had high praise for the Tuesday night State of the Union speech given by President Donald Trump, calling it the "best" he's heard.
In a tweet just before midnight, King wrote that he was pleased with the address by Trump, which ran more than 80 minutes, one of the longest in history.
The tweet said, ".@RealDonaldTrump #SOTU speech was the best I have heard. It hit all the important issues and several times swept Democratic women into the moment. Interrupted 102 times by applause. Trump pointed out a number of American heroes in the gallery and closed with 'choose greatness.' "
"Having only one ticket, I invited one of two guests for the State of the Union tonight, #sotu, Lynnette Hardaay & Rochelle Richardson, otherwise known as Diamond & Silk," King tweeted. "Diamond won the coin toss."
Hardaway and Richardson were also be guest speakers at a Wednesday morning meeting of the Conservative Opportunity Society, a Republican House caucus that King leads.
Trump urged members of Congress to come together on an agenda of shared legislative interests, while seeking to move Democrats differently from their positions on immigration, abortion and investigations of his administration.
You have free articles remaining.
Other tri-state Republicans said they also supported the content of Trump's speech. House members Dusty Johnson, of South Dakota, plus Jeff Fortenberry and Adrian Smith, of Nebraska weighed in positively in press releases.
Johnson is a freshman congressman, after winning election in November.
"Last year, Congress passed several bipartisan bills, including criminal justice reform and legislation combating the opioid crisis in our communities. Americans are reaping those benefits today, and I hope we can use the momentum from the previous year to continue producing results for the American people. We should start with border security, which is past due," Johnson said.
The Iowa Democratic Party found little to like in the Trump speech.
"Donald Trump delivered a winding State of the Union filled with mistruths, blatant fear-mongering and hyper-partisan talking points," state party Chairman Troy Price said in a release.
Hardaay and Richardson burst onto the national stage during the 2016 presidential campaign with a series of videos backing then-candidate Trump. As African-American women, their support for Trump stood out in the face of a series of charges that the New York businessman and billionaire harbored racist views.
The invitation comes in the wake of King receiving widespread condemnation of his recent quote in the New York Times in which he asked "White nationalist, white supremacist, Western civilization — how did that language become offensive?"
King, known for his outspoken views on immigration and race, has denied accusations that he is a white supremacist or white nationalist, saying he considers himself a Nationalist fighting to preserve Western Civilization.
The backlash over his interview with the Times last month promoted GOP House leaders to strip him of all his committee assignments for the next two years.
Copyright 2019 The Sioux City Journal. All rights reserved. This material may not be published, broadcast, rewritten or redistributed.