SIOUX CITY -- Frozen ground has played a key role in extensive Siouxland flooding over the last week, first as being one reason waters spread over land and roads rather than soaking in, and now being both beneficial and hampering as road repairs are attempted.
Woodbury County Engineer Mark Nahra on Tuesday said 29 county road sections were closed at the height of the flooding last week, and seven roads are still closed to traffic. Two will require costly long-term repairs, as the floodwaters eroded part of the pavement on Highway 982 near Holly Springs and County Road L-37 near Danbury.
"We are asking folks' patience. We are going to get them repaired and replaced as fast as we can," said Nahra, who leads the team of Secondary Roads Department workers who work on the county's system of 1,400 miles of roads.
Danbury Mayor Michael Buth on Tuesday said the L-37 road problem caused by the Maple River means motorists now have to travel further to reach the southeast Woodbury County town. 
"It is not just a one-mile detour...They are finding other ways around (the highway) for the time being. The shorter it is, the happier they will be," Buth said.
Nahra said county workers are logging numerous overtime hours, but added it is too soon to estimate the total cost to repair the roads.
He did have one estimate, for the heavily damaged highway near Holly Springs, which many people still call Old Highway 141.
"Pavement has collapsed into the hole. That is going to be about a $100,000 fix, because we are losing about half the pavement for 500 feet," Nahra said.
That repair is being held up, he said, because frozen conditions mean any asphalt pavement placed there for now won't compact properly into the ground. The flooding there came from Wolf Creek, which roughly runs north/south a mile east of Holly Springs.
The frozen ground in one way helps gravel road repairs. With temperatures still falling below freezing overnight, Nahra said county crews get started by 6 a.m. and work until about noon, when the gravel roads start thawing. But after that, workers hauling heavy gravel in trucks must back away from roads work.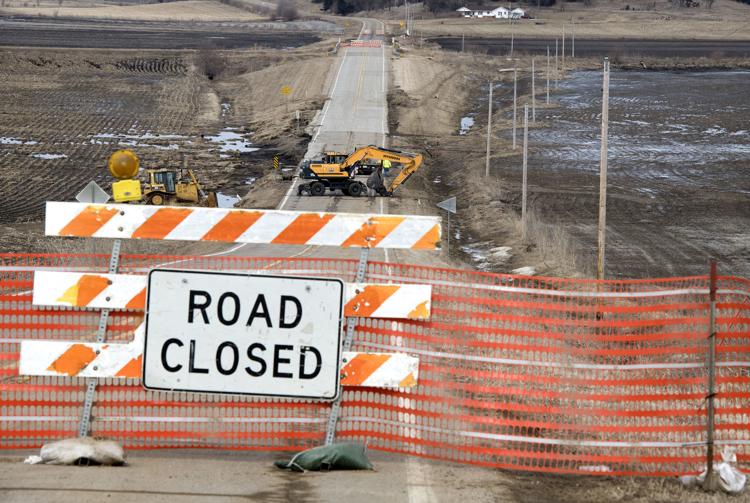 "We don't want to tear up a few miles to get to a bad spot," he said.
There are other ways freezing has impacted work. Because "ditches were plugged with ice," Nahra said, water backed onto gravel roads, making for flooded portions that greatly washed out roads on both sides for about three feet.
You have free articles remaining.
Additionally, while the county has caches of gravel piles for usage, they are still frozen in the middle, and so Nahra said some additional gravel will have to be bought commercially.
The flooding event began on late March 13, then surged in county towns such as Hornick and Moville by the following morning. A Moville woman, Diane Pilar, on Thursday looked at flooded roadways, and said, "It is not often you see whitecaps on the highway."
A mandatory evacuation was ordered in Hornick on Thursday, after snow melt and a breached levee on the West Fork of the Little Sioux River caused extensive flooding of streets. The 225 Hornick residents were able to return home Monday after the river retreated.
At the height of flooding, 29 road sections were closed, and Nahra had crews meeting emergency officials in varying Woodbury County spots.
"It was constantly changing, as streams came up, streams came down," he said.
One piece of rare good news is that no county bridges have been damaged. Now, Nahra is watching bridges in the area south of U.S. Highway 20, flanked by Wolf Creek to the east and West Fork Little Sioux to the west, which caused some of the worst flooding of rural county lands.
In Sioux City, the Missouri River crested at 29.7 feet early Sunday morning, just below the height the National Weather Service said marks the minor flood stage. Standing water temporarily forced the closure of Hamilton Boulevard at the Interstate 29 underpass, as well as the north and southbound exit ramps for the interstate.
Nahra praised the work by county crews, many of whom also had backed up water in their own basements. The county engineer was among them.
"When I wasn't working, I was cutting up carpeting," he said.
"They come early and work late. They have a deep sense of duty to get the roads shaped up as quickly as they can."
Krystal Folsom, of rural Hornick, said she's had to juggle driving routes since Thursday in getting around the county. Folsom rides her bicycle near Holly Springs, and knows Highway 982 will be out of commission for some time this spring, which arrives Wednesday.
She has seen lots of county crews in many places addressing trouble spots over the last week.
"I think they are on top of it," Folsom said.