CROFTON, Neb. -- That Siouxlanders would turn out to help a family in need should be of little surprise to anyone.
We're used to seeing notices of all types of fundraising events being staged in towns throughout the region to help a local family dealing with an unexpected death, illness or some other unfortunate circumstance.
But what friends, family and countless strangers have done for Kyle Mueller's family takes looking out for your neighbor to another level.
Mueller, 28, was killed Jan. 3 when the pickup truck he was driving collided with a semi tractor-trailer at the intersection of U.S. Highway 81 and 898th Road a couple of miles south of Yankton, South Dakota.
The crash left his three young boys -- Reed, 5, Rhet, 3, and Riggs, 1 -- without their father, and his wife, Lakyn, is due to give birth to their fourth child -- a girl -- in June. Mueller had just switched jobs and wasn't yet eligible to sign up for life insurance through his new employer.
The outpouring of support for Lakyn and her children was immediate.
Her sister, Taylor Harmelink, started a page on GoFundMe, an online fundraising site, at her aunt's suggestion.
"Being it was hard to sleep the night of the accident, I went ahead and made it right away," Harmelink said.
Her husband told her she should set the goal "ridiculously high," so she set it at $50,000.
It was met within 24 hours.
So Harmelink raised it to $100,000. That goal was hit in 48 hours.
The generous response left the family blown away, and continues to do so.
"The support that was received (and is still being received) has been very overwhelming for my sister and all of Kyle's family," Harmelink said in an email.
You have free articles remaining.
As of Monday, a month and a day after the GoFundMe site was established, $113,695 has been donated by nearly 1,500 people. The fundraising goal has been raised to $120,000.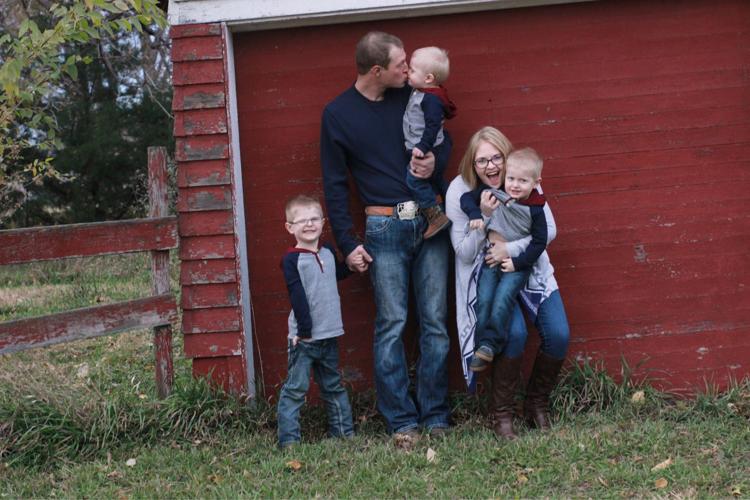 Joe Mueller, Kyle's father, also called the support the family has received overwhelming. They've got a big family, he said, so there's a large network of friends in the Yankton and Crofton area. But donations also have poured in from people the family doesn't know.
"I didn't realize that he had really touched that many people," Joe Mueller said. "It's almost unimaginable, but if you're a believer, God can do unimaginable things."
A 2008 Yankton High School graduate, Kyle played every sport he could in high school, his father said, and he continued to play for the Crofton Bluejays amateur baseball team. Rival teams in the South Central League are among the many who have stepped up to the plate to support Mueller's wife and children, who are getting through the tragedy day by day.
"She's there for the kids. She's staying as strong as she can for the kids," Mueller said.
Harmelink said Kyle and Lakyn were the type of parents who would never ask for a dime. Lakyn provided in-home daycare and would work as a waitress at night to help support the family, while Kyle would help at her dad's farm.
"They are the type of people to have five side jobs before ever asking for help," Harmelink said. "The support at first was very hard to accept, but I think it gave (Lakyn) some peace of mind that her and the kids are going to be taken care of."
The help hasn't been just monetary. People have dropped off clothing, diapers, groceries and other items for the family. A meal train was set up to cook meals for them for the past month.
Again, Harmelink referred to the response as overwhelming.
"The amount of support shows just how strong our community is in tough times like these," she said, "and that Kyle is still taking care of his family through all of the amazing people out there."
Surprising? Given the generous area in which we live, not at all.