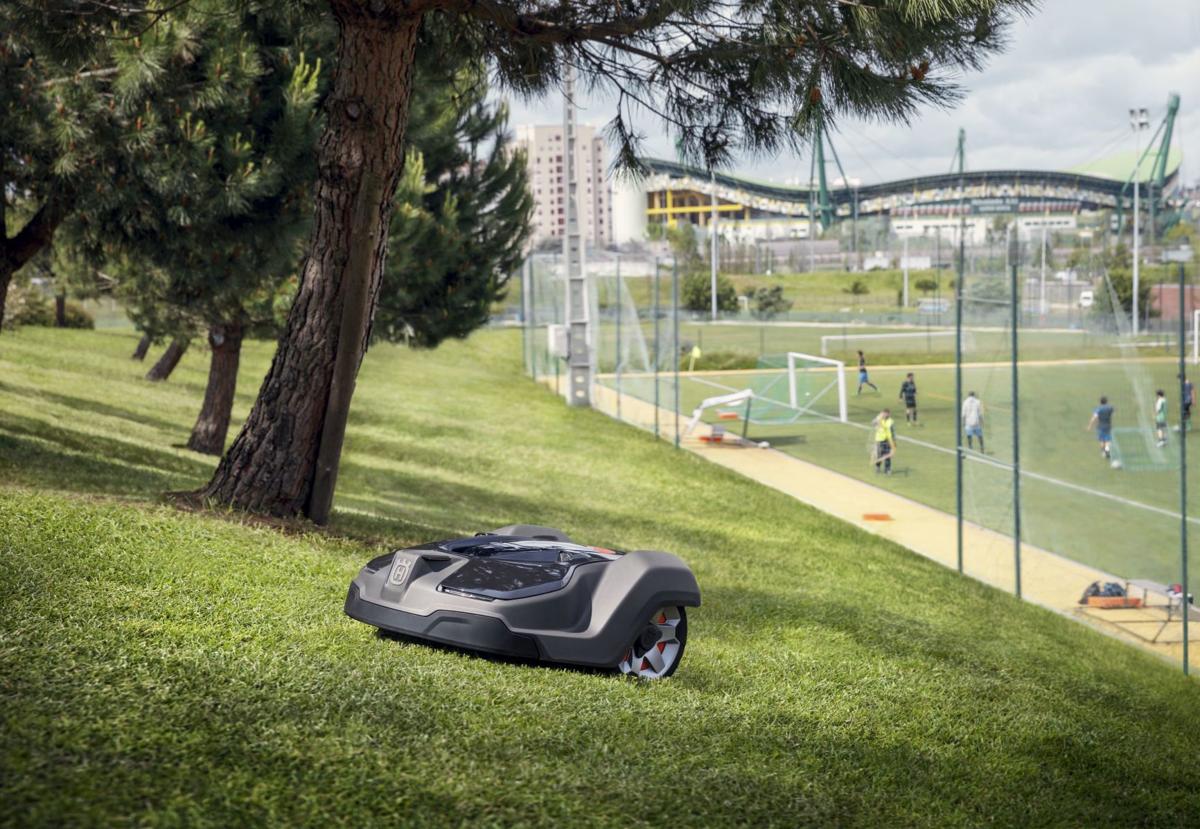 Ben Neville was in Europe 10 years ago with his wife when they spotted a cool, new item they hadn't previously seen: a robotic lawnmower. They wanted one, so after waiting for half a decade, they jumped at the opportunity when the mowers first reached the United States a handful of years before now.
A month after, they got really involved: Ben Neville made a career change from insurance to lawnmowers as the family opened a dedicated robotic mower dealership in Columbus, Nebraska, five years ago. What started as a way to keep kids busy during the summer has turned into the full-fledged operation known as Robotic Yard Solutions, with two Nebraska offices and a territory that spans that state and Iowa (though Neville still also works with his dad and brother in selling property and casualty insurance). 
"The first year we sold about a dozen units, second year it kind of doubled. Every year it has been doubling," he said. "We liked it so much that we knew it was definitely a game-changer in the way you mow your yard."
From its Nebraska base, Neville said, Robotic Yard Solutions continues to increase its business in and around Sioux City, a market the company expanded into a year ago, and it's now a regular feature at the Siouxland Home Show.
About six of the company's Husqvarna products roamed Sioux City area yards as of early April with a few more — belonging to customers who purchased at the most recent home show — to be installed, Neville added.
Those who have them, Neville said, won't have to spend much time working on or worrying about the health and appearance of their yards. The mowers roam every day, cutting an even amount of grass each time, working around obstacles, in adverse conditions and at any hour.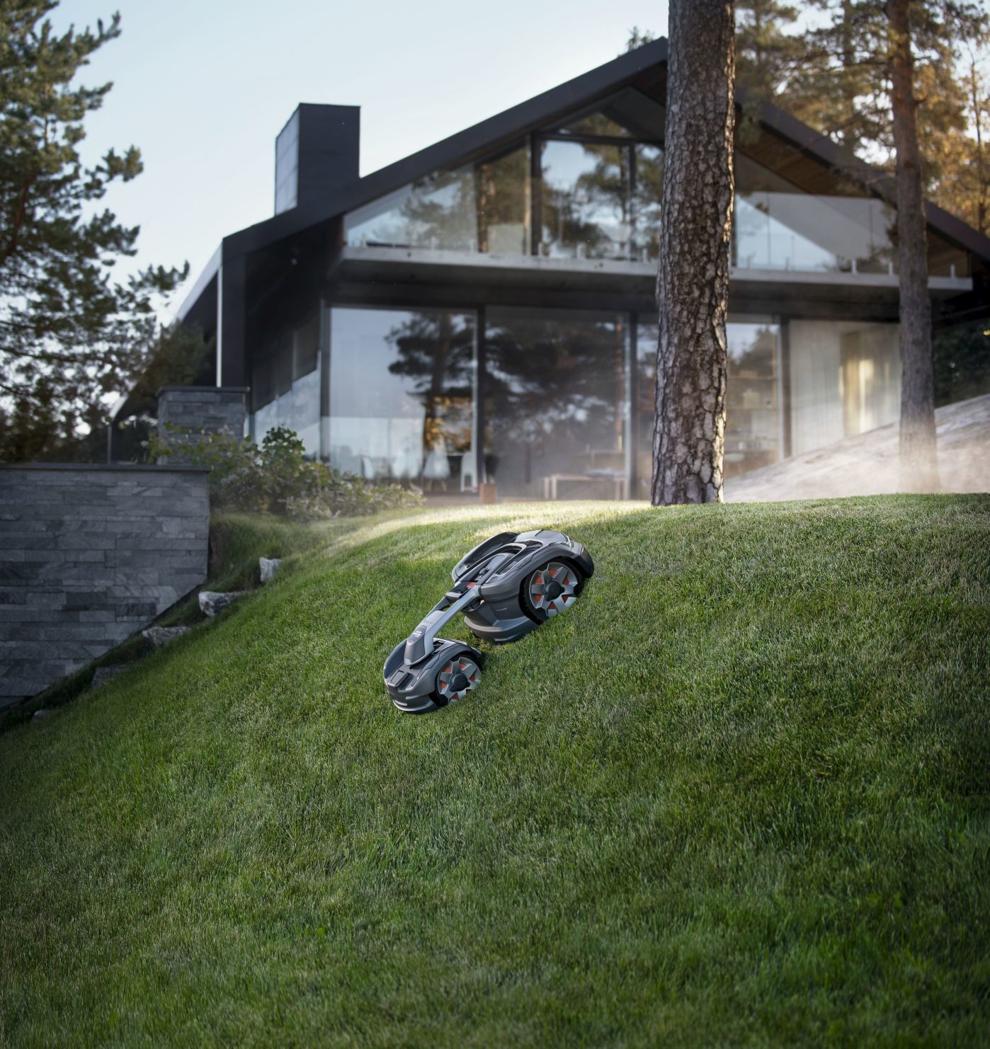 "Typically when I used to mow my lawn with a riding lawnmower, I'd get out once a week if I was lucky, just because I was so busy. So I'd be cutting an inch and a half, two inches off at a time, which is unhealthy for the yard," Neville said. (The robotic mower) is only taking a quarter to an eighth of an inch off every time."
He also listed other benefits of robotic mowers compared to riding models: price, reliability, maintenance. Many robotic models, which begin at $1,000, are comparably priced to riding mowers and can be less expensive, Neville said. The electric products require only a "two-minute" blade change once every several weeks, and they're designed to last a decade or more. With no carburetors or oil to change, there are fewer parts to worry about.
Top-of-the-line models sell for nearly $3,500. They can cover up to an acre and a half of land, Neville noted, and offer a host of upgrades.
Despite the on-paper advantages of robotic mowers, Neville said the products are still a "niche" item. Sales tend to pick up after one homeowner in a neighborhood or town purchases one, allowing others to see what's going on and how the mower works.
"There is still a lot of educating people on what it actually is. When you see something with headlights cruising around in the yard, you really don't know what it is," Neville said. "That's what we've been doing the last five years — educating everybody on them."
Home shows provide another opportunity to introduce unfamiliar people to them. The company attends more than a half-dozen events each year, Neville says, and that's often his entrée into an area. The cancellation of at least four such shows because of the coronavirus "hurts a little bit," he admitted. Sioux City's event in late February was the last he attended before the pandemic set in.
When Neville jumped head-first into the lawnmower business, he figured it'd be millennials who walked out of home shows with an order for one and peered longingly into neighbors' yards for a look at a fancy new contraption. But that's not what he found. 
Instead, he said, people across age ranges and locations are interested in the mowers, which he purchases from Husqvarna, retails to customers and then installs. (Buyers who want to do the installation themselves can; they're given an instructions kit.)
"We have just as many people over 75 that we've put them in for as people that are in their 30s," Neville added. "Anything from a small yard in town to a big acreage out in the country. It's any and everyone." 
His operation is unique — and alone, he thinks, in Nebraska — in selling exclusively electric-powered mowers. Though Robotic Yard Solutions' showrooms are both in that state, the flagship location in Columbus and another in Omaha, Neville crisscrosses Iowa and Nebraska to sell, and said a retail presence in Sioux City is "in the plans."
If the Sioux City market follows the path of others, robotic mowers could soon be motoring through scores of yards here.
"People always want to see it work in somebody else's yard first," he said. "A month later … the neighbors start to give us a call then too. One of the best ways we sell them is actually letting people see how they work."