At 13, Spencer Bailey wondered if he was going to spend the rest of his life being "that little boy in the photograph."
The photograph, of course, was of Lt. Col. Dennis Nielsen carrying him – then 3 years old – from the wreckage of United Airlines Flight 232 on July 19, 1989. Sioux City Journal photographer Gary Anderson took the shot that became a symbol of the crash that, miraculously, 184 passengers had survived. Printed and aired around the world, the photo helped people understand the tragedy and the heroic efforts that went into the rescue.
Bailey, his 6-year-old brother, Brandon, and their mother, Frances Lockwood Bailey, were flying from Denver to Chicago when the plane went down near the Sioux Gateway Airport. For the better part of three decades, he hasn't spoken publicly about the crash or its effect on his life.
On the 30th anniversary of the crash, however, he agreed to be interviewed for "Time Sensitive," a podcast that features interviews with "curious and courageous people ... who have a distinct perspective on time."
The 232 experience, the 33-year-old said, "is why I became a journalist. Journalism requires deep empathy, if you're good at it. I love telling other people's stories. It's probably why I haven't gone and tried to tell this story."
Bailey and Andrew Zuckerman, co-founders of The Slowdown, an entertainment media company, talked last week about the crash, the photograph, the "Spirit of Siouxland" statue that was based on the picture, and his mother, one of the 112 passengers who died.
Specific details, however, elude him.
"I don't remember anything," Bailey admitted. "It's everything I've read or that people have told me. I was in a coma for five days. I was in a hospital bed for the first nine days after the crash and, only then, was I able to kind of start moving around. I had such bad brain trauma, and my head was so swollen that my eyes were shut. Coming out of that coma was like a rebirth for me. Only instead of being born out of my mom, I was now a motherless child."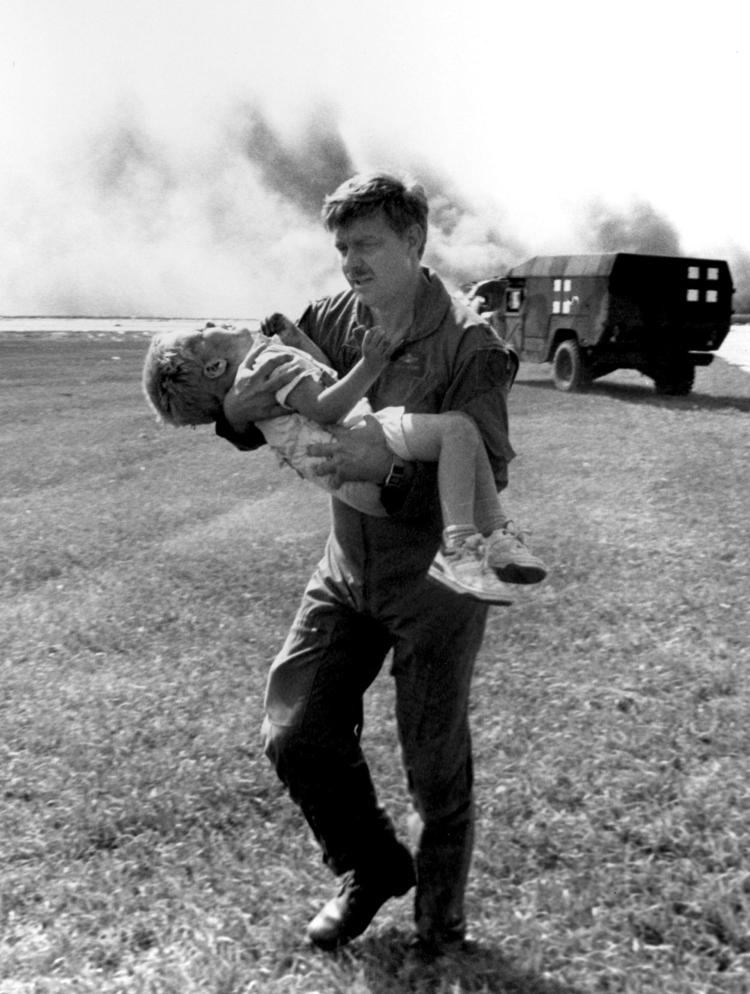 Brother fills in details
Eleven years ago, Bailey talked with older brother Brandon about the crash. "We had dealt with the aftermath as brothers growing up together, but we had never formally talked about it," Spencer said.
Among the revelations: As the plane was experiencing difficulty, their mother had her arms around the backs of Brandon, 6, and Spencer, 3. She was "almost like an angel or something," Bailey remembered his brother saying. "And when it crashed, everything for him just went gray. He didn't go unconscious. He woke up on the runway with his legs broken. A 6-year-old boy, thinking if he could flip his legs around, he could get up and walk away. Almost like if it were a video game."
Spencer, meanwhile, had brain and head trauma, "but my body was extremely resilient, so my worst injuries were brain injuries. Physically, my only issue that I had was my left ear, which had almost been sliced off and had to be stitched back on."
Their father, Brownell, was on a business trip. Spencer's twin, Trent, was staying with relatives.
When dad heard about the crash, he booked a flight to Omaha, then rented a car to get to Sioux City, uncertain what had happened to his family.
"By the night of July 19, he had received a call from the hospital and there was a boy there that the doctors were describing as 'Randy,' but it was actually Brandy, which is what we called Brandon when we were little," Spencer Bailey recalled. "My dad knew that Brandon had made it and was in really bad condition."
Picture provides clues
Brownell Bailey learned about the photograph from a relative who had seen the picture on the front page of a paper in Texas. An uncle told him, "I believe that's Spencer."
"The paper hadn't labeled me; they didn't know who I was. I was just a little boy who had survived," Bailey said. "My dad went by a newsstand at the airport and saw the photo of me and he told me he just had a feeling in his gut that I had made it. He kind of assumed that, on some level, they wouldn't have put a photo of a dead boy on the cover of the newspaper."
Trent and Spencer were able to attend their mother's funeral; Brandon was still in the hospital. While Spencer remembers having "tons of scabs all over me from the crash," he doesn't recall much more. "We really didn't know what (the funeral) was. We were two 4-year-old kids playing around."
Because they were so young, the two also didn't have much time with their mother. "My godmother was her best friend, so I've heard stories from her," Bailey said. He learned that she was an artist and children's clothing designer. "There's a photo of us in a suburban mall in Littleton, Colorado, modeling her clothes down a runway. She was just somebody who had so much creativity inside her and I think it came from family." Her grandfather was an inventor; her great-grandfather (Spencer's namesake) was a painter who was art director of Ladies' Home Journal.
Without her, Bailey said, "you just grow up fast. By the time I was 7 or 8, I was doing my own laundry, making do, helping clean the house, contributing, doing what you could ... We were a broken house."
At 13, Bailey convinced his father that he and Trent should go to boarding school. Brandon – who had become a top athlete despite the injuries to his legs – had already gone off to Loomis Chaffee in Windsor, Connecticut.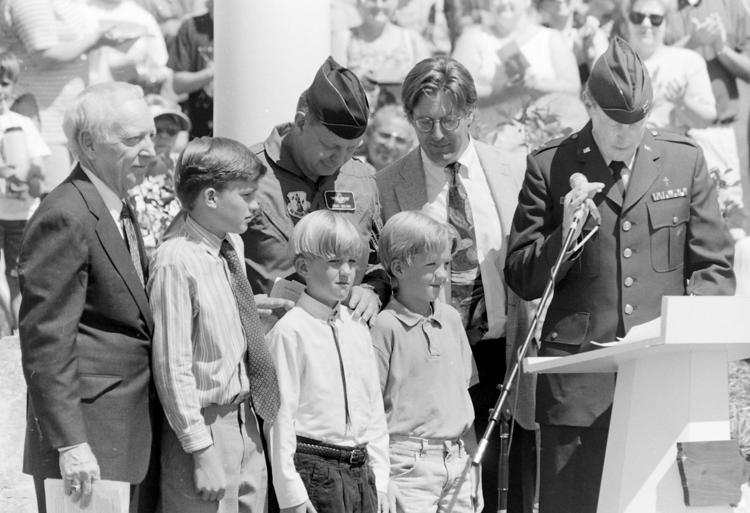 The twins went to different schools and found it was a way to deal with the changes in their lives. Because of his injuries, Spencer Bailey had difficulty reading. "It wasn't until I was probably in seventh or eighth grade that I actually became able to read at a level that was similar to my peers."
Concerned that he would always be that boy in the photograph "led me to try to figure out: What am I going to do with my life? What am I passionate about? What am I good at?"
Best friends knew of the accident; others didn't. Senior year, his then-girlfriend convinced him to tell the story as part of his senior speech. "It was 350 students," he said. "The room was silent."
As we commemorate the 30th anniversary of the Flight 232 crash in Sioux City, we're looking back both at that fateful day in 1989 and how Siou…
Among the information: His image had been used for a memorial, the Spirit of Siouxland. It was based on the Anderson photograph.
Family attends dedication
The Baileys were at the dedication in 1994, "and I was such a confused 9-year-old boy," Bailey said. "Dennis Nielsen was there and we tried to redo the (pose) – he couldn't lift me. I was too big, but it made for a good laugh, anyway. And I think that's important. There is some levity in darkness."
On the 20th anniversary, Bailey and his father returned to Sioux City. "The year before, the Sioux City Journal had done a story on the anniversary of the crash and I was asked about how I felt seeing myself in (a) statue. I would say the same thing today, which is: I'm sure people go back and look at that statue and think that I'm a dead boy. They probably don't realize I'm still alive."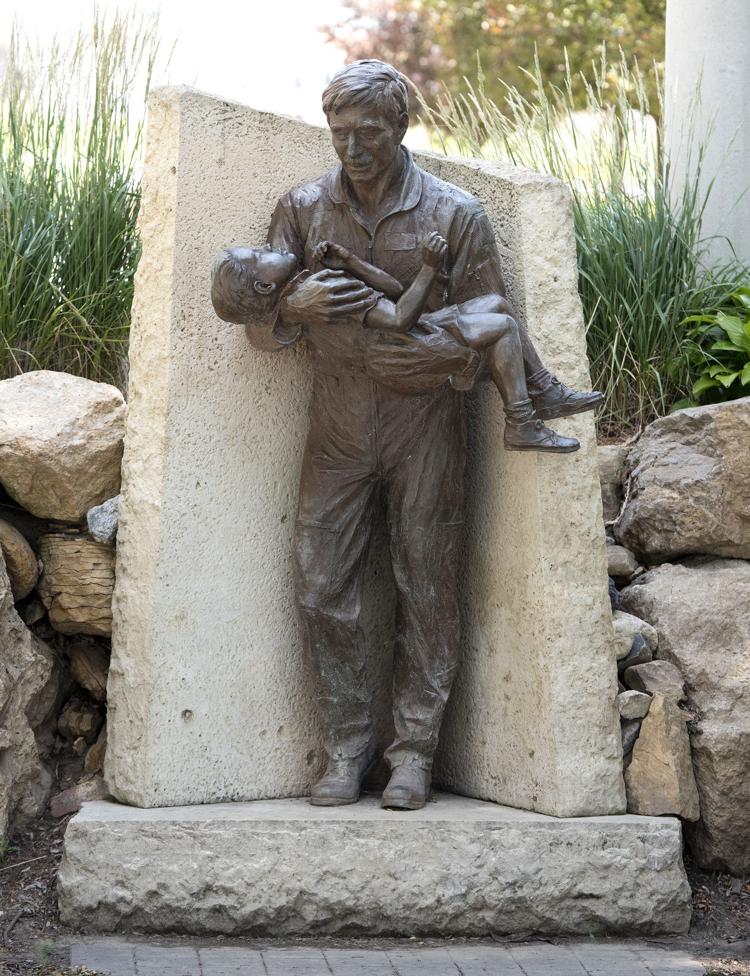 When Bailey saw the photograph from the Boston Marathon bombing in 2013, he thought of Anderson's shot from Flight 232. "They're totally different events, but the iconic nature of that image is what sticks in people's minds. It represents that event. I wasn't in Boston. I can't grasp what happened that day, but the small semblance of what I can grasp comes through that picture."
Before starting The Slowdown, he wrote about architecture, art, culture, design and technology for Town and Country, The New York Times Magazine, Fortune and Newsweek. From mid-2013 to mid-2018, he was the editor of Surface magazine.
Saving the shoes
The only things Bailey still has from that traumatic day in Sioux City are the shoes he was wearing. "Around 15 years ago, my grandmother gave me the shoes. She had kept them and they were in a ziplock bag with a note. I remember her giving them to me and I thought, 'What a gift. That I have anything from that day. And it's actually these white shoes.'"
SIOUX CITY -- The 30th anniversary of the crash of United Airlines Flight 232 will be remembered during a program Friday in Sioux City.
Interestingly, he never took them out of the bag until he brought them to his office. "I had always kept them in the ziplock bag. But the day we took them out, I remember feeling immediately – especially when I turned them over and saw dirt on the bottom of the shoes. I don't know if that dirt is from the cornfields of Iowa or the runway or whether it was just from me playing in the backyard in Denver before we got on the flight. But it's there. It's caked in. And those shoes mean a lot to me. If there were a fire in my apartment, they'd be the first thing I grab."
Surprisingly, Bailey said he doesn't have a fear of flying; "I continue to enjoy travel because it makes me feel alive."
To note the 30th anniversary of the crash, he said he'll visit his mother's grave in Lake Placid, New York.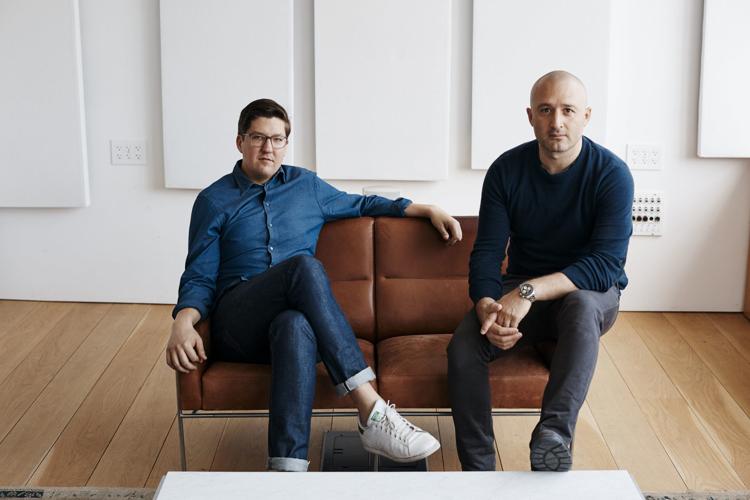 "I do always want to take moments to remember, but I don't want it to hang over my head every day. I don't want it to be something that runs my life. I've moved on. But, in a way, I'll never move on. I think I'll always be processing it.
"If there's something I think about most, it's probably how grateful I feel to be alive every day," Bailey said. "How I feel ... what a miracle it is to breathe, to wake up in the morning and be able to simply take a breath."
The interview was recorded July 11 in The Slowdown's New York City studio. To hear the podcast, click here.