SIOUX CITY -- On June 7, Bruce Hokel was hesitant to walk on the lawn of his rural Sioux City home, fearful an unseen divot or wayward clod of dirt would cause him to lose his balance with his new prosthetic leg. 
Eleven days after that, he returned to desk duty at the Sioux City Police Department. 
By the end of June, around the time of his 47th birthday, Hokel was again walking on the grass and began running about a half mile every other day. 
This past Tuesday, Hokel got back in a patrol car, just over three months after losing part of his left leg. Within an hour or so of starting his shift, he took part in an arrest at an apartment complex. 
His gait and steadiness appeared no different than any of the other officers; the looseness of his left pant leg was the only sign he wore a prosthesis. Hokel would've taken the arrested man to jail himself were it not for a reporter riding along in the back seat of the patrol car. 
The roof of then-46-year-old Bruce Hokel's home was a bit slippery Jan. 27. 
Hokel, who doesn't like to sit around even in the dead of winter, went up to do some repair work. He slipped from the roof, falling an estimated 12 feet, and sustained a pilon fracture. His tibia was broken in four places above the ankle. 
He said he made an effort to fall on his left leg, figuring that breaking that leg would be less of an impediment to driving. 
Hokel spent a night in the hospital and had to wait 10 days for the swelling to go down before doctors could put screws and plates to fix the leg. At some point while he was recuperating, an aggressive staph infection set in. 
By April, the infection had severely eroded the bone and cartilage in his leg. 
He was sent to Avera McKennan Hospital in Sioux Falls, where a team led by orthopedic surgeon Justin Krajca removed his leg below the knee April 22. The doctors had weighed whether to amputate or leave the leg, but they told him the leg wouldn't be functional if they chose not to. 
"They would have fused the joint, so his foot would've been stuck in one position, and he probably wouldn't have been able to go back to policing at all," wife Meg Hokel later recalled. 
Sioux City Police officer Bruce Hokel, who was injured in an accident and had his left leg amputated, received his temporary prosthetic.
Recuperating from the loss of his leg, Hokel, a 14-year veteran of the Sioux City Police force, vowed the loss of his leg wouldn't keep him off the streets.
"My plan is to be the first Sioux City amputee in a squad car," he said in April. 
On May 21, the doctors in Sioux Falls determined Hokel was healing well enough to begin the process of fitting for a prosthetic leg. 
The following day, Hokel, accompanied by wife Meg, mother Karen Day and 8-year-old twins Marcus and Mallory, went to Clark & Associates to meet Wally Kuntz, a Sioux City prosthetic specialist, to get fitted.
Two days later, with his new metal leg, he walked out of Kuntz's office without crutches. 
Kuntz predicted a man of Hokel's age, health and vitality would be able to get back up to speed quickly. 
"I would anticipate within four months, a lot of people that don't know he's wearing a prosthesis will watch him walk right by them in the mall wearing long pants, and not have any idea that he's wearing one," Kuntz said during Hokel's visit to his office. "He should be able to get back to his full life." 
In the early days, Hokel wore a "test socket" prosthesis -- a sort of prototype in which the socket (where the leg remnant goes) is plastic. Wearing the test socket, which is later replaced by a permanent socket, forces the leg swelling to decrease to a more appropriate level, while helping get the user accustomed to the prosthesis. 
To Police Officer Bruce Hokel ("Amputation won't stop SCPD officer," April 26 Journal), thank you for your service.
Prosthetic legs can feel heavy, even though modern titanium-and-carbon-fiber models often weigh less than the original leg. Swelling and shrinkage of the leg is a constant issue to contend with for new prosthesis users. 
A good socket fit is attained using more, or fewer, pairs of socks on the leg stump. This was problematic in its own way, as the extra layers made Hokel sweat profusely in the summer heat. The swelling did gradually go down; more sock layers and padding were added to ensure a good fit. 
"Bruce is a sweat-er," Meg Hokel said. The leg sweating subsequently subsided, though it still sweats to a degree. 
The cost of the prosthesis has been a concern since Hokel began the treatment. The Hokels estimate the price could run well into the tens of thousands of dollars, and they're unsure how much will be covered by their health insurance. A GoFundMe online fundraiser for them remains active. 
"We know bills are going to be ridiculous," Meg Hokel said. 
Hokel isn't the only person in his immediate family who recently lost an appendage. His 11-year-old son, Locke, lost his ring and middle finger in a side-by-side rollover last August. 
"He said we get to be stump buddies together," Hokel said. 
Hokel had to take time off from work after his son lost his fingers, followed by the many weeks off after his own accident. Running out of paid time off and at risk of losing his health insurance, he was helped by other city employees who stepped in and donated their paid days off.
"The entire city, they donated," Meg Hokel said. "Bruce ran out of vacation and sick time so he was on two months of no pay, until they did that."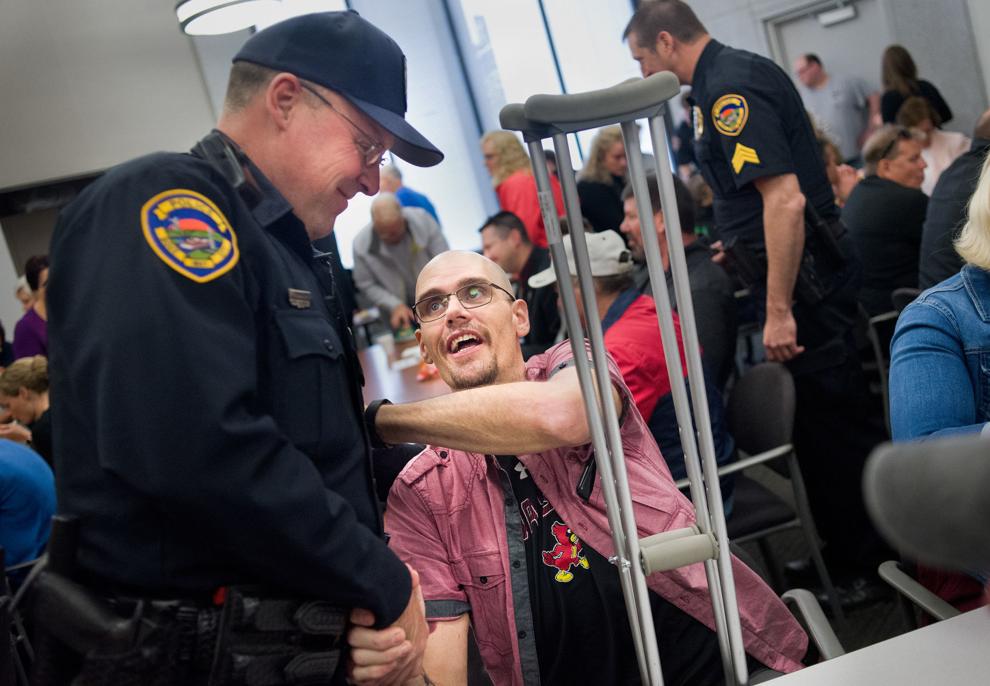 For this, Hokel remains grateful to the Sioux City Police Officers' Association and his fellow Sioux City employees. 
Hokel felt a great deal of "phantom pain" and itching sensations in the nonexistent leg and foot, a phenomenon common among amputees. The pain has diminished since May, thanks in part to the prosthesis, but they still afflict him at night sometimes. His phantom pains kept him up the night before he returned to work. 
"It feels like somebody's burning the end of my foot with a blowtorch," he said during a visit to Kuntz's office in May. "It feels just like that. But there's nothing there." 
On June 24, Hokel got his permanent prosthetic leg with a carbon fiber socket. His vigorous activities at home had broken the month-old test socket by then. 
By early June, though the lawn was still uncharted territory for Hokel and the new leg, he was buzzing around the house better than most would be. At that point there were days he was walking 10,000 steps, including stairs; he took down the outside Christmas lights by himself.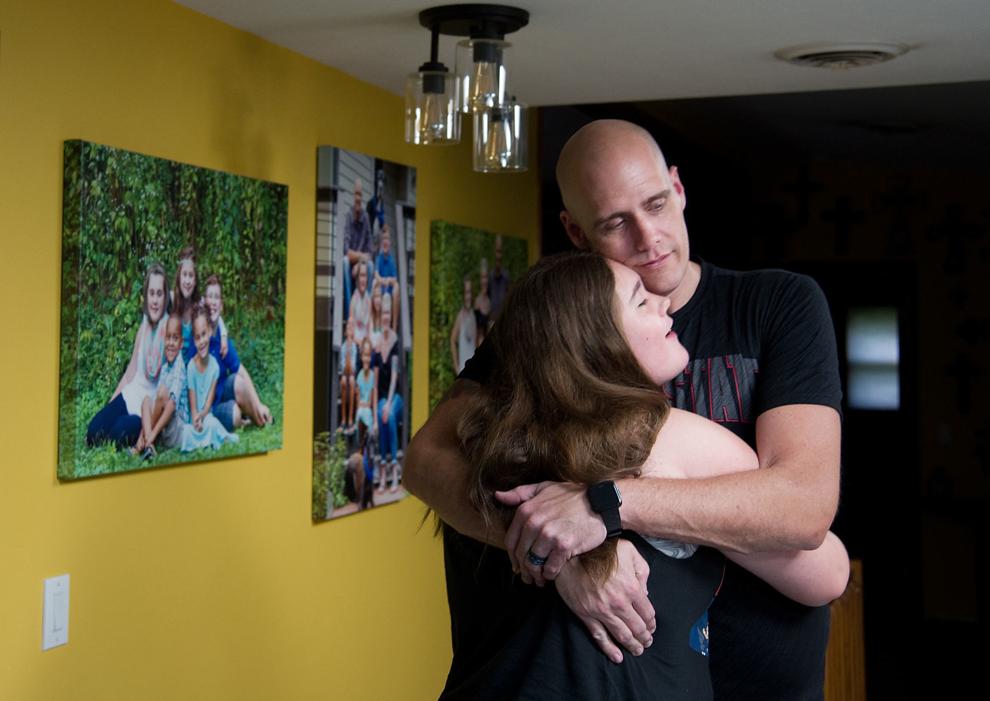 "I'm actually doing a pretty fast walk, I'm not so sure I couldn't do a light jog if it was a nice flat concrete surface," he said during the early June visit. "We're progressing really well."  
Uneven surfaces were still problematic at the time, as Hokel tried to master the art of walking with his new leg. He had to pay close attention to each step he took, and went to Kuntz's office several times a week for physical therapy and leg adjustments. 
"If I can walk and take my 'perfect' stride like I'm supposed to, my perfect walk, I hardly feel anything," he said. "But the minute I catch a rock, a crack, uneven ground, or I get sidetracked and don't walk quite right, you get a little punishment." 
On one shopping trip, Hokel was trying to adjust his leg as he walked. The problem, Meg noticed, was his prosthetic foot, which was aimed in the wrong direction. 
"In 46 years of walking, you walk one way and you had a certain stride and now it's, having to learn the right way," he said. 
Curious glances from strangers in public are probably inevitable, particularly since Hokel prefers to wear shorts in the hot summer months. The 6'8" Hokel was already accustomed to the occasional realization that people are staring: "People just kind of look at you like you're a freak.
"It is what it is, I'm not going to hide it," he said. "You get a lot of looks, a lot of people look." 
"Mostly little kids that'll say, 'He don't have a leg!'" Meg Hokel added. 
Meg Hokel in June was still mulling the grim possibility that Bruce's leg could make him a liability on the force. 
"My only concern for him now going back to the department, obviously Bruce has to take into consideration that -- is he able to keep his partners out of trouble, or would he cause issues for them, not being able to move fast enough?" she said. 
Her husband was determined that would not be the case. 
After months of being trapped in the house -- with Meg, mother Karen and the neighbors mowing the lawn, moving snow and tending to the sheep and miniature horses -- Hokel got back to his adventurous maintenance activities. 
Though Hokel said he's always "had a respect for heights," his experience falling off his roof apparently didn't leave him height-averse. 
"Even had a boom lift and was chainsawing trees 30 feet up in the air," he said. "Just doing some tree trimming.
"What do you do when you get bucked off a horse? You get back on it." 
The owner of Sooland Bobcat, fearing Hokel may struggle to use his Bobcat around their vast acreage, managed to find Hokel a hand-controlled, amputee-friendly Bobcat. 
"He has made sure that I've got a machine I can use," Hokel said. 
'Welcome back to the street'
Shortly after he began his patrol Tuesday morning, Hokel got a message on Getac computer terminal in his cruiser from a fellow officer: "Welcome back to the street, brother!!" Other officers later offered him high-fives and fist bumps.
A city physician at MercyOne Business Health examined Hokel July 19 and confirmed he was ready to go back on patrol, which he did four days later. After many weeks of physical therapy and exercise, Hokel said he can now confidently walk, run and jump on various terrains, essential abilities for a patrol officer. 
"My family doctor was very impressed with (my healing), I guess a lot of people are quite shocked by it," Hokel said. 
The experience of being an amputee law enforcement professional made Hokel some new friends -- he connected with an amputee Polk County (Iowa) Sheriff's Deputy and a federal officer in Texas. 
American Brothers in Arms, a Morningside gun store, built Hokel a custom ankle holster to fit around his prosthetic leg -- he was long in the habit of keeping a second gun on his left ankle and wasn't ready to part with this practice.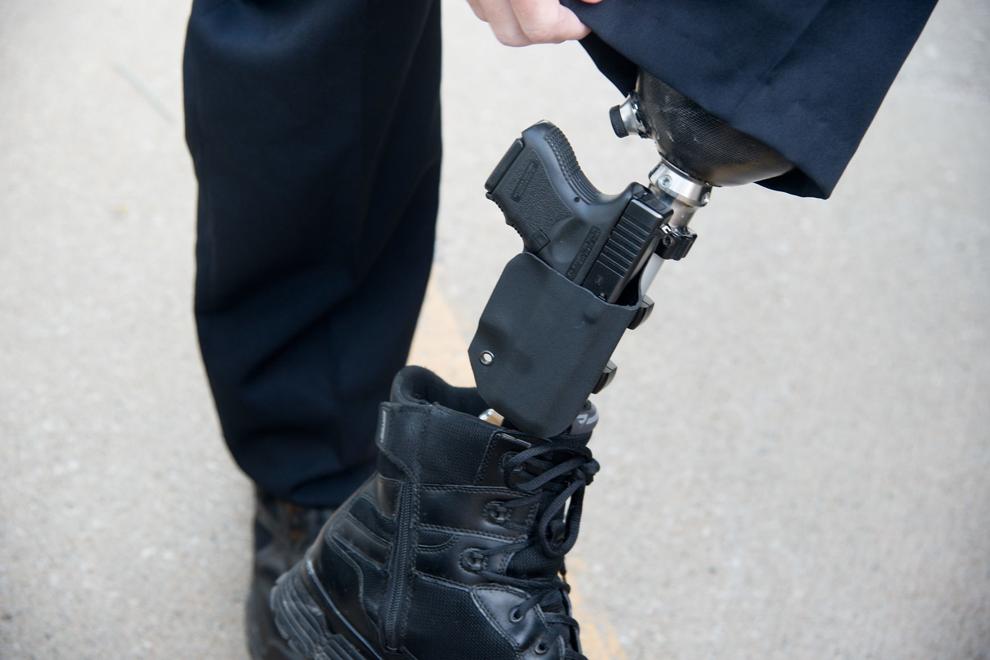 "For 20 years, I wore an ankle holster," he said, showing off the "prototype" holster affixed to his metal leg. 
On his first day on the job, Hokel patrolled a district including parts of downtown and areas to the east of Hamilton Boulevard. Shortly before 7:45 a.m., a male-versus-female disturbance was reported in the 900 block of Sixth Street, and Hokel raced downtown to speak with the victim. 
Half an hour later, he and other officers descended on an apartment complex and took the suspect into custody. As Kuntz predicted two months earlier, Hokel didn't miss a step. 
Overall, Hokel said his first few days back on the job -- as the only known limb amputee serving with the Sioux City Police Department -- was pretty unremarkable. 
After his first week back on patrol, Hokel said, "This is, just like it was before."