MOVILLE, Iowa -- Daughter Sally and I spend a recent Saturday driving from Cherokee to Logan and back to Moville, following a state choir festival with a round of golf at Logan Valley, site of a Class 1A Girls' Regional.
We cover 178 miles and about that many tales. I gather reflections from Sally, our youngest, who graduates Sunday from Woodbury Central, ending an era for her and for her parents, Jill and me.
Seems like last week we put our five children in a line, in age order, on our driveway before the first day of school, snapping photos as Sally squinted into the sun. She trailed off to kindergarten about the time Jill headed to the classroom as a teacher. I stood alone in an empty house that morning, sighing, realizing this day would come.
Moville, the only residence Sally has known, withstood a storm's punch the night she entered the world, April 6, 2001. Violent winds toppled the fiberglass backboard on our driveway and hurled Woodbury Central High School's softball bleachers over a fence.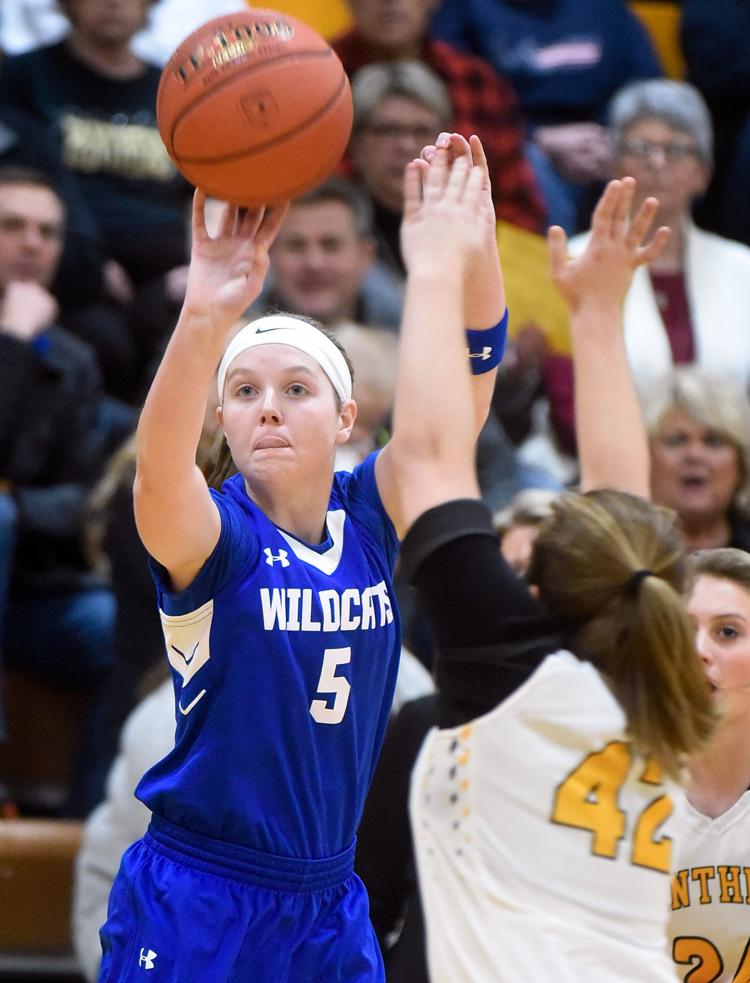 Sally, never keen on using the backboard anyway, preferred to swish basketball makes, none more memorable than a 25-footer at the buzzer in a conference tournament semifinal this winter, giving her Wildcats a 44-41 victory. I ask her about it, thinking it may rate as an all-time highlight. I'm surprised she talks about the game on another level, referencing the "game within the game," to use sports jargon.
"It's memorable, but not my favorite," she responds. "Maddie (Paulsen) was sick that night. She was home watching the game and I remember how bad I felt for her, because she was such a big part of what our team did all season. I was happy we won, but it wasn't the same."
There were always games at our home on Main Street. From the time she could walk, Sally chased tennis balls I launched with a swing of the racket. She didn't hesitate in knocking on the door of next-door neighbor Blake Stubbs, asking if he might be up for a game of one-on-one soccer.
The games gave way to local little league sports, games interspersed with hundreds of walks across Main Street to see neighbors Steve and Brenda Heeren, devour Brenda's cake and brownies made from scratch, snacks to break up Yahtzee games.
"Our little girl is growing up," Brenda said to Jill and me as prom dates rolled around.
In some ways, yes; some ways, no. We never had to remind Sally to complete her high school or Western Iowa Tech Community College homework. Her senior class, which has accumulated 861 hours of collegiate credit, must be as serious as her about study. Sally has 27 hours, putting her well on her way when she attends Southwest Minnesota State University to study physical education and health, following the path of her older sister, Ellen.
And while I marvel at her organizational abilities, I shake my head at her inability to pour herself a glass of chocolate milk. For 17 years, it appears, this was Dad's duty.
You have free articles remaining.
As the miles pass on a brilliant Saturday, she talks about the day last June when then-senior softball teammates Payge Ronfeldt and Brooke Bauer stopped by to visit her at work in the Woodbury Central administrative office. Soon the trio engaged in a lively discussion with Dan Bormann, a longtime coach and baseball purist who doubles as school principal.
"Sally will never hit a home run," Bormann said, drawing looks of astonishment from Bauer and Ronfeldt. "Sally will never hit a home run."
The parties would later tease one another and agree to disagree on the tenor of the talk. Bormann maintains he was simply praising Sally as a contact hitter, one who finds the gaps and drives singles and doubles to the alleys. Ronfeldt and Bauer, who had hit home runs, laugh and contend they heard a different spin. Sally filed away the debate as a motivator.
She drilled a pitch over the left-field fence that evening in Onawa, helping Woodbury Central win the softball conference tournament title. After previously hitting the base of the fence a half-dozen times during the season, it was as if Mr. Bormann's left-handed compliment gave the left-handed hitter the push she needed.
Sally rounded the bases sporting a wide smile as Stubbs snapped a keeper of a photo. She charged to the end of the dugout, joining Bauer and Ronfeldt, imploring me to, "Call Mr. Bormann!"
Bormann admitted he doubted the veracity of text messages about the home run until he watched highlights that night on KMEG.
Sally presented the home run ball to her principal at work the next morning. He kept the ball on a shelf in his office; a trophy for her. That evening, Sally swatted a 2-run homer to tie a game in the sixth inning, then smacked a second round-tripper over the fence on the WC softball field, winning a 4-3 contest with a dramatic walk-off solo shot in the eighth, touching off a storm of a different kind at home plate.
The girl who "would never hit a home run" blasted three in 24 hours.
I'm not sure if she derived more joy out of winning the game, proving her high school principal wrong, or  shedding self-doubt, one of those ultimate "games within the game."
She smiles as the memory sinks in.
"I knew I could do it," she says.
Tim Gallagher was a Journal columnist for 19 years and wrote a graduation piece on each of five children: Grady, Paul, Ellen, Anthony and Sally. Tim now serves as assistant director of communications at Buena Vista University.