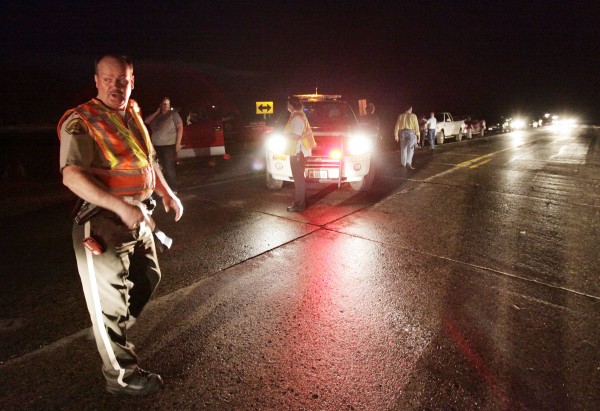 MAPLETON, Iowa - With 10 minutes' warning, residents of Mapleton escaped serious injury when a devastating tornado ripped through the town about 8 p.m., cutting all power and wiping out blocks of the Monona County town of 1,294.
"Mapleton looks like downtown Beirut," Monona County Sheriff's Deputy Roger Krohn said.
At Burgess Health Center in Onawa, Iowa, hospital spokeswoman Beth Frangedakis said three people were admitted with minor injuries suffered in the tornado. She didn't know whether they had arrived by ambulance.
Early reports indicated there were no fatalities or serious injuries.
The American Red Cross set up shelters at the Mapleton Community Center and Maple Valley/Anthon-Oto High School, and an emergency response vehicle was sent to provide food for residents and emergency personnel.
Iowa Gov. Terry Branstad approved an emergency proclamation for the county Saturday evening.
Krohn said 50 to 60 percent of the town had been damaged or destroyed. He said he had spotted the tornado, which he estimated was three-quarters to a mile wide and hit the city from the southwest, heading northeast through town.
Trees and power lines were down, and Willow Vale Golf Course suffered damage. A play going on at the high school was interrupted as people took shelter when the storm hit. Motorists were turned away at the city limits due to the possibility of gas leaks.
In addition to the Red Cross, numerous regional fire and rescue units, including Salix Fire and Rescue and Sioux City Fire Rescue.
Galen Bollig lives about two miles northwest of town and reported seeing the tornado.
"When you first get into town, there's not a grain bin standing," he said.
"We saw the tornado form and come right through town," he said. "We thought it was going to follow the river, and it didn't."
"There's not a window left in a single car, and the garages are all lying flat," he said.
Steven McCord said tornado sirens went off 10 minutes before the twister hit. He watched the tornado from his front porch near the intersection of Third and Eighth streets. It was headed directly for the community's school.
"(It was) a giant tornado," McCord said. "It looked like it was on top of the school from where I was two blocks away. ... That's how massive it was."
Strong winds blew dust and debris from his neighbor's yards as it approached, McCord said.
"I saw shingles and tree limbs swirling through the air," he said.
You have free articles remaining.
McCord and his two dogs fled to the basement, where they listened to the wind tear through the house. He emerged a few minutes later to find broken glass, busted-out windows and his front door ripped out of the house.
Outside, trees were uprooted and a car parked across the street had been turned sideways.
"There's probably a 70-foot-tall tree uprooted, lying in the middle of the street," McCord said.
Alden Berkenpas lives three miles out of Mapleton. He said he could see the tornado start "two miles from me. It's devastating. I can't believe it."
Berkenpas and his wife heard the warning. They piled into the car and drove to town to a friend's house that has a basement.
He said that all the bins at Mapleton Grain were down. The Bomgaars store took a "pretty big hit."
Terry Siebersma was sitting outside his Main Street Spirits liquor store in downtown Mapleton when the storm struck.
"I saw the warnings, and it appeared the storm was up by Sloan," Siebersma said. "I sat out front and watched it."
Siebersma dashed to the basement as the hail and winds intensified. He listened as liquor bottles fell to the floor and shattered. He emerged in minutes to see the roof from the back half of his building was blown apart. He also had a 15-foot hole created in a concrete wall at the back of his building.
"It looked like someone drove a truck through the back of our store," he said.
Siebersma surveyed the area downtown and noticed a brick structure just north of the Hawkeye Bar had collapsed. Other businesses lost their windows.
Siebersma drove one mile to his home, glad he was safe.
"I'm one of those dummies who never goes to the basement," he said. "This one scared me enough to make me go to the basement and curl up under a table. I saw more of it than I should."
Oto, Iowa, Fire Chief Larry Bumsted said he saw the devastation while he and his wife drove through Mapleton around 8 p.m. on their way home from having dinner in the city of Ute. He said there was too much debris to go through Mapleton's main drag, so he had to weave through residential neighborhoods.
"We came in from the south, and it looked like a disaster, you know," Bumsted said. "You could see how the tornado twisted the trees up. ... It looked like a lot of shingles off."
In Sioux City, Mercy Medical Center Spokesman Jim Wharton said the hospital had not received any reports or patients from the areas affected by the tornado. The staff was on standby, and Mercy's air ambulance was prepared to head to Mapleton when the weather cleared, he said.
Staff reporters Sam Burrish, Tim Gallagher, Michele Linck and Molly Montag contributed to this report.