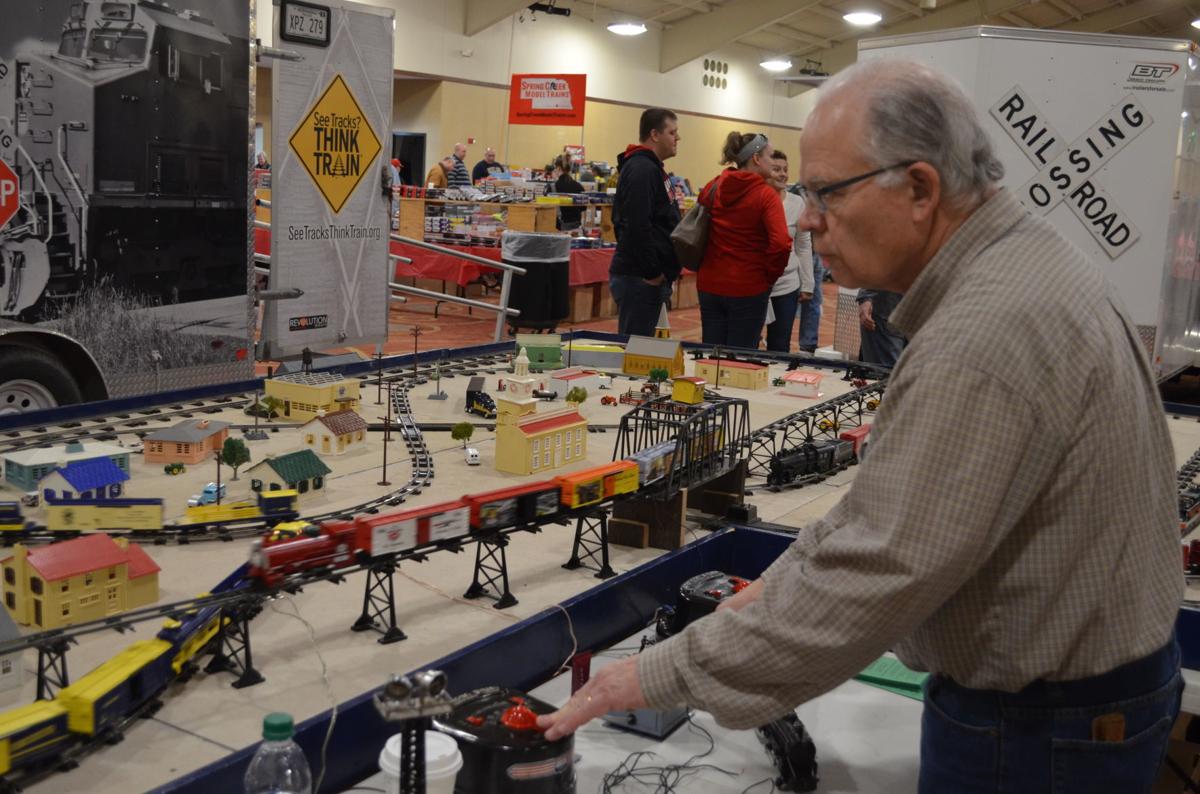 SOUTH SIOUX CITY | There is a certain camaraderie -- a "small-world friendship," as Todd Marks describes it -- among the dozens and dozens of model train enthusiasts gathered at the Delta Hotel Center in South Sioux City for the sixth-annual Train Show hosted by the Sioux City Cosmopolitan Club. 
Marks, a model train enthusiast from Harrisburg, South Dakota, started displaying his trains at the Siouxland shows after he met Train Show organizer John Koskovich at a show in Sioux Falls, and Koskovich invited him to display his trains here. 
His interest in trains began almost 20 years ago, after his father gave him his 1950s-era train set when he moved south. 
"My dad had a small American Flyer layout, matter of fact I still have all his stuff at home," Marks said. "I got it running and sort of got hooked on it." 
As a child, Marks wasn't really in to model trains. He was fairly young when his father got a new job and they moved -- dad's old train was put into a box and hardly seen for decades. 
Today, it's tough for Marks to put a number on how many of the S-scale engines, cars, cabooses and accessories he has in his collection. 
"Oh, good Lord," Marks said with a laugh. "I need to take inventory. I've probably got, oh goodness, I've probably got 50 engines and 150 cars, and that might be conservative." 
Impressive as that may seem, Marks said he plans to get even more serious about trains once he retires from his job teaching high school ag. With more free time, he plans on going to more train shows -- he can only fit about four shows per year into his current schedule. 
Despite the fact that Marks' earliest trains date to the 1940s, he's able to keep most of his collection in good working order -- and yes, miniature trains do have miniature mechanical issues sometimes. 
"I don't do extensive repairs, but I've learned how to replace parts and how to clean motors," he said. "The big things are -- the engines just get dirty. So you have to clean contacts, blow the dust out of them. Sometimes the wheels rust up. It all depends on how they were stored." 
When more extensive repairs are needed to a train -- particularly if an electric motor needs to be repaired or rebuilt -- he takes it to hobby shops that can do repairs on the trains. 
One room in Marks' house is dedicated to model train displays, he said. Not unlike several other enthusiasts at the show, it seems Marks' wife was not especially thrilled at the prospect of having so much real estate in the house taken up by model trains. 
"It did take a little begging," he said. "I keep telling her, I need to switch and move into a bigger room, and she's not budging. She respects the hobby, she's glad I've got something to do. She doesn't really get into it."