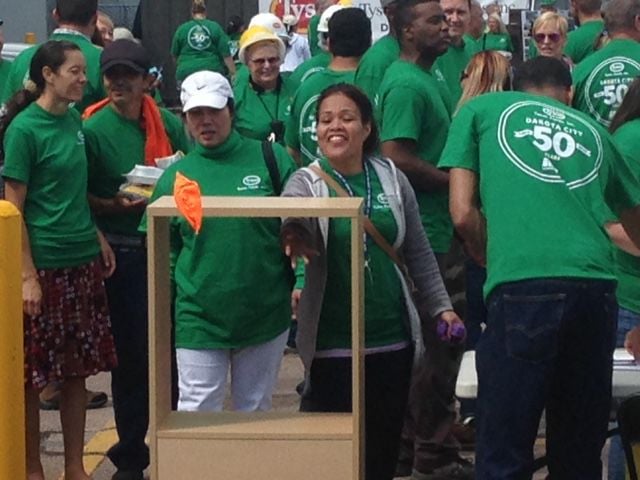 DAKOTA CITY | Hundreds of Tyson Foods workers broke out in song Friday as they enjoyed a special picnic outside the company's beef plant in Dakota City.
Tyson President Tom Hayes led the employees and other invited guests in the singing of "Happy Birthday," in honor of the Dakota City complex turning 50 this year.
"Congratulations!" Hayes proclaimed after the impromptu rendition ended, to the cheer of the workers, who worn special green T-shirts to commemorate the milestone.
Taking a break from their shifts, the workers dined on burgers, hot dogs, salad, chips, soda and ice cream novelties, listened to music and tried their hand at a bean bag toss game. They sat at picnic tables and listened to Hayes and other top Tyson executives praise the role they and their plant have played in the giant meat company's success over the years.
"It's the best, biggest, and most important beef plant in the entire world," Steve Stouffer, president of Dakota Dunes-based Tyson Fresh Meats, told the crowd.
The plant produces enough beef in a single week to feed the entire population of Omaha for an entire year, Hayes said, and quickly added the number of hides the factory harvests provide leather seating for 7,000 automobiles.
The complex has gone through numerous changes since the then-Iowa Beef Packers opened it in 1966. The footprint has grown from 18 to 41 acres, and the workforce has mushroomed to more than 4,500, easily the most among employers in metro Sioux City.
In the last decade, Springdale, Arkansas-based Tyson, which has operated the Dakota City plant since 2001, has invested $237 million in new additions, equipment and technology, said Donnie King, president of Tyson's North American operations.
"It is completely different today than in 1966," King said. "We've done a lot of great things, but we're not done yet. I'm excited about the future of this plant."
During the celebration Friday, Tyson officials announced the company had donated a truckload of protein to the Siouxland Food Bank, as well as $50,000 for the non-profit's backpack program to benefit area students.
Get local news delivered to your inbox!
Subscribe to our Daily Headlines newsletter.