SIOUX CITY -- "Get on the Bus" is the theme for United Way of Siouxland's 100th year campaign.
The nonprofit kicked off its multimillion-dollar campaign Wednesday at Pearl Street Park in downtown Sioux City. The event featured a brightly painted bus to celebrate the theme and various speakers praising the work done thus far and the work still to do.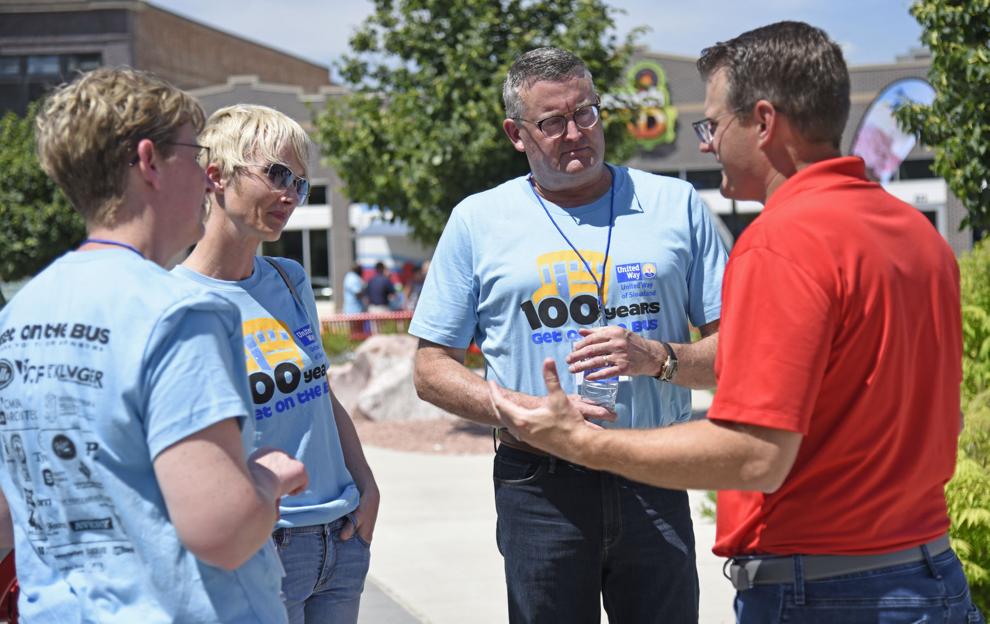 United Way of Siouxland was incorporated on Oct. 20, 1921, as The Federation of Charities and Social Agencies of Sioux City to raise funds for 15 Sioux City agencies.
"200 volunteers in the Sioux City area who left their officers and hit the streets to raise money," United Way of Siouxland President Heather Hennings recalled.
The first year's campaign raised over $125,000. Last year, United Way of Siouxland raised over $3.2 million, with the funds benefiting over 80 local programs.
Hennings said the organization has raised $132 million in the last 100 years. While the money is impressive, it is more impressive to think about the generations of impact, she said.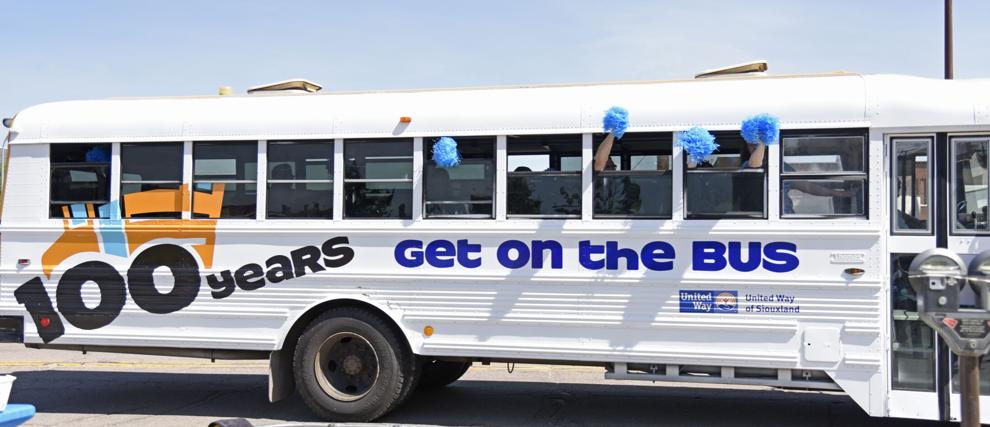 Lt. Gov. Adam Gregg attended the event and praised the work to improve lives through health, education and financial stability.
"Thanks to the United Way, generations of Siouxlanders in need have been given chances to thrive," he said.
Campaign chairs Chad Jensen, Kellee Kriese, and Paul Connor with Tyson Fresh Meats are leading the charge for this year's campaign.
For the last two years, the committee has worked to plan the special year.
"This is such a wonderful organization and we are so happy to be a part of this celebration," Kriese said. "We are inviting everyone to Get on the Bus with us and help impact lives for the next 100 years."
Kriese and Connor announced the Tyson Fresh Meats team has set a goal to raise a total of $500,000 for this year's United Way drive. The Tyson leadership has committed $100,000 prior to Wednesday's kickoff.
Connor and Kriese encouraged the community to make this year one of record-breaking generosity.
There are two main ways people in Siouxland can "Get on the Bus." First is to volunteer in the community. Hennings said the organization is partnering with VolunteerSiouxland to give agencies a specific page to post their opportunities.
The second way to give is by donating money during the annual campaign or to the United Way of Siouxland endowment fund.
"Giving $100 to United Way of Siouxland will help 10 people struggling with mental health issues get group therapy," Hennings said. "It will also ensure that three children receive 12 books from the Imagination Library program to help them prepare for kindergarten. This money does so much good for our community and we cannot thank Siouxland enough for their support."