SOUTH SIOUX CITY -- An armed man was shot and killed and a police officer was wounded after an exchange of gunfire outside a South Sioux City nightclub early Saturday morning.  
The South Sioux City officer, identified Saturday night as Brian Van Berkum, was rushed to a local hospital for treatment of his injuries. Dakota County Attorney Kim Watson reported he made it through surgery, and "is in stable condition and doing very well." 
Officials had not officially identified the man who was shot, and had not yet reported his death by early evening. Earlier in the day, authorities said the man also was taken to a local hospital. 
But his fiancée, Deshea Rodriguez, told the Journal that Luis Quinones, 26, of South Sioux City, died not long after the shooting. 
"He didn't make it to the hospital," she said.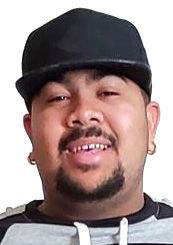 A tearful Rodriguez remembered Quinones as a gentle, family-oriented man, a good father and a hard worker. A native of Puerto Rico, he came to the U.S. mainland in 2012 and most recently worked as a deliveryman at a local furniture store, she said. The couple had been together for two years. 
South Sioux City Police said the shooting took place at 2:08 a.m. outside Los Amigos, 1313 Dakota Ave. An unidentified person at that location reported seeing an individual with a firearm, according to a new release from police.
The first responding officer made contact with the man, and shots were fired shortly afterwards, according to the release.
Rodriguez said the authorities' description of the incident does not jibe with the man she knew. 
"That's not him," she said of Quinones. "That's not the person I've been with all this time."
Rodriguez said Quinones did not keep guns around the house: "All of this for me is very -- I'm shocked." 
Quinones went to the bar to meet with a former co-worker, she said. Rodriguez said she's been kept in the dark about the shooting, though she spoke briefly with officers in the hours after the shooting and confirmed his identity. 
"Nobody will tell me anything about what exactly happened," she said. "No one will tell us where his body's been taken," she added, though she suspects the body has been taken for an autopsy. 
The early morning release said no additional details would be provided to the public Saturday. South Sioux City Police Chief Ed Mahon, who was at the scene Saturday morning, said the Nebraska State Patrol has taken the lead on the investigation, and he could not comment further. Mahon and a state Patrol spokesperson referred questions to Dakota County Attorney Kim Watson. Watson declined the Journal's requests to provide further details. 
Local law enforcement officials offered support to the South Sioux City Police Department and Officer Van Berkum.
"Thoughts and Prayers to the Officer and all the Brave Men & Women @sscpolice," Woodbury County Sheriff Dave Drew tweeted. "@WoodburySheriff is here to help in any way! #WeStandAs1." 
In South Sioux City, investigators were seen outside Los Amigos Saturday morning wearing plastic coveralls, searching Rodriguez's silver BMW sedan parked next to the bar. Red stains, apparently blood, ran underneath the driver's side door, and several windows in the car were broken. 
By Saturday afternoon, the vehicle was removed from the site, and a South Sioux City firefighter was using a fire hose to wash the last of the blood from the ground adjacent to the bar. 
The liquor store portion of Los Amigos was open Saturday, but the bar and nightclub were closed. A show planned Saturday night at the bar, featuring the music group Escuadron Musical, was cancelled. 
A check of Journal archives show this is the first shooting involving a law enforcement officer in South Sioux City in more than a decade. In March, 2001, a 29-year-old man was shot by officers and hospitalized after he shot and killed his girlfriend in a hotel room. In October, 2003, a 31-year-old man was shot and killed in a gunfight in which a Dakota County Sheriff's deputy sustained a gunshot injury.