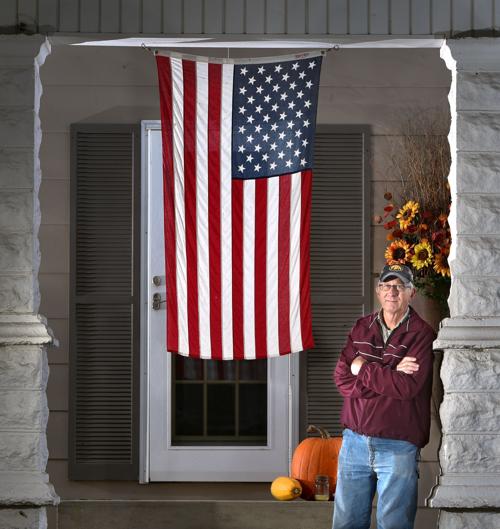 SUTHERLAND, Iowa | Dennis Grant knew where he'd end up. He knew there was no guarantee he'd be back.
Grant, 69, took a break from his work as a crop insurance adjuster to stroll down memory lane on a sun-drenched September day. The U.S. flag fluttered as he spoke, red, white and blue suspended between columns that set off his home's east entry.
"It's vivid yet," he said, detailing the night of June 24, 1970, when Grant, a U.S. Marine Corps private 1st class, tripped a wire with his right leg, setting off a grenade the Viet Cong placed in a Pepsi can along the trail.
"I still drink Pepsi," he said. "I've got one in that refrigerator."
Grant turned as the grenade exploded. He figured his left leg was gone. When the medics rolled him over, he was surprised to see it very much intact.
"When I saw my leg, I was elated," he said. "A corpsman put an 'M' on my forehead, short for morphine."
Grant received morphine and a chopper ride out to a hospital in Da Nang, 60-70 miles north. Doctors removed shrapnel from his left leg, right leg, left arm and left shoulder. They set his broken left radius and his broken right foot.
"I was flown to Guam Naval Hospital two days later and they took the bandages off," he says. "It revealed my wounds, which had been left wide open. They were left to weep so I wouldn't get gangrene."
He didn't. Grant recuperated and flew to Anchorage, Alaska, and then to Great Lakes Naval Hospital in Chicago to continue his convalescence until his discharge that fall, 18 months of military service to his name.
Grant used his G.I. Bill to complete coursework in the feed and fertilizer program at Iowa Lakes Community College in Emmetsburg. He was hired full time by the Emmetsburg Grain Co. and married Ellen Powell, of Sutherland, at Sacred Heart Catholic Church in Sutherland.
"We were married on June 24, 1972, two years to the day from when I was injured," he said, breaking into a smile, terming it a coincidence.
Grant sold feed out of tiny Germantown, Iowa, from 1973 to 1977. He came back to Sutherland to start Grant's Farm Supply, his feed business in 1977. When the Farm Crisis battered the agriculture sector in the 1980s, Grant started a lumberyard, offering feed, lumber and hardware goods. Eventually, it became Sutherland Lumber.
As Dennis and Ellen raised four children at Sutherland, other business opportunities arose. He bought the lumberyard in nearby Paullina and sold both businesses before heading to work at Diamond Vogel Paints.
Neal Chase Lumber then hired him to manage the Chase site in Primghar, Iowa. Grant managed that business for three years. He quit at age 62 and began working as an adjuster for NAU Country Insurance.
"I've worked in the federal crop program for four years; it's interesting," he said.
He also serves on a committee in Sutherland that's building a new American Legion Hall/Community Center. He presided over the groundbreaking in August.
When his thoughts turn to Vietnam, Grant thinks about the 160-pound 20-year-old who flew to Southeast Asia in September 1969 ready to tackle the world. Within days, he was one of 12 Marines serving in the field, working with 15-20 South Vietnamese men, training them on day patrols and night ambushes.
"Other than my first two nights there, I never left the field," he said.
"I may get some flak about this," he concluded, "when I went over there I had the mindset to win. But as time went on, my mindset changed more toward survival."
He added, "I have no ill feelings toward my country. I did what I was asked to do. I'm no hero; they're all gone."