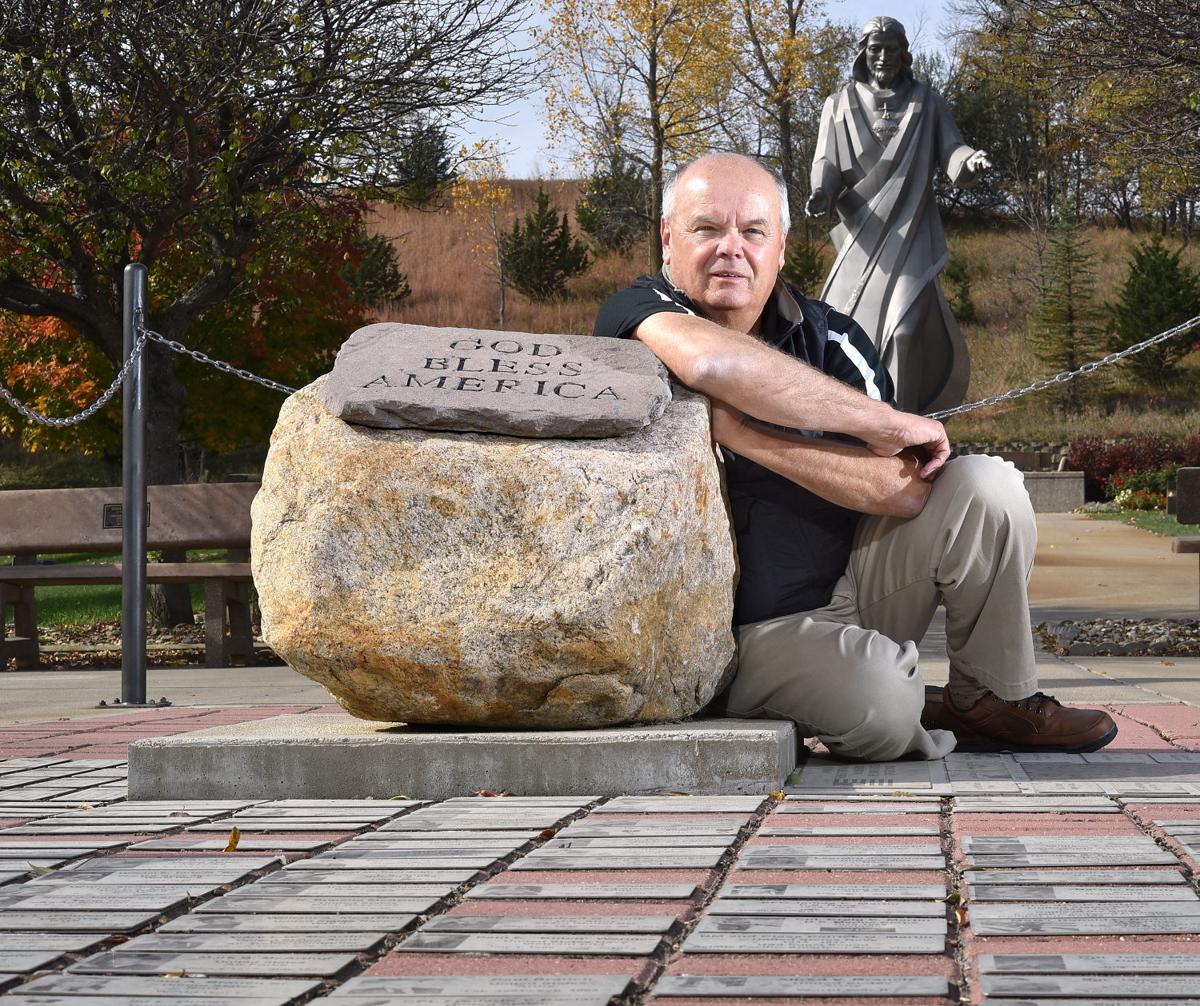 SIOUX CITY | The North Vietnamese Army attacked Fire Base Nancy the night of May 4, 1970.
"They picked a dark, dark night, as usual," said Don Stevens, a U.S. Army sergeant who slept in a bunker at the time. "There's confusion and shooting, rounds and tracers and you don't know who to shoot."
Satchel charges thrown by the North Vietnamese exploded, killing a pair of U.S. soldiers on each side of Stevens.
"A loud blast went off above my head," Stevens recalled. "I could not hear anything at this point and was pretty much in shock."
Stevens gained his bearings and helped get the two injured GIs to a medical bunker. He then helped man a machine gun atop the bunker as the fight continued until just about dawn.
The two soldiers at Stevens' side died of their wounds. He didn't talk about it for 20 years.
Don Stevens was raised in Sioux City and graduated from Bishop Heelan High School in 1964. He majored in business administration and psychology at St. Mary's College in Winona, Minnesota, and graduated in 1968.
Vietnam War protesters gathered on campus several times during his four-year stay. He didn't participate.
"Nobody wanted to go to war," he said. "But when your country calls, you go. Your country needs you."
Stevens was drafted as a college senior. "My draft number was in the low 100s," he said with a laugh. "That's the only lottery I ever won."
Stevens was 21 when he landed in Vietnam in 1969, stepping from the plane after 27 hours in the air. Heat and humidity enveloped him, as did the air of the unknown and, well, an air of fecal matter.
"They didn't have plumbing as we know it," he said. "They burned human excrement. That's what you were smelling."
Stevens joined the U.S. Army's C Company, 75th Rangers, 173rd Airborne Division and headed to Fire Base Nancy in a remote area of South Vietnam, tucked about as far north as you could go and not be in enemy territory. The artillery base had firepower in its 8-inch Howitzers and 175 mm cannons, both of which were favorite targets for the North Vietnamese to knock out.
Stevens served in intelligence and planted ground sensors off base, sensors that tracked enemy movement. After planting sensors, U.S. artillery strikes would rain down.
"We'd go out after the artillery strikes and do a body count of the enemy," Stevens said, detailing how he'd search bodies for items like maps and weapons, American money and Christian medals the North Vietnamese had taken from soldiers and Marines.
The daily duty and the dehumanization of it all had Stevens pausing amid the reflection.
"I was searching young men," he said. "Kids, really. Kids were killing kids."
Members of the North Vietnamese Army invaded Fire Base Nancy twice during Stevens' tour of duty. He suffered shrapnel wounds to his back during the first attack, on April 13, 1970. The attack on May 4, 1970, was more damaging to him and to the base.
Both of Stevens' eardrums were blown out. He was hospitalized at Da Nang for 30 days, having suffered 35 percent hearing loss. He recovered, returned and served out his remaining three months before leaving Vietnam in late August.
Stevens traveled home in his uniform and said he was made to feel unwelcome. He'll never forget waiting for a connecting flight back to Sioux City, stretched out on a bench at the airport in Denver, Colorado, catching a short nap.
"A security guard tapped me on the feet and said, 'Get the hell out of my airport.'"
It was the last time Don Stevens wore his Army uniform.
He returned to Sioux City, found work and eventually served as U.S. postmaster for his hometown. He and his wife, Mary, whom he wed in 1974, raised four children.
Stevens battled nightmares and survivor's guilt. He kept war memories from his family, destroyed his war photos and stuffed his decorations -- two Purple Hearts, the Bronze Star and more -- away.
"I finally talked about it while our family was on vacation in Costa Rica a few years ago," Stevens said. "Our kids really wanted to know what went on. We had a few drinks and I told them."
Opening up soothed some pain. Stevens then heeded the advice of a couple of friends, pals who pleaded with him to create something positive out of his loss in Vietnam.
With the memory of two fellow soldiers at his side, the men who were killed on a dark night in May 1970, Stevens went to work on a memorial at the Queen of Peace/Trinity Heights site in Sioux City. He served as Queen of Peace executive director at the time.
"We put bricks in the form of a cross, at the base of the Sacred Heart of Jesus watching over it," Stevens said, describing how veterans and their families bought bricks and inscribed the names of soldiers, airmen, sailors and Marines on those bricks.
The memorial was dedicated on July 4, 2011. Stevens has a brick there, as do his father and his uncles, veterans all.
The men who inspired Stevens and his work on the project aren't memorialized, at least not by brick nor name. That doesn't mean their memory isn't very much alive.
Said Stevens, "My two angels gave me the idea for this veterans memorial."