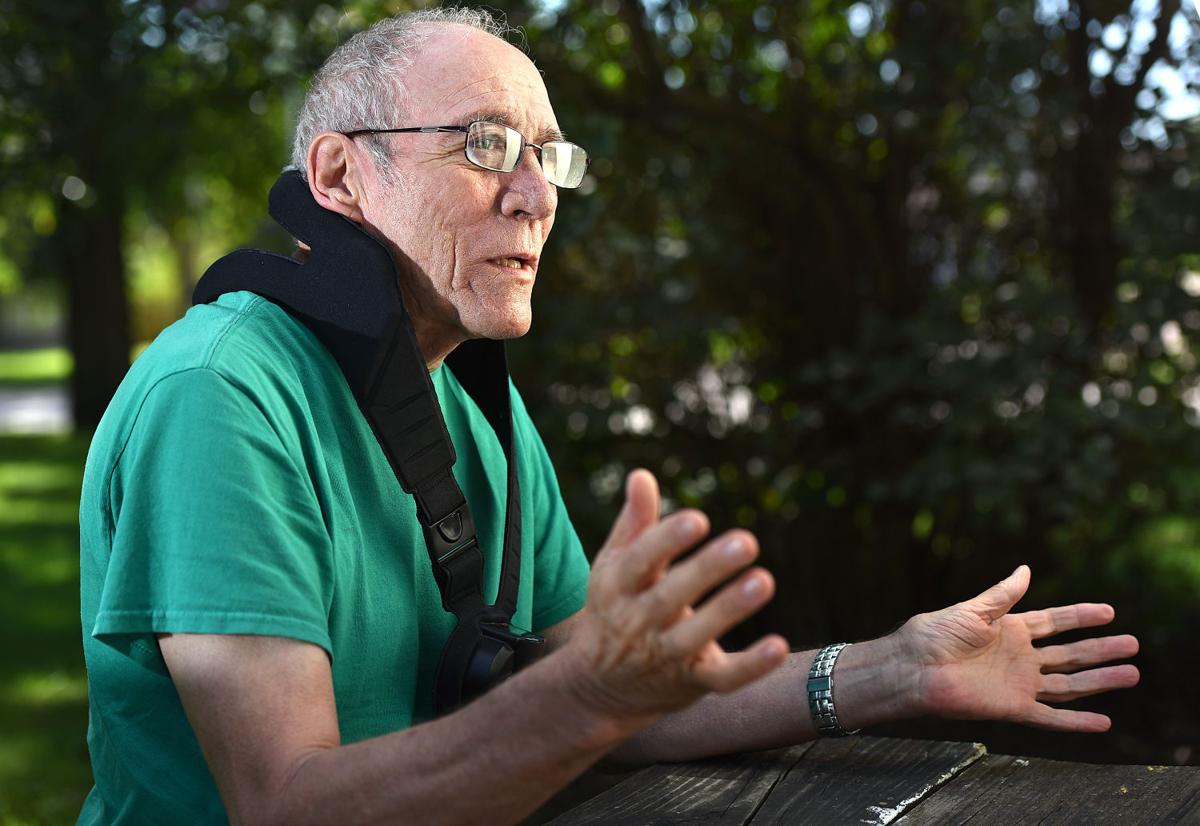 SIOUX CITY | Don't let anyone know you're a Navy corpsman.
That was the advice Joe Grossnickle got when he was stationed near the Rockpile, a nearly inaccessible location south of the Vietnamese Demilitarized Zone in 1966.
"Since a corpsman is a medical specialist, you were a moving target," he explained. "If the Vietnamese could take out the guy treating the wounded, they could take everybody out."
That meant Grossnickle kept medical supplies out of plain sight and inside a backpack. 
"You were always on guard," the Milford, Ohio, native said, shaking his head. "You never knew what to expect."
Enlisting in the U.S. Navy in 1964, Grossnickle was dispatched as a Navy corpsman, serving with the 3rd Marine Division two years later.
"The Marines always used Navy corpsmen for their missions," he explained. "We were Navy guys who carried rifles, but our top priority was to save the lives of Marines."
Initially, Grossnickle thought the U.S. involvement in Vietnam was "a worthwhile endeavor."
"We went in to keep communism from spreading, which was a good thing," he said. "But it was clear that we weren't welcome and the Vietnamese were simply protecting their country from people they thought were doing them harm."
Increasingly, Grossnickle heard reports that the war was becoming a political hot potato.
"Congress was calling the shots," he noted. "Instead, it should have been the military guys calling the shots. After all, we were the ones who were risking our lives."
You have free articles remaining.
During the 13 months he spent in Vietnam, Grossnickle remembered the times when his unit would come under attack.
"We'd be shot at from sundown to sunup," he said. "As soon as the sun shone in the morning, we could see all of the gunshot holes in our tents."
Even though Grossnickle suffered injuries, he never wanted to receive a Purple Heart.
"I was a Navy corpsman with a job to do," he insisted. "The guys that I was patching up deserved the Purple Heart far more than me."
In total, Grossnickle served in the U.S. Navy for 20 years.
"That was the promise I had made to my dad, who was also a Navy man," he said.
Once out of the service, Grossnickle decided to take his corpsman experience a step further by studying to become a nurse in Sioux City, his former wife's hometown.
He subsequently married Janet, his wife of the past 28 years.
"I was a 39-year-old student at (Sioux City's) St. Luke's College of Nursing," Grossnickle said. "I knew this was something I wanted to do."
Upon graduation, Grossnickle worked mainly as a registered nurse in oncology. He retired in 2010 after a 17-year career at Mercy Medical Center.
Sitting at a picnic table by the Morningside home that he shares with Janet, Grossnickle said his Navy corpsman experience in Vietnam helped him find his true calling in life.
"Let me tell you, I preferred being a nurse to being a corpsman," he admitted with a laugh. "At least, nobody tried shooting me while I was a nurse."