SIOUX CITY | Attendance at the 2017 NAIA Volleyball National Championships last week set a record, totaling 21,261 for the five-day event that concluded with a victory by Lindsay Wilson College over Dordt College in the title contest.
The mark surpassed the previous standard, 20,687 established in the 2016 tournament, according to Adrian Kolbo, event producer with the Tyson Events Center/Orpheum Theatre.
Three Northwest Iowa colleges -- Morningside, Northwestern and Dordt -- qualified for this year's tournament, helping to boost attendance.
"Great people are making this happen," said Corey Westra, commissioner of the Great Plains Athletic Conference. Westra noted that Sioux City's successful role as host allowed locals to sign a three-year extension for the tournament to play out at the Tyson Events Center. Westra lauded city staffers as well as dozens of local volunteers and corporate sponsors who have helped Sioux City succeed in this endeavor.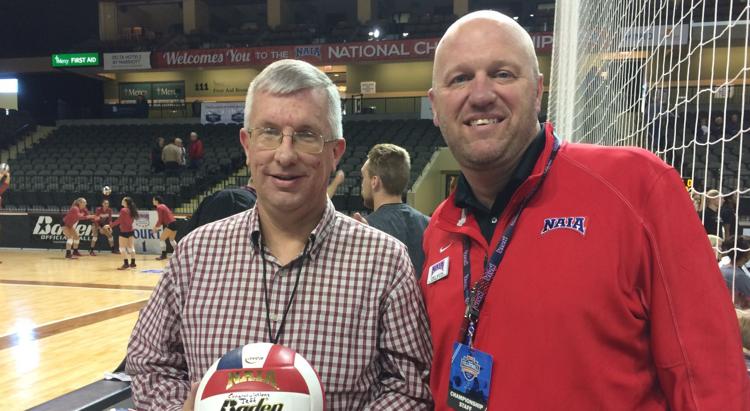 "The 2018, 2019 and 2020 tournaments will be in Sioux City," said Westra, who worked with fellow co-director Mike Skaggs on overseeing Sioux City's 10th edition of the national volleyball meet.
The NAIA, which has held national tournaments for wrestling and softball in Sioux City, returns to the Tyson Events Center for the 21st local running of the Division II Women's Basketball National Championships in March. That tournament, which often draws in excess of 32,000 spectators, is under contract in Sioux City through 2019. That tournament's record attendance came to nearly 36,000 spectators in 2013.
Sports Travel Magazine recognized Sioux City as a Top Sports Destination in 2007. This year, the NAIA named Sioux City as its Top Overall Host Community, an honor Westra likens to being named Best Picture in the Academy Awards.