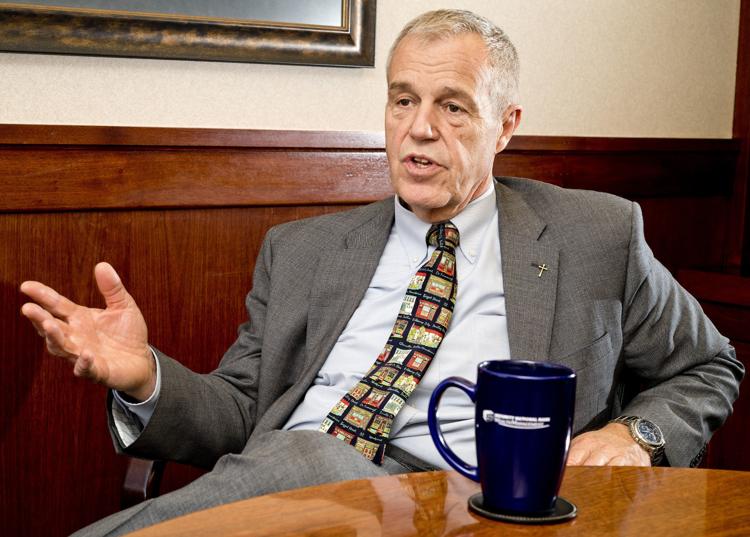 SIOUX CITY -- Late on a December day in 2012, Evelyn Marsh was supposed to send away a man from the Soup Kitchen in downtown Sioux City. He was homeless and volunteers fed him.
The problem? He was soaked in his own urine. Turning him back onto the streets, Marsh believed, risked the man freezing to death, it was that cold.
The Sioux City Journal examines homelessness in Siouxland in this five-day series.
"It would have been easy for Evelyn to say, 'You have to leave,'" said Joe Twidwell, a senior vice president and trust officer serving Security National Bank in Sioux City. "It took courage for her to call."
Marsh asked if she could allow the man to stay at the front of the Soup Kitchen, insulated from the elements. She'd head home, grab some of her late husband's clothes and return, offering to launder the homeless man's clothing.
Marsh did that as Twidwell, encouraged by fellow Soup Kitchen board member Frank Baron, headed to the Soup Kitchen, a U.S. Army cot in tow. He set it up for the man, and, that freezing night, the Warming Shelter of downtown Sioux City was born as a homeless man slept in dry clothes, safe from the elements.
"Within a month, we ended up with 28 other people who were similarly situated," said Twidwell.
For five years, the Sioux City Warming Shelter has operated with a mission that doesn't mince words: To make sure no one freezes to death. Through its time at 916 Nebraska St., the shelter, which runs from November through April, has met that mission while accumulating an estimated 50,000 nights of protection. No one in Sioux City has died due to exposure in that time because they were homeless.
The Warming Shelter accomplishes its goal without government grants or in-kind assistance. The place is a "wet shelter," meaning anyone is admitted. The rules don't mince words, either: No drinking or smoking inside; no fighting, no threats or assaults.
If you arrive here and need a place to stay, you must treat others and the staff the way you wish to be treated. The Golden Rule.
"We treat everyone who's there with dignity," said Twidwell, acting board president at the Warming Shelter.
How it came about
Joe Twidwell's father, Joe Twidwell Sr., was an orphan who grew up to be a surgeon in Minneapolis, a doctor who occasionally made house calls, sometimes taking his children along for the company or the experience.
"We'd get groceries for some people and my brother, my sister and I would be at the supermarket on a scavenger hunt, getting items people needed," Joe Twidwell said, sharing a memory about his father who died a decade ago.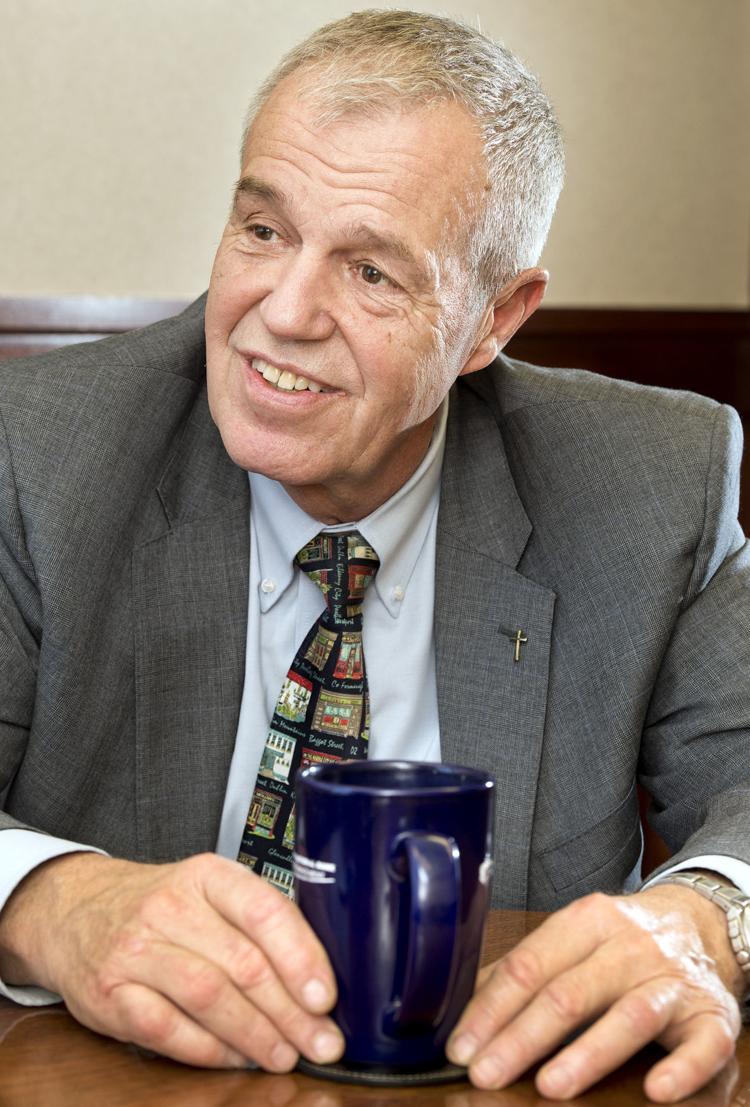 Young Joe Twidwell went to Creighton University and earned a law degree in 1975. He spent 22 years working in Fremont, Nebraska, before coming to Sioux City 17 years ago. While in Fremont, he worked with a Catholic priest in starting a homeless shelter. Baron heard about it and invited Twidwell to join the Sioux City effort upon his arrival here in 2001.
"Nothing is ever about one person," Twidwell said. "It never is. Anything that if you really care about people, I think anything you're trying to do, you want to bring others in to reach more people, to get more people involved and let them share the experience."
Attorney Frank Baron was among the first people Twidwell met in Sioux City. Baron extended the invitation and Twidwell, a retired U.S. Army lieutenant colonel who serves as a deacon with the Catholic Church and as a volunteer in jail ministry in Woodbury County, took him up on it.
"I've always been interested in trying to do what I can for those less fortunate," he said, again repeating his belief that service isn't limited to one volunteer.
"Frank was on a ton of other boards, too. And he invited me," said Twidwell, who became excited at what Sioux Cityans were doing for those less fortunate. He agreed to volunteer with the Soup Kitchen, realizing that "all of us are on the same journey. It's just that some people encounter more obstacles along the way."
Dangerously cold weather, he and others agreed, could be one obstacle they might eliminate by establishing the Warming Shelter. It didn't come easily. During that first season six years ago, men and women who stayed at the front of the Soup Kitchen were taken by van on Saturdays to the Siouxland Y in town and were afforded the chance to shower.
"We needed showers and a laundry facility," Twidwell said. "When they were sleeping in the hallway (at the Soup Kitchen), someone would walk in at 11 p.m. when it was below zero outside and the hallway temperature would drop from 65 to 45 degrees.
Board members asked folks at St. Boniface Catholic Church if they could use their abandoned elementary school as a shelter, a good idea given the site's proximity to the Sioux City Soup Kitchen. The first floor was renovated, showers and laundry were installed. The site got within one week of opening when the fire marshal dashed those dreams. Per rule, the facility couldn't be used as an overnight shelter because it didn't have a sprinkler system or a fire-detection system.
A sprinkler system from the Continental Sprinkler System Company, board members learned, would cost $100,000 as the whole building needed coverage. Additionally, a larger water main would be needed to support the sprinkler. The St. Boniface school wouldn't work, after all.
"A couple of us went to St. Boniface Church and got down on our knees and prayed," Twidwell said, adding, "God, we thought this is what you were asking us to do."
The next day, Jan Lebowich, of Sioux City, approached, apologizing that she hadn't thought of it before. The other half of the structure at 916 Nebraska St. was a federal halfway house at one point. It had bathrooms, bedrooms and a sprinkler system. The pipes had frozen and work would be needed, but the essential components existed for an overnight shelter.
"She said, 'You can have the place if you clean it up, and we'll let you be there rent-free,'" said Twidwell. "We've been their tenant ever since."
Prayers answered, and fast
Twidwell backed up a bit, recalling how a few board members returned to St. Boniface Church and prayed about how they might transform the old federal halfway house. Officials with Continental Sprinkler System called the following day and noted that a crew in Sioux Falls, South Dakota, had some time due to a subcontractor falling behind on another project.
They told Twidwell they had a week free and could report to Sioux City to start the sprinkler system the following day. Representatives with Foulk Bros. in Sioux City installed and covered the cost of a new water heater. Others pitched in, allowing the site to open in December 2013.
These days, a director, the only paid staff member, oversees the site. Twidwell and other board members stop in multiple times per week, helping to operate the Warming Shelter on a $230,000 budget, which doesn't account for the director's pay. Donations come in chunks of $50, $100, $300 and so on.
Improvements have been made, including the operation of a Day Shelter in the front of the Soup Kitchen at 717 W. Seventh St. Local officials are talking about consolidating the Soup Kitchen and the Warming Shelter, eliminating the 1.1-mile distance between the two to better serve those in need, many of whom have mobility issues.
There are ideas about extending the mission to offer service year-round. That, of course, takes money and staffing. First, Twidwell and the board focus on the sustainability of anything they offer.
"What other things could we do with the Day Shelter?" Twidwell asked. "Could we give them something to do, where they could earn money? We don't have space to do that now. Can agencies come in and help with health or housing assistance?"
Twidwell asked the questions as his thoughts raced back to the man in need, the man whom Evelyn Marsh offered warm and shelter that December night in 2012.
"He worked for 26 years as a cement finisher," Twidwell said. "(He) was a brittle diabetic. Over the years, the diabetes causes cataracts. It got the point where he was functionally blind. The diabetes, also, when your blood sugar is way out of whack, you become incoherent. People thought he was a drunk, and, yet, he didn't hardly drink."
The man lived under a bridge. He was "rolled," Twidwell said, and he lost his ID. A working man for years, he was entitled to Social Security, but he slipped through the cracks in the system.
Community Health ended up working with the man, as did a doctor who operated on both of his cataracts. He got his diabetes under control and an independent living facility accepted him as a resident.
That man's story led to another recent example, an older man who stayed at the Warming Shelter for a time this winter. Twidwell walked past one night and the man halfway barked, "Hey you, you in charge of this place?"
For the time, Twidwell figured, he could at least direct the man to an answer. So, he said he'd suffice. "I'm thinking, 'Oh, gee, I'm going to get my butt chewed."
The man, instead, took off his gloves and took Twidwell's hands. And looking at the Sioux City volunteer, he said, "I just want to tell you, 'Thank you,' because you folks are the only ones in such a long time that have treated me like I have any right to live."
Twidwell paused as the encounter has remained with him. It's why, he supposed, he prayed at St. Boniface and why he joined the good works of dozens of others in Sioux City.
Said Twidwell, "That's when you say, 'OK, I get the point.'"